BJP Govt targetting Rahul Gandhi to protect Adani, flays Uttam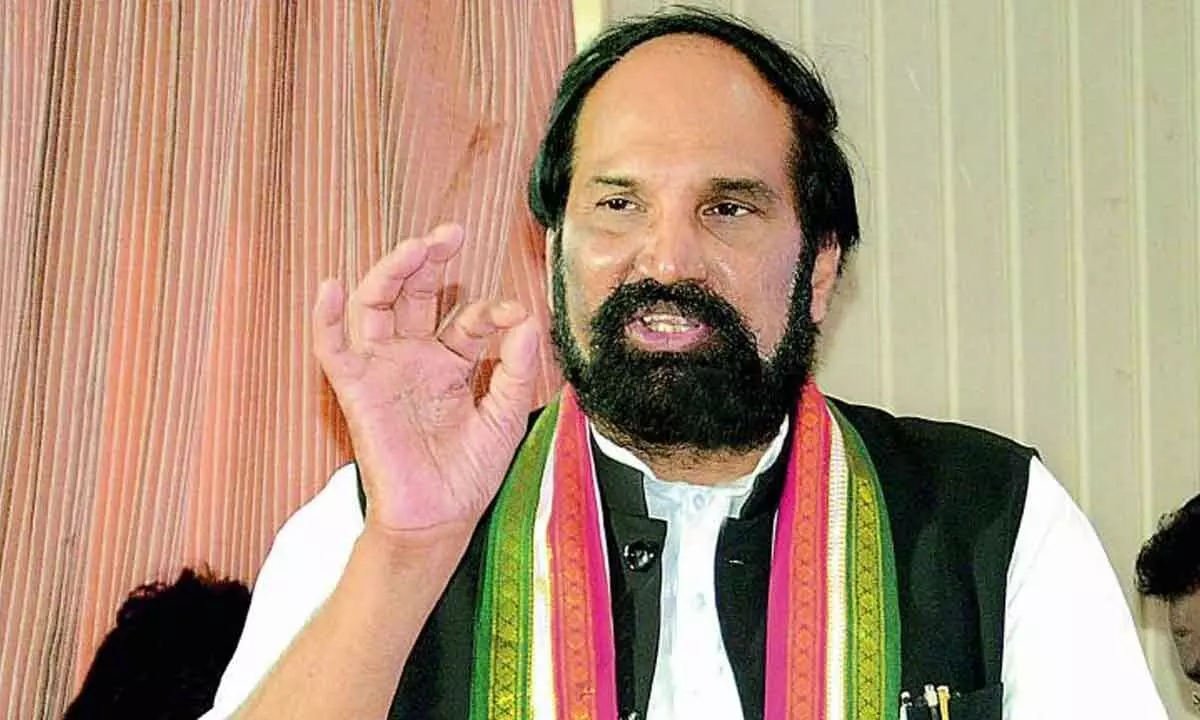 Highlights
Accuses the BJP government of orchestrating a drama to defend PM Modi from the simple question of whose Rs. 20,000 crores went to Adani's shell companies
Gives a timeline of the entire case which indicates a link between Rahul Gandhi's accusations and the controversial verdict of the Surat court
Hyderabad: Nalgonda MP & former TPCC president N Uttam Kumar Reddy has claimed that the Modi government's main agenda was to protect Adani and that Rahul Gandhi is just a target.

He was addressing the day-long Satyagraha organised by the Congress party at Gandhi Bhavan on Sunday as part of a nationwide protest to condemn the disqualification of Rahul Gandhi as a member of Lok Sabha following his conviction in a defamation case by a Surat court.
Uttam Kumar Reddy accused the BJP government of orchestrating a drama to defend PM Modi from the simple question of whose Rs. 20,000 crores went to Adani's shell companies. He gave a timeline of the entire case which indicates a link between Rahul Gandhi's accusations and the controversial verdict of the Surat court. Originally, Rahul Gandhi made an election speech in Kolar in Karnataka on April 13th, 2019. Three days later, BJP MLA Purnesh Modi filed a complaint in Surat, Gujarat and he also got a stay on his complaint on 7th March 2022. The scene changed after Rahul Gandhi's speech questioning the relationship between Adani and PM Modi in Lok Sabha on February 7.
On February 16, the complainant withdraws his request for a stay in the Gujarat HC and in a week (27th Feb) hearings resumed in the trial court. Again, in less than a month (on March 23) the trial court convicts Rahul Gandhi and handed down the maximum sentence of 2 years. In less than 24 hours, the Lok Sabha Secretariat disqualified him as MP. This lightning speed clearly shows that some forces were working behind to silence the Congress MP, he alleged.
He alleged that the maximum two-year sentence for criminal defamation is unheard of, and cases against BJP leaders were dealt with exceeding leniency. Further, he said that the criminal defamation complaints should be filed by the person against whom the remarks were made, who should also prove how they were injured personally. In this case, the persons who were named did not file the case, and the person who filed the case was not named.
"Criminal defamation complaints cannot succeed based on allegations against a community at large - remarks must refer to a specific, identifiable group. Rhetorical remarks in a speech made in Kolar, Karnataka have been tried in Surat. Section 202 of CrPC mandates a preliminary inquiry by Magistrate to satisfy himself that he has jurisdiction to proceed. There has not been any such inquiry as mandated by law. Malicious intent is essential to defame someone. The speech was made at the Kolar rally while addressing the public on price rise and unemployment. The agenda was not to defame anyone but to raise issues of public corruption and the welfare of the public," he said.
He further claimed that the government's actions are driven by their fear of their misdeeds being exposed and the desire to divert public attention at any cost. He cited the latest narrative alleging that the OBC community has been insulted as absurd. "Firstly, the statement was asking why some thieves have the same surname (Nirav Modi, Lalit Modi, and Narendra Modi) - not that anyone called Modi is a thief. No community was targeted. Secondly, neither Nirav Modi nor Lalit Modi is an OBC. Further, their castes are not responsible for their crimes and frauds," he said.
Reddy slammed the BJP for deliberately disrupting the Parliament to avoid further discussion on Adani or the demand for a JPC. "This is unprecedented that the members of the ruling party are stalling the proceedings of Parliament to protect a wealthy businessman facing serious allegations of fraud and corruption," he said while accusing the BJP of protecting fraudsters and targetting anyone who questions them, including opposition leaders, activists, and journalists, using ED, CBI, false UAPA cases, and cases filed in faraway places. He said that Rahul Gandhi and Congress were not scared and would continue to raise public issues.
The Congress MP reiterated that Rahul Gandhi has been fighting for the rights of farmers and other marginalized communities. He pointed out that Rahul Gandhi had helped bring the 2013 Land Acquisition Law to protect farmers and had stood up for their rights against the BJP's attempts to amend the same law. He dismissed the allegations of casteism against Rahul Gandhi, stating that he had always fought for the rights of all communities.
He compared the Modi Government's actions to the British colonial regime's punishment of Mahatma Gandhi, Jawaharlal Nehru, Subhash Chandra Bose, Sardar Patel, and Maulana Azad, and said that the Congress would win again. He reminded that former Prime Minister Indira Gandhi was expelled from the Lok Sabha in December 1978 and the party which mistreated her lost its existence. BJP will meet the same fate for disqualifying Rahul Gandhi, he said.