Hyderabad: Relief extended to flood-hit drivers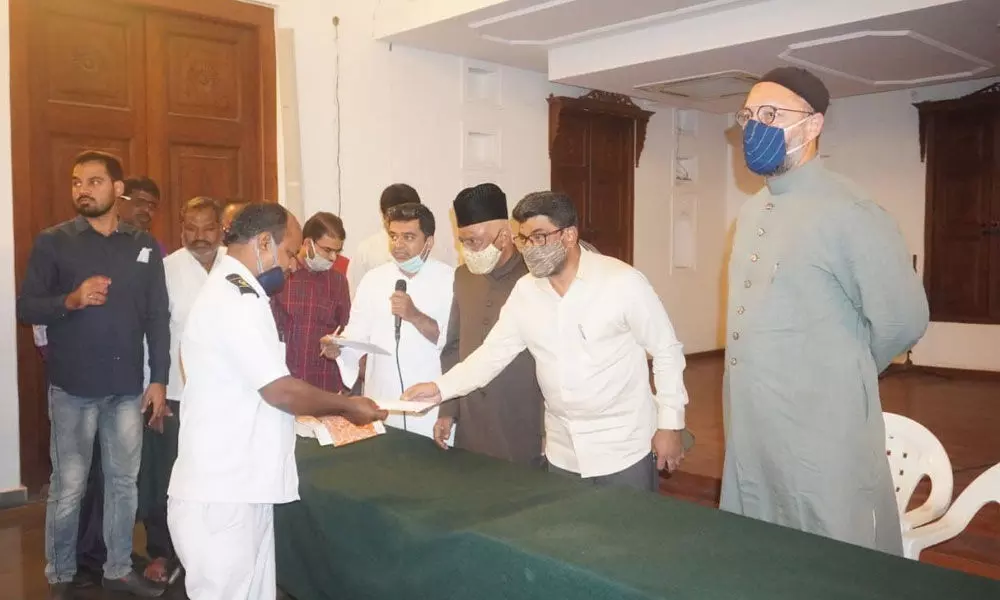 Highlights
As the recent incessant rains and floods caused severe damages to the vehicles of taxi and auto drivers, thereby ruining their livelihoods, Majlis Charity Education and Relief Trust provided some financial assistance to around 200 drivers
ADVERTISEMENT
Darussalaam: As the recent incessant rains and floods caused severe damages to the vehicles of taxi and auto drivers, thereby ruining their livelihoods, Majlis Charity Education and Relief Trust provided some financial assistance to around 200 drivers.
On Wednesday, AIMIM chief Asaduddin Owaisi distributed the aid among the beneficiaries at the party headquarters. In first phase, the trust distributed aid to drivers and drivers-cum-owners from Karwan, Yakutpura and Bahadurpura constituencies.
Asaduddin, along with Yakutpura MLA Syed Ahmed Pasha Quadri, Nampally MLA Jaffer Hussain Meraj and MLC Mirza Riyaz-ul-Hassan Effendi, distributed cash to 150 auto and 50 taxi drivers. Rs 10,000 each was paid to auto drivers and Rs 20,000 was paid to each taxi driver. The total aid rendered amounted to Rs 25 lakh.
In Karwan, 52 auto and 33 taxi drivers benefited from the areas which were affected like Hakimpetkunta, Shah Hatim Nagar, Ahmed Colony, Jamali Kunta and Baghdar Colony. In Bahadurpura, 19 auto and 9 taxi drivers from Al-Jubail, Kabgeer Nagar and Hashmabad and in Falaknuma 79 auto and 8 taxi drivers were benefited.