Khammam: CPM takes out motorcycle rally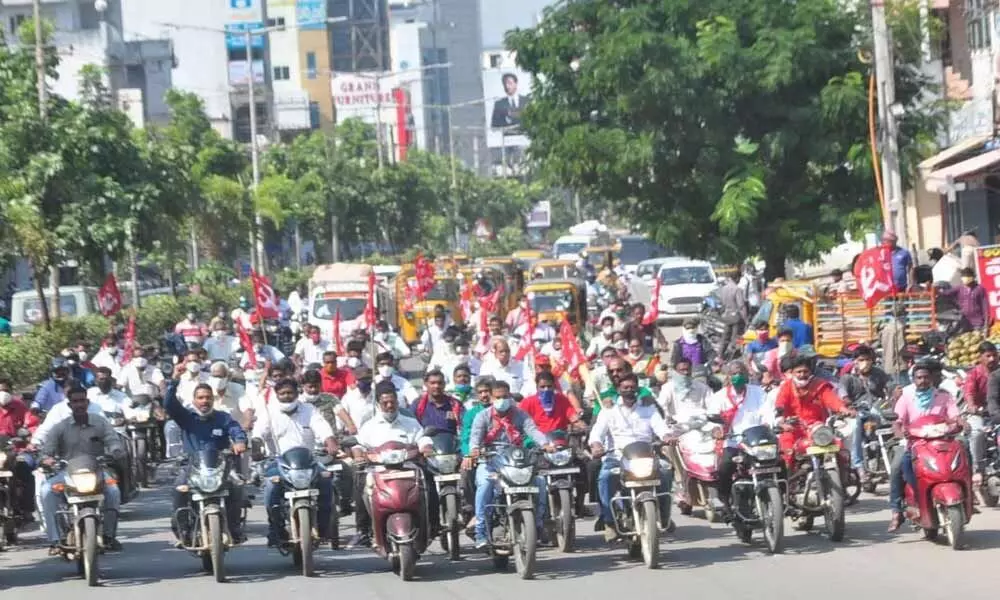 Highlights
CPM leaders and activists took out a motorcycle rally in Khammam on Monday, demanding repeal of agricultural bills, which were passed by the BJP government, immediately
Khammam: CPM leaders and activists took out a motorcycle rally in Khammam on Monday, demanding repeal of agricultural bills, which were passed by the BJP government, immediately.
Speaking on the occasion, party leaders P Sudarshan and Nunna Nageswara Rao condemned the attacks on farmers in Delhi, who were protesting against the farm bills. They said there is no use of agricultural bills for the farmers in the country, but the BJP wontedly troubling the farmers by implementing these bills. The farmers will teach a big lesson to the BJP government in the coming elections, they stated.
Earlier, party leaders and activists participated in a motorcycle rally from ZP center to Pavilion grounds and raised slogans against the Central government. Later, they staged a protest in front of Ambedkar statue in the town.
CPM leaders Ponnam Venkateswara Rao, M Bharati, M Ramesh, Y Vikram, N Manohar, Y Srinivas, B Ramesh, T Lingaiah and S Naveen Reddy, Gouse Pasha, Jammi Ashok and others participated in the protest.