4.26L devotees had Vaikunta Dwara Darshan: TTD EO KS Jawahar Reddy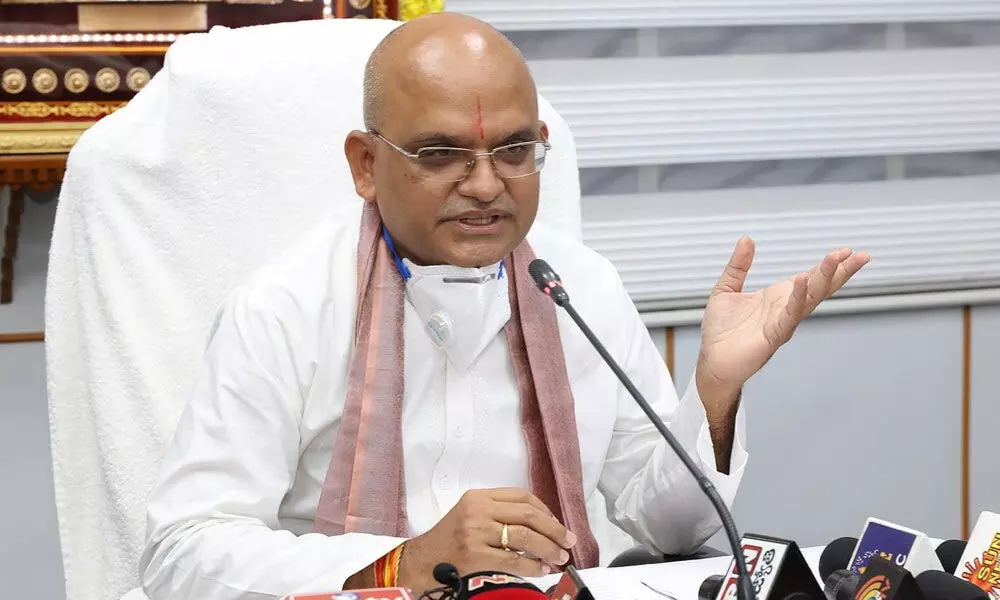 Highlights
Dr K S Jawahar Reddy says TTD nets an income of Rs 29.09 crore through cash offerings in the Hundi and another Rs 2.27 crore through booking of accommodation on the hills
A total of 20.80 lakh laddus were distributed to pilgrims
Tirupati: A total of 4.26 lakh devotees had the Vaikunta Dwara Darshan from December 25 to January 3 in Tirumala temple.
This includes Rs 300 special entry tickets (1.83 lakh), offline SSD tokens (90,852), Virtual Arjitha Sevas (38,339), donors (4,797), SRIVANI Trust (10,725) and other categories like VIP break darshan. The Virtual seva tickets holders provided the Dwara Darshan
for the first time. A total of 90,290 pilgrims offered their hair including 81,970 men and 8,320 women devotees in the ten days. TTD netted an income of Rs 29.09 crore through cash offerings (Kanukas) in the Hundi and another Rs 2.27 crore through booking of accommodation of 50,894 rooms on the hills.
Briefing media on the highlights of the Vaikunta Ekadasi fete (which ended on Sunday) in Tirumala on Monday, TTD Executive Officer Dr K S Jawahar Reddy profusely thanked his team of officials for the successful completion of first ever Vaikunta Dwara Darshanam. The EO also took the occasion to express his special thanks to all the Peethadhipathis including Pedda Jeeyar and Chinna Jeeyar Swamijis of Tirumala, Agama scholars who approved TTD decision to open up Vaikuntha Darshan for ten days in Tirumala as against earlier practice of two days.
He thanked donors who donated about 30 tonnes of traditional flowers. He said a total of 20.80 lakh laddus were distributed to pilgrims which included free (3.94 lakhs), small laddus (15.94 lakhs) and big (74,982) laddus and 35,894 Vadas. Annaprasadam had been served to 4.52 lakh pilgrims.
The APSRTC operated 5,210 trips between Tirupati and Tirumala (up) and ferried nearly 1.63 lakh pilgrims and 5,280 trips between Tirumala and Tirupati (down) transporting 1.73 lakh pilgrims.
He said that Papavinasam will be opened for pilgrims from Tuesday (January 5).
CVSO Gopinath Jatti said, TTD has set up CCTVs in temples under its umbrella.