Vijayawada: Dalit Sthree Sakthi launches advocacy on gender equality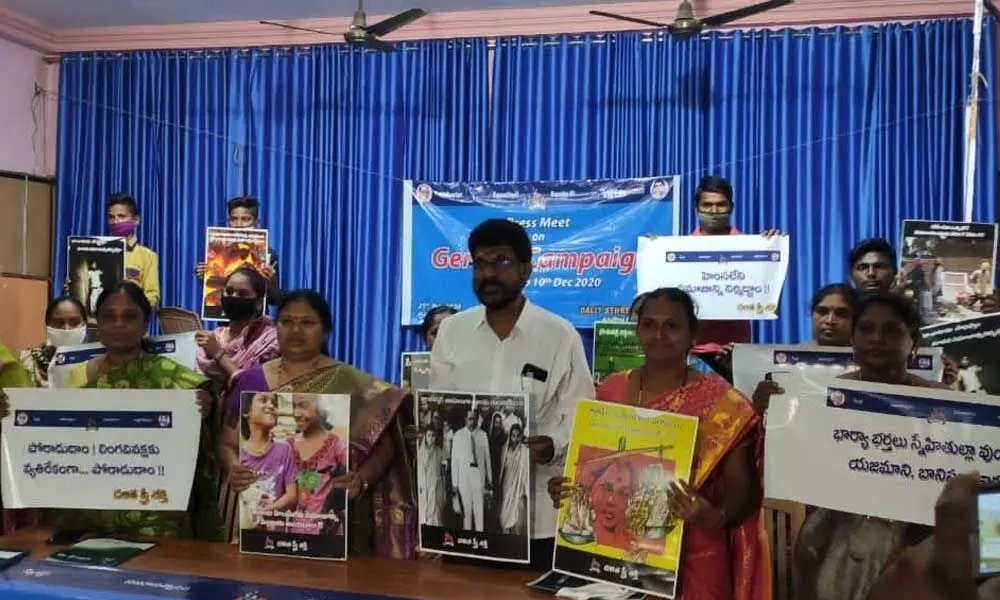 Highlights
DSS national convener Geddam Jhansi stresses on educating women and says if the women are educated the whole family will become educated
DSS members urge all the Dalit advocates to come forward to support the cases taken up by the them
Vijayawada: Expressing concern over the deep-rooted male chauvinism in society and stressing on the gender equality in all the fields, Dalit Sthree Sakthi (DSS) launched advocacy on massive scale here on Tuesday.
National convener of DSS Geddam Jhansi, addressing the gathering at the Press Club here, said that misogyny was deep-rooted in society whether it was caste, religion, culture, literature, movies and others. Jhansi said that the DSS will extensively organise meetings, conferences and awareness programmes on the need to eliminate gender discrimination and achieve gender equality in the two Telugu states for the next sixteen days till December 10, the day of human rights.
The DSS will conduct meetings in the city for three days from Thursday in Guntur and West Godavari districts and later in Hyderabad, Rangareddy and Vikarabad districts.
A roundtable will be conducted at Hyderabad on December 10 with the victims and witnesses in the presence of the officials on the atrocities against the women and girls belonging to Adivasi and Dalits.
The DSS will publish posters on the relations between men and women, family system, discrimination in educational institutions, liquor addiction, dowry harassment, discrimination in employment for women. Jhansi stating that if the women are educated the whole family will become educated, stressed on educating the women on large scale.
Earlier, DSS conducted meeting with advocates from the two Telugu states wherein they discussed the action to be undertaken to take the criminal cases against the accused in atrocities against women and girls belonging to Dalit and Adivasi communities.
Advocates including assistant public prosecutor Srikanth, senior advocates Sunil and Ankaiah and women advocates Veda, Aruna, Dayaratnam and others addressing the gathering elaborated on the various reasons for the weakening of cases. Lack of awareness among the victims, delay and defect in prosecution, financial backwardness of the victims, pressure from other sections to withdraw cases were some of the reasons.
The advocates expressed concern over the politicisation of criminal cases diluting the cases. They said that if the police and judiciary worked in tandem, justice will be done to the victims. "All the Dalit advocates should come forward to support the cases taken up by the DSS," they said. Coordinators of the two Telugu states Hemalata and Bhagyalakshmi coordinated the meeting.