Chilling reminder of 2002 Gujarat riots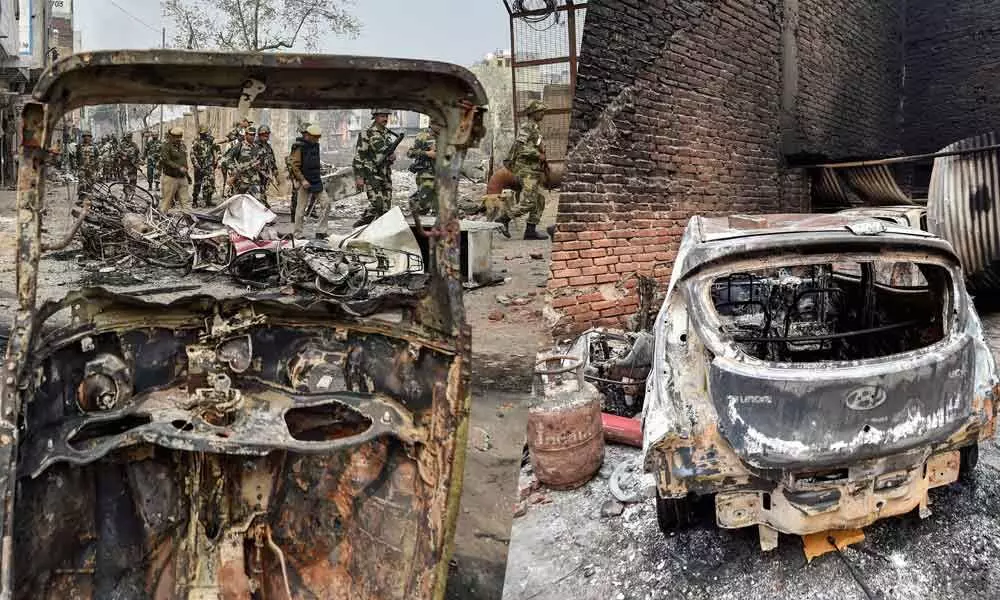 Highlights
Don't take your phones out of your pockets and just 'enjoy the view', mob threatens journalists
New Delhi : CPM General Secretary Sitaram Yechury on Wednesday said the violence in Delhi is a "chilling reminder" of the 2002 Gujarat riots and the only way to restore peace and normalcy in the capital is by calling in the Army.
In a joint press conference with CPI general secretary D Raja, Yechury claimed that it is clear that the violence in Delhi has the sanction of police and that of the "powers that govern them". Both Raja and Yechury questioned the role of Home Minister Amit Shah in dealing with the violence and blamed him for not being able to contain the situation.
"If NSA is supposed to be in charge of Delhi Police, then what is the role of Home Minister? Has the government conceded that Home Minister Amit Shah is incapable of handling Delhi violence," they asked. They said there is nothing spontaneous about the violence that claimed at least 24 lives and left hundreds injured and accused BJP leader Kapil Mishra of instigating it.
"Home Minister Amit Shah has sought to evade the nature of the planned violence by calling it spontaneous. The only way confidence can be restored among the people and strict action taken against miscreants is to call in the army to aid the civilian authority," said Yechury.
The Left leaders also said that they will visit the violence-hit areas along with other political parties soon.
"It is important that people see that there are political parties and civil society groups with them. We will go there soon," said Raja as he accused the police of remaining "silent spectators" while the "RSS-BJP goons" went on killing, arson and threat spree.
"We hold none other than the Union Home Minister Amit Shah solely responsible for unprecedented violence in the national capital and the complacency on the part of Delhi Police. The situation demands that the Supreme Court must act suo motu, order a thorough probe and consider deployment of Army.
"Adequate compensation should be provided to the kin of the dead and those injured by the Centre and the state government," Raja said. 'We can't let another 1984 scenario happen in this city; not under the watch of this court", observed Justice Muralidhar of Delhi High Court during a hearing. "We heard that one IB officer has been attacked. These things should be immediately looked into", the judge added.
The Court has appointed advocate Zubeda Begum to act as a nodal officer of the Court to coordinate with the victims and ensure effective implementation of this court's orders. The Ministry of Home Affairs has been directed to provide her necessary assistance.
Following the spate of violence in the North-East Delhi, police on Wednesday imposed Section 144 in the Seelampur area for a month.
"For one month, section 144 is imposed in the Seelampur area.
No one should be seen here. Right now we are explaining politely, afterward, we will deal strictly. Close the shops here," announced Police while patrolling the area for maintaining the law and order.
Meanwhile, Central Reserve Police Force (CRPF), Sashastra Seema Bal (SSB), Central Industrial Security Force (CISF), and Police conducted a flag march at Bhagirathi Vihar in Gokulpuri.
The Supreme Court termed as 'unfortunate' the incidents of violence in Delhi but refused to entertain pleas on them. A bench comprising Justices S K Kaul and K M Joseph said it will not expand the scope of petitions filed in connection with the protests at Shaheen Bagh by looking into the pleas on violence.
"These things would not have happened had police not allowed instigators to get away, the SC observed. SC Judge K M Joseph said there was lack of professionalism on part of police and gave an example of police in US and UK, and said the force has to act professionally as per law if something goes wrong.
Meanwhile, Congress leadres Priyanka Gandhi Vadra, Sushmita Dev, KC Venugopal and other Congress leaders joined a 'peace march' in Delhi.
Priyanka said what BJP leader Kapil Mishra had said was "shameful" but the government's silence on it was even "more shameful".
"I appeal to the people, for God's sake, do not indulge in violence as it is they who will suffer due to the violence. I appeal to everyone to maintain peace and calm. I have also appealed to the people of Uttar Pradesh to not allow the spread of violence in the state.
I have also urged Congress workers to not allow any spread of violence and urge people to maintain peace," she told reporters.
News18 reporter Runjhun Sharma who wittnessed the mayhem wrote, "I thought I was watching a movie. The scenes were scary and chilling. Men wielding swords, iron rods and hockey sticks; many of them wearing helmets, and all of them chanting 'Jai Shree Ram'.
As they entered houses, I heard disturbing sounds. A few minutes later, I saw fire billowing from a window. I was standing across a big sewer drain with two other reporters in Khazoori Khas area of northeast Delhi.
We were not allowed to shoot or record any of what was happening. Don't take out your phones out of your pockets and just "enjoy the view", the mob threatened us.
Stones were being pelted and acid was being thrown on the lanes in front of us and behind us. A religious structure, too, was being burnt. We weren't allowed to get close to it, but the black smoke that had blanketed the sky was visible even from a distance.
As I stood still, helplessly watching houses being gutted to the ground, I wondered why the police was a few kilometres away and not at the spot. If reporters can get information, so can the police.
As the crowds cheered and left after burning down the houses, the mob, brimming with pride, 'permitted' us to click a picture, just one.