NTR Housing, a boon for poor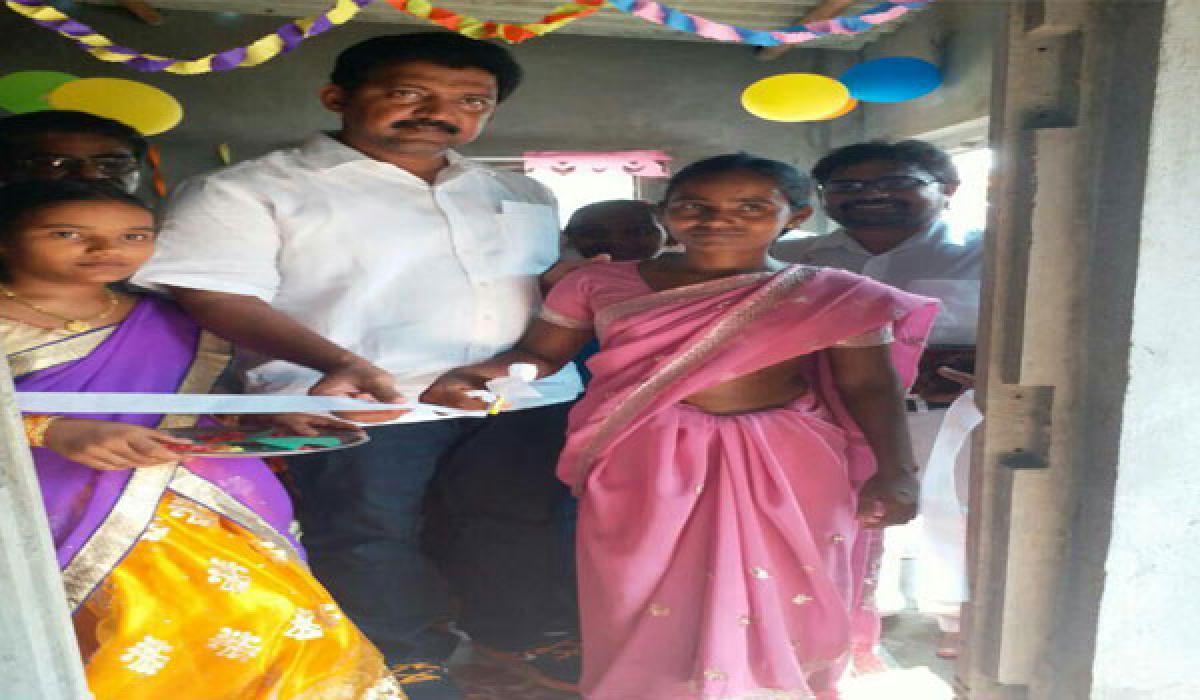 Highlights
House warming ceremonies of newly constructed houses, which were constructed under the NTR Rural Housing scheme in Krishna district, began on Saturday. The first ceremony was held at Mallavalli village in Bapulapadu mandal of Gannavaram Assembly constituency in Krishna district. Gannavaram MLA Dr Vallbhaneni Vamsi Mohan attended the ceremony and entered the home, along with beneficiary Acchi Nag
Vijayawada: House warming ceremonies of newly constructed houses, which were constructed under the NTR Rural Housing scheme in Krishna district, began on Saturday. The first ceremony was held at Mallavalli village in Bapulapadu mandal of Gannavaram Assembly constituency in Krishna district. Gannavaram MLA Dr Vallbhaneni Vamsi Mohan attended the ceremony and entered the home, along with beneficiary Acchi Nageswaramma, on Saturday.
Highlights:--
Gannavaram MLA Dr Vamsi inaugurates the first house at Mallavalli village in Krishna dist

Acchi Nageswaramma enters her new house, along with Gannavaram MLA Vamsi Mohan
He congratulated the beneficiary Nageswaramma for early completion of the house. Andhra Pradesh State Housing Corporation (APSHC) allotted about 16,750 houses to Krishna district under NTR Rural Housing scheme and the corporation sanctioned 15,643 houses. According to sources, about 10,059 houses are under construction in different levels and seven beneficiaries completed their houses construction under this scheme so far.
Gannavaram MLA Dr Vamsi was instrumental for taking initiative and implementing the development and welfare schemes. The local MLA is giving top priority for NTR Rural Housing scheme and visited and inspecting constructing houses in his constituency limits.
According to housing corporation department, about 1,922 houses are in roof casting level, 1,488 houses are in roof level and remaining houses construction was below basement and basement level. According to Krishna district project director (PD) Sarath Babu, NTR Rural Housing scheme works were expedited in the district. On every Monday, the Collector was reviewing the housing progress and giving directions to department officers, he explained.