TDP trains guns on KCR govt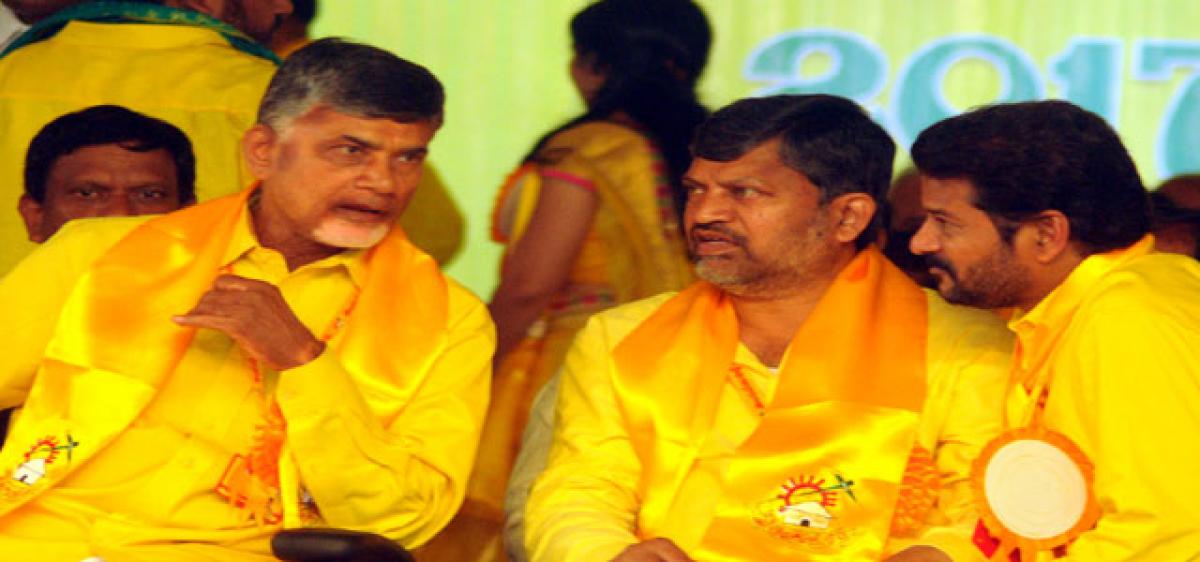 Highlights
The TDP at its Day-1 session of the three-day Mahanadu, which began here on Friday, adopted a tough stand against the TRS government in Telangana. Even as the Telangana leaders who spoke in the inaugural session detailed the omissions and commissions of the K Chandrasekhar Rao government, party president and AP Chief Minister N Chandrababu Naidu extended them his full support to his party in Telan
Visakhapatnam: The TDP at its Day-1 session of the three-day Mahanadu, which began here on Friday, adopted a tough stand against the TRS government in Telangana. Even as the Telangana leaders who spoke in the inaugural session detailed the omissions and commissions of the K Chandrasekhar Rao government, party president and AP Chief Minister N Chandrababu Naidu extended them his full support to his party in Telangana in taking the fight to its logical end.
"I remained in the opposition for 10 years and you will be out of power for 15 years. But don't lose your heart," he said.-- Earlier, party Telangana general secretary Amarnath accused the KCR government of inciting inter-state water wars with the neighbouring Andhra Pradesh in a bid to keep Telangana sentiment alive and cover up his alleged misdeeds. In the same breath, he said the TRS government has compromised with other riparian states of Karnataka and Maharashtra in upper reaches of the rivers over sharing of waters.
Amarnath described KCR as a dictator, citing the police excess against farmers and opposition leaders. "Öur party senior leaders were handcuffed and paraded in Khammam for highlighting the distress conditions faced by farmers due to market vagaries," he complained.The conclave devoted one full session for debate on the alleged misrule of the TRS government, its failure to realise the election commitments and gagging the voice of media.
A resolution adopted at the session charged that the TRS government failed to keep its promise to address unemployment problem in Telangana. When the finance department has stated that there are 1.08 lakh vacant posts in different government departments, there were piecemeal measures from the government to realise the party's promise mentioned in the election manifesto. The government failed to implement its assurance for waiver of farm loans and that there appears no end to a spate of farm suicides since KCR became CM, the resolution said.
A survey conducted by the TRS government itself revealed that around 22 lakh people were in need of houses. But the government provided only 1,400 houses in the last three years of TRS rule in telangana, the resolution pointed out.
The TDP picked holes in the KCR government's drive for irrigation projects. Amarnath accused the government of displacing a huge number of people without ensuring relief and rehabilitation package under the Land Acquisition Act, 2013 in the name of building new projects.
When a good number pending projects are crying for attention for several years, where is the need for new projects, he asked.Agriculture sector is in a shambles during the current regime which lacked direction and commitment to make agriculture viable by addressing distress conditions, another resolution said.