National highways turns transit point for Ganja trafficking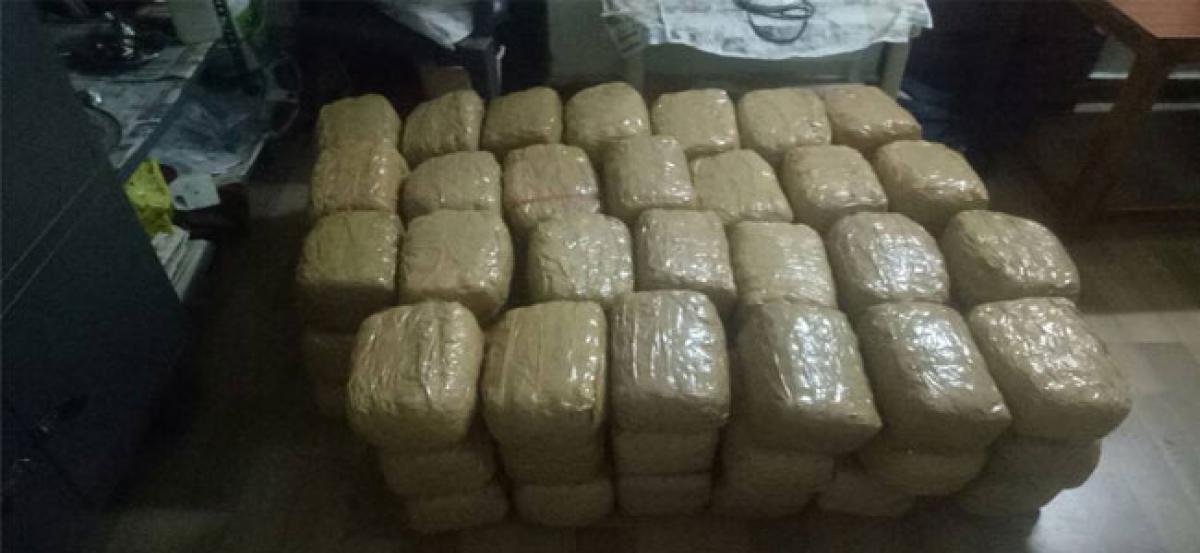 Highlights
Vijayawada is gradually turning into a Ganja transit point in recent years due to supply of Ganja from the Visakhapatnam agency area to Chennai, Hyderabad, Mumbai and other cities via the National highways passing via the city. As the Ganja consumption is increasing in the metro cities like Chennai, Hyderabad, Bengaluru, the demand for the Ganja is increasing in recent years. Visakhapatnam agency
Vijayawada: Vijayawada is gradually turning into a Ganja transit point in recent years due to supply of Ganja from the Visakhapatnam agency area to Chennai, Hyderabad, Mumbai and other cities via the National highways passing via the city. As the Ganja consumption is increasing in the metro cities like Chennai, Hyderabad, Bengaluru, the demand for the Ganja is increasing in recent years. Visakhapatnam agency area is ideal for production of Ganja.
Highlights:
4000 kg ganja seized in one year

Police booked cases on 50 persons in and around the city
So, the Ganja production is continuing unabated in the agency areas. Brokers from metro cities are visiting these agency areas and entering into contract for supply of Ganja. These Ganja packets are transported by cars and trucks via Vijayawada. Ganja sellers at the ground level sell at Rs.2,000 a kg. Brokers and buyers resell the same Ganja for Rs.5,000 to Rs.10,000 depending on the demand and availability of stock.
Vijayawada Task Force teams have seized 4000 kg Ganja packets in the last one year. The police have nabbed 2800 kgs in a single raid conducted at Ramavarappadu junction in Vijayawada city recently. Task Force police with the city police are keeping a tight vigil on the national highways and important routes to seize the Ganja packets.
Some innocent people are being trapped in the Ganja racket. Brokers lure the poor gullible people by offering commission for trafficking. If a person is caught while possessing more than 450 grams of Ganja, he may be booked under the Narcotics Drugs and Psychotropic Substances Act of 1985. Under this act, the convicted persons get minimum seven years of jail.
Puppala Srinivasa Rao, a senior advocate said the Narcotic Drugs act is very strict and convicts get harsh punishment as per the law. A senior police officer dealing with Ganja cases in the city said the police have booked cases on nearly 50 persons during the last one year in connection with the trafficking of Ganja.
He said the traffickers neatly pack 2 kg packets for easy transportation. The official said the number of Ganja trafficking cases is increasing during the last few years. Sometimes, innocent people are getting booked in the trafficking cases. Ganja traffickers use gullible people by offering commissions for the supply of Ganja. Truck drivers and cleaners fall prey to the misdeeds of the Ganja traders and middlemen. Police officials are asking the people not to trust unknown people and avoid supplying of packets from one area to other.
By Md AMEEN