Police arrests four in two criminal cases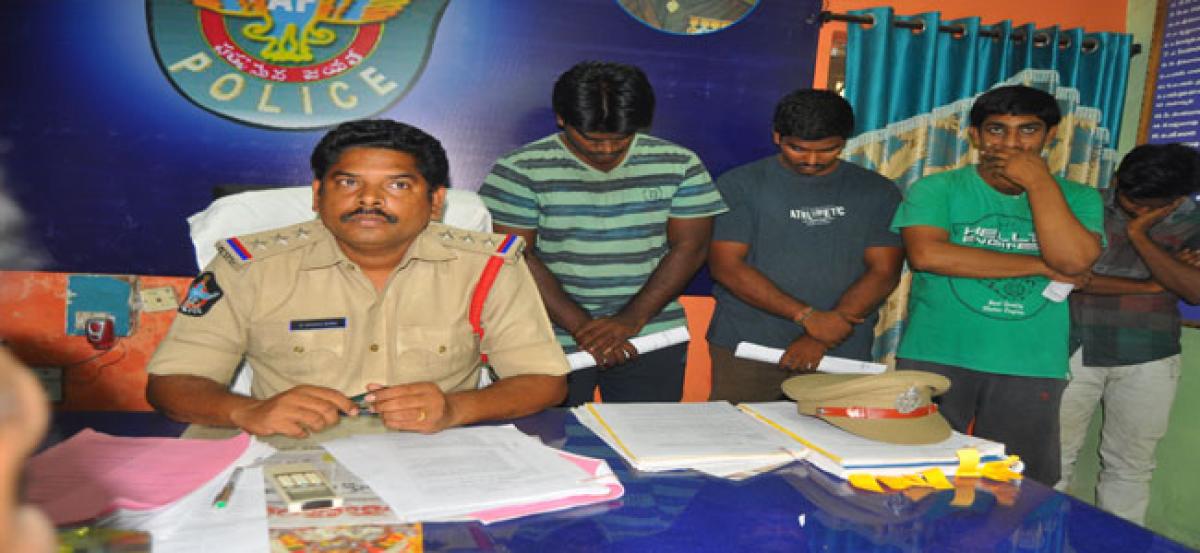 Highlights
The two-town police arrested four persons in two separate cases relating to kidnap and attempt to murder in the city. Addressing media conference here at two-town police station, city circle inspector G Madhu Babu said on Monday that some people attacked Munipalli Jayababu of Tangellamudi area with knives and seriously injured him on May 9. Jayababu on that morning went to a liquor shop in Tangell
Eluru: The two-town police arrested four persons in two separate cases relating to kidnap and attempt to murder in the city.
Addressing media conference here at two-town police station, city circle inspector G Madhu Babu said on Monday that some people attacked Munipalli Jayababu of Tangellamudi area with knives and seriously injured him on May 9. Jayababu on that morning went to a liquor shop in Tangellamudi along with Nagaraju and Flexi Venkatesh where they had an altercation among them.
Jaya Babu went to Panta Kalva area in Tangellamudi and met Kolli Shankar Reddy and his men. Shankar Reddy seeing Jayababu asked his henchmen to stab Jayababu stating him to be the follower of Bhimavarapu Suresh. The henchmen of Shankar Reddy stabbed Jayababu in the stomach and Shankar Reddy cut his neck with a knife and fled away from the scene.
The seriously injured Jayababu managed to reach government hospital in Eluru by himself.
The doctors immediately shifted him to Vijayawada government hospital where he went into coma for four days. After coming out of coma, police gathered information on the attack from Jayababu who told the names of the accused to the police. The police arrested Jammu Venkatesh on Monday in this case. The CI said other accused Kolli Shankar Reddy, Borre Joshua Preetham (Bony), U Durga Prasad, Sayyad Yusuff and Sayyad Baji are at large and they will be arrested soon. About 40 cases were pending against Shankar Reddy, CI added.
Meanwhile, in another case of kidnap and attempt to murder case, three accused were arrested by town police, CI stated. He said that Jammu Venkatesh of Kothapeta area was kidnapped by Bhimavarapu Suresh Kumar and his men on May 16 and took him to an apartment near Ashok Nagar Andhra Bank in the city. They have beaten up Venkatesh alleging that he was wandering with Shankar Reddy to kill Bhimavarapu Suresh, husband of a TDP Corporator and others.
Later on May 19, they called on the relatives of Venkatesh and warned them to control him and released them. Venkatesh's mother who was at Hyderabad returned to Eluru and saw the injured Venkatesh. She complained about the kidnap and attempt to murder to the two-town police. The police registered a case and are searching for the accused.
On Monday, the police arrested Chippada Saikumar, Akki Murali and Rayudu Sampath Kumar. The other accused Bhimavarapu Suresh, Komakula Srinu, Nethala Kittu, Relli Vasudev, Tabelu Dhanunjay, Danda Nani are at large and a search is on for the accused, CI added.
Interested in blogging for thehansindia.com? We will be happy to have you on board as a blogger.