Water shortage in Thotapalli hits ayacut in Srikakulam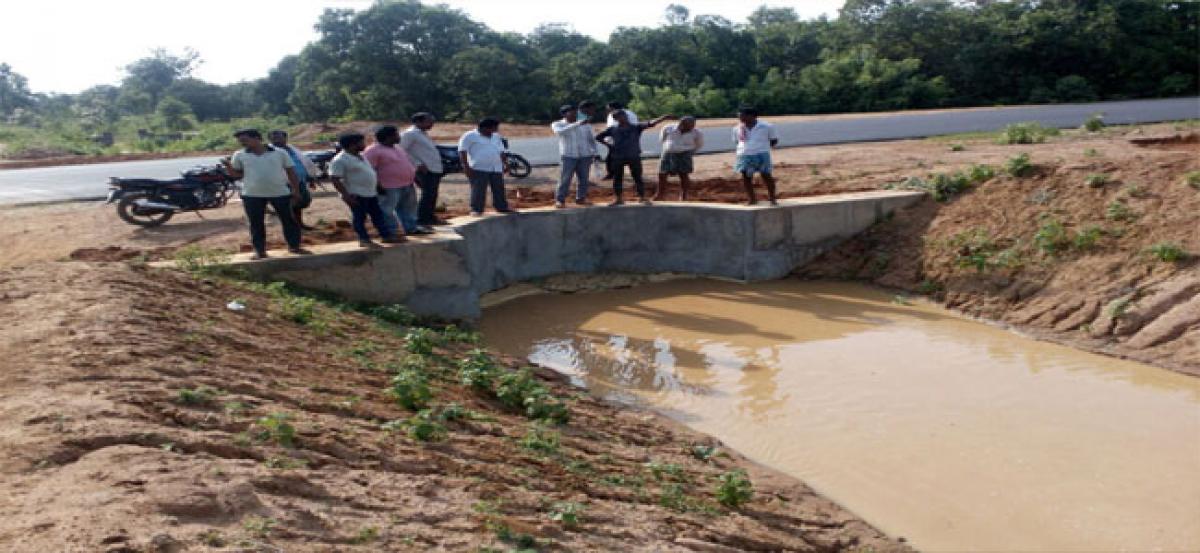 Highlights
Thotapalli project is situated in Garugubilli mandal in Vizianagaram district on Nagavali river and it is having 1, 05, 073 acres ayucut in Veeragattam, Palakonda, Vangara, Regidi, Santhakaviti, Burja, Rajam, G Sigadam, Laveru and Ranastalam mandals in Srikakulam district under the old right and left main canal (RMC and LMC) systems, new RMC system, open head channels and Gajapathinagaram branch c
Srikakulam: Water shortage from Thotapalli project hits ayacut area in Srikakulam district during current kharif season due to unauthorised diversion of water from canals by upper riparian farmers. It is leading to disturbance between farmers of Vizianagaram and Srikakulam districts.
Highlights:
Upper riparian farmers diverting water un-officially

Project officials started removal of diversions
Thotapalli project is situated in Garugubilli mandal in Vizianagaram district on Nagavali river and it is having 1, 05, 073 acres ayucut in Veeragattam, Palakonda, Vangara, Regidi, Santhakaviti, Burja, Rajam, G Sigadam, Laveru and Ranastalam mandals in Srikakulam district under the old right and left main canal (RMC and LMC) systems, new RMC system, open head channels and Gajapathinagaram branch canal extension system.
In Srikakulam district under the old RMC and LMC, 30,000 acres are being irrigated while in new RMC another 36,273 acres, under the open head channels 23,800 acres are irrigated and with the extension of Gajapathinagaram branch canal water is being provided to 15,000 acres.
"Water is not yet reached our area from Thotapalli canals, said farmers", Khandapu Prasada Rao of PR Raju Peta, Mamidi Ranga Rao, Kanapaka Suryaprakasa Rao of Voni village in Palakonda mandal.
But this year water is not yet reached ayucut area in Srikakulam particularly tail end area mandals G Sigadam, Laveru, Ranastalam, Santhakaviti and Burja. Due to dry spell, paddy nurseries are being dried up and paddy crops are also in a bad state. Anticipating dry spells this year, Thotapalli project officials decided to fill up 268 tanks in tail end mandals, 47 new tanks added as against last year;s figure of 221 in the district.
The project officials initiated steps to remove diversions, unauthorised prevention of water from canals from Saturday. "We are receiving complaints over unavailability of water to crops in Srikakulam district and it is our duty to supply water to entire ayucut area," said Thotapalli superintending engineer Dola Tirumala Rao and executive engineer Hanumanthu Manmadha Rao.
By Ch Lakshmana Rao