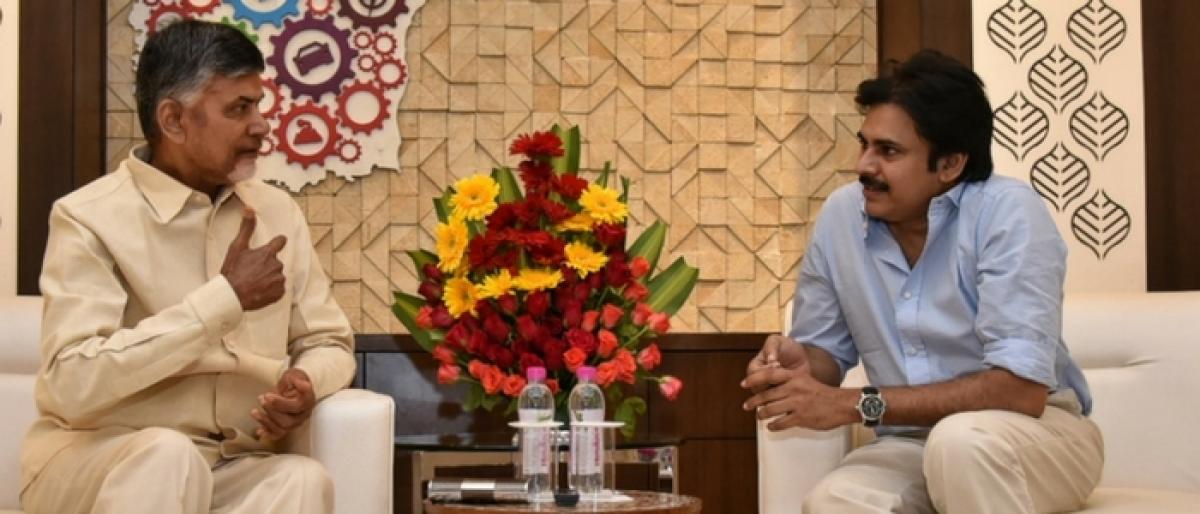 Highlights
Jana Sena Party leader and actor Pawan Kalyan is poised to become a 'full-time' politician from October next by freeing himself from acting. "Of course, I will continue to do acting off and on whenever time permits even in the thick of politics," says Pawan at a media conference here on Monday. Replying to a question, he said he will take a call on his support in the byelection in Nandyal in a cou
Pawan to take a call on Nandyal bypoll soon
​Vijayawada: Jana Sena Party leader and actor Pawan Kalyan is poised to become a 'full-time' politician from October next by freeing himself from acting. "Of course, I will continue to do acting off and on whenever time permits even in the thick of politics," says Pawan at a media conference here on Monday. Replying to a question, he said he will take a call on his support in the byelection in Nandyal in a couple of days.
The JSP leader categorically stated that he had no "hidden friendship" or "hidden agenda" with the ruling TDP in Andhra" soon after a one-to-one meeting with Chief Minister N Chandrababu Naidu at the Secretariat.
"Did I not support the TDP and the BJP (in 2014)? It was open and we had a common programme at that time. There is no hidden agenda now and then," he said. He said he will not spare the TDP on public issues, if situation warranted.
Close on the heels, an official handout released from the Chief Minister's Office over the outcome of the Naidu-Pawan meeting claimed, "Pawan lauded the performance of the TD government". Chandrababu is understood to have taken the stride in his favour with a one-to-one meeting with the JSP leader in a bid to give an impression that Pawan is still his ally.
This happened at a time when the actor is apparently growing beyond the framework of the TDP-BJP alliance in terms of his stature by raising his voice over key issues such as special category status and aqua food park in Bhimavaram area.
Naidu's brigade, including Municipal Administration Minister P Narayana, and MP JC Diwakar Reddy, was quick to grab the opportunity by portraying Pawan as a friend of the TD government much before he emerged from Naidu's chambers.
The JSP leader said he would tour all parts of the state and take up people's issues. Having launched the Jan Sena before the 2014 elections, he supported the TDP-BJP combine and contributed to their victory in Andhra Pradesh. Subsequently, he concentrated on films and only occasionally took up political activities.
Asked if he would undertake a foot march, the Jana Sena chief shot back, saying there were several ways in which he could go to the people. Referring to a survey report quoted by Telangana Chief Minister K Chandrasekhar Rao which gave only 1-2 per cent votes to the Jana Sena, Kalyan quipped: "I am happy he gave me 1-2 per cent.
I would have been happy even if he gave me zero. I don't know what my strength is unless I go to the people. Only then can I talk about my strength."