Isolated heavy rain forecast for coastal districts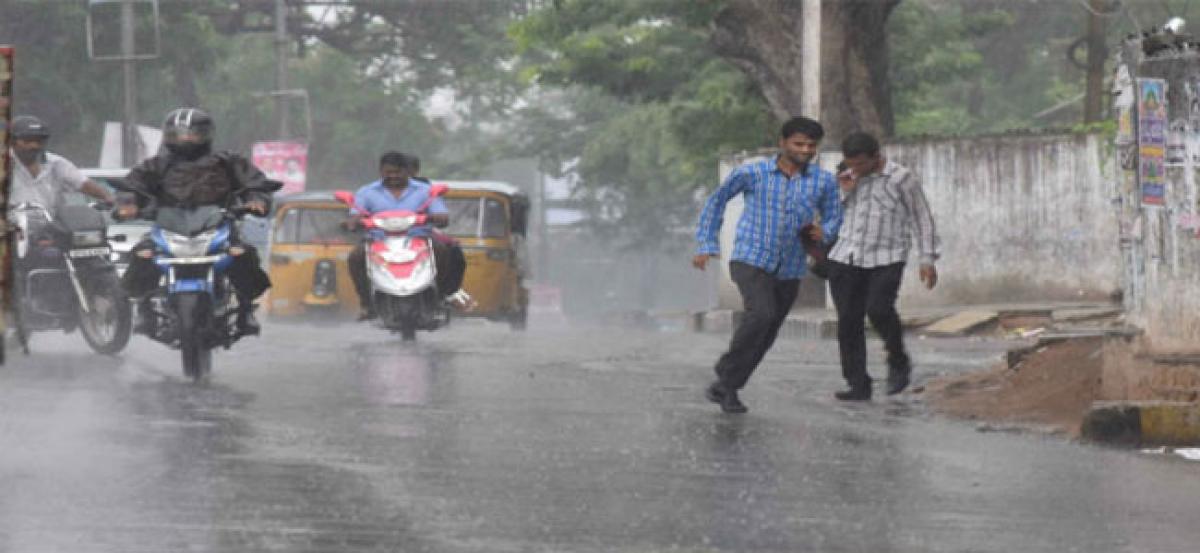 Highlights
Another low pressure area is very likely to form over North Bay of Bengal and its neighborhood around July 19, the Met department bulletin said on Sunday
Hyderabad: Another low pressure area is very likely to form over North Bay of Bengal and its neighborhood around July 19, the Met department bulletin said on Sunday.
According to the bulletin, Saturday's well marked low pressure area now lies over the north-west Bay of Bengal and adjoining Odisha, with the associated upper air cyclonic circulation.
The cyclonic circulation over north Chhattisgarh and its neighborhood has merged with the monsoon trough. As a result, the bulletin warned of heavy rain very likely to occur at isolated places in Srikakulam, Vizianagaram, Visakhapatnam, East & West Godavari, Krishna and Guntur districts on July 16. It said there was heavy rain in the seven coastal districts on Sunday, with the Southwest Monsoon turning active in coastal Andhra and normal in Rayalaseema.
According to the bulletin, very heavy rain occurred at isolated places in West Godavari. There was heavy rain at isolated places in East Godavari and Srikakulam districts. Rain occurred at most places in coastal districts and at isolated places in Rayalaseema.
The chief amounts of rainfall (in cm) in the State were: Kukunoor (WG) 12, Koida (WG) 11, Velairpad (WG), Chintur (EG) 9 each, Ichapuram (Srikakulam) 7, Chintalapudi (WG), Mandasa (Srikakulam), Vararamachandrapur (EG) 7 each, Kunavram (EG) 6, Koyyalagudem (WG) 5, Sompeta (Srikakulam), Dowleshwaram (EG), Kaikalur (Krishna), Pathapatnam (Srikakulam), Tadepalligudem (WG), Bhimadole (WG), Pagidyala and Atmakur (both in Kurnool) 4 each.
There was 3 cm rain each in Kurupam( Vizianagaram), Amalapuram (EG), Polavaram (WG), Rajahmundry (EG), Eluru (WG), Parvathipuram (Vizianagaram), Karamchedu (Prakasam), Narsapuram (WG), Peddapuram (EG), Cumbum (Prakasam), Vijayawada Airport (Krishna), Cheepurupalle, Komarada, JiyyammaValasa (all in Vizianagaram), Kakinada (EG), Tanuku (WG), Bheemavaram (WG), Nandikotkur (Kurnool) and Jupadu Bungalow (Kurnool).