Vehicle carrying essential kits to Kerala flagged off in Tirupati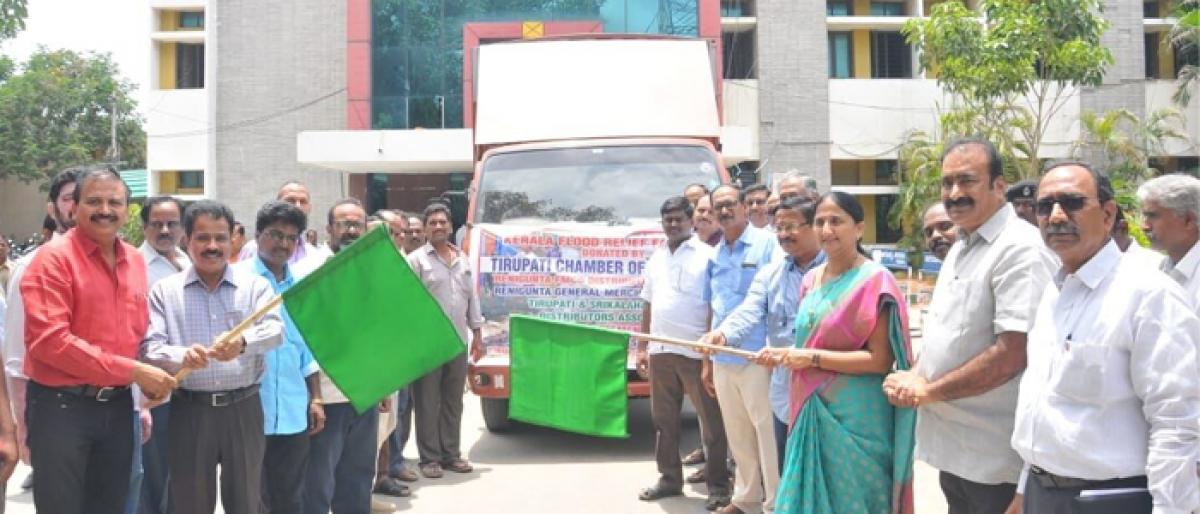 Highlights
Tirupati Chamber of Commerce TCC has sent 500 kits that contains essential commodities to Kerala flood victims
Chamber of Commerce takes initiative of sending 500 kits containing 24 commodities to Kerala
TCC members to hand over essential kits to flood victims
Tirupati: Tirupati Chamber of Commerce (TCC) has sent 500 kits that contains essential commodities to Kerala flood victims.
Each kit contains 24 commodities like rice, dal, salt, biscuits, blanket, dhoti, nighty etc., which were sent to Thrissur in Kerala.
RDO G Narasimhulu, TUDA Secretary K Madhavi Latha and TCC President A Manjunath flagged off the vehicle with kits in Tirupati on Saturday.
Members of TCC Vasudevan, Sreenivas, Balaji, Rajendra and Sekhar have also went along with the vehicle to handover the kits personally to each of the victims.
TCC Secretary P Madhusudan Rao, members K Hemachandra Reddy, Nijamthulla and others also participated.