AP Assembly session may go without opposition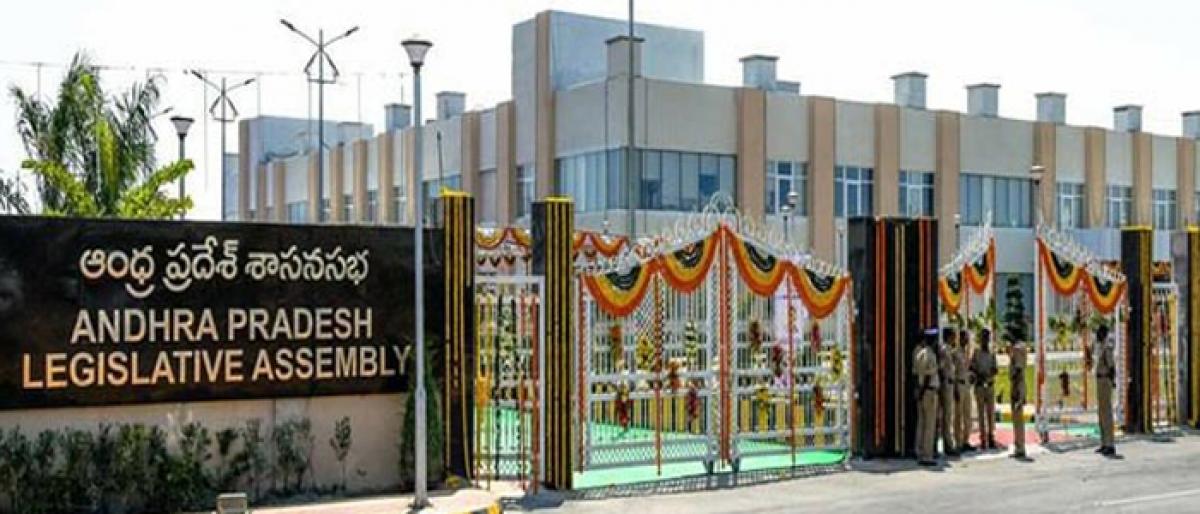 Highlights
Even as Telugu Desam Party is getting ready for the monsoon session of the Assembly to show case its achievements during the last four and ahalf years, the YSRC has decided to continue its strategy of boycotting it
Amaravati: Even as Telugu Desam Party is getting ready for the monsoon session of the Assembly to show case its achievements during the last four-and-a-half years, the YSRC has decided to continue its strategy of boycotting it.
The YSRC has, in fact, dared the Chief Minister on whether he would be able to drop the four YSRC MLAs who were taken into his cabinet respecting the anti-defection Act.
The party leaders said that if Naidu did this, they would not have any objection to attend the Assembly session, implying that that they would give it a miss this time too.
Speaking to reporters, YSRC MLA G Srikanth Reddy said that so far, they were not informed of the commencement of the Assembly session on September 6 and wondered if Naidu would give them any time to talk even if they attended it.
The Telugu Desam Party too is preparing for an opposition-less Assembly session. Since there would be no YSRC to attack, the session would be more on focusing on the progress the state had achieved on all fronts.
Though the YSRC members would not be around, the TDP might use it as a platform to slam the BJP and the YSRC whom it alleges are working hand-in-glove to defeat the TDP.
Ahead of the commencement of session, Naidu called a joint meeting of Telugu Desam Legislature Party and TDP general body on Wednesday to explain to the party MLAs and MLCs the strategy they have to adopt in the assembly.
The government is also expected to give its version of the "PD Accounts" scam which the BJP had alleged the state had resorted to and how the Centre had gone back on promise of the Special Category Status and other assurances.
There are nearly 200 questions approved by the Speaker to be discussed in the Assembly. Apart from it, the government will introduce seven new bills in this session, official sources said.