AP winter session begins on dull note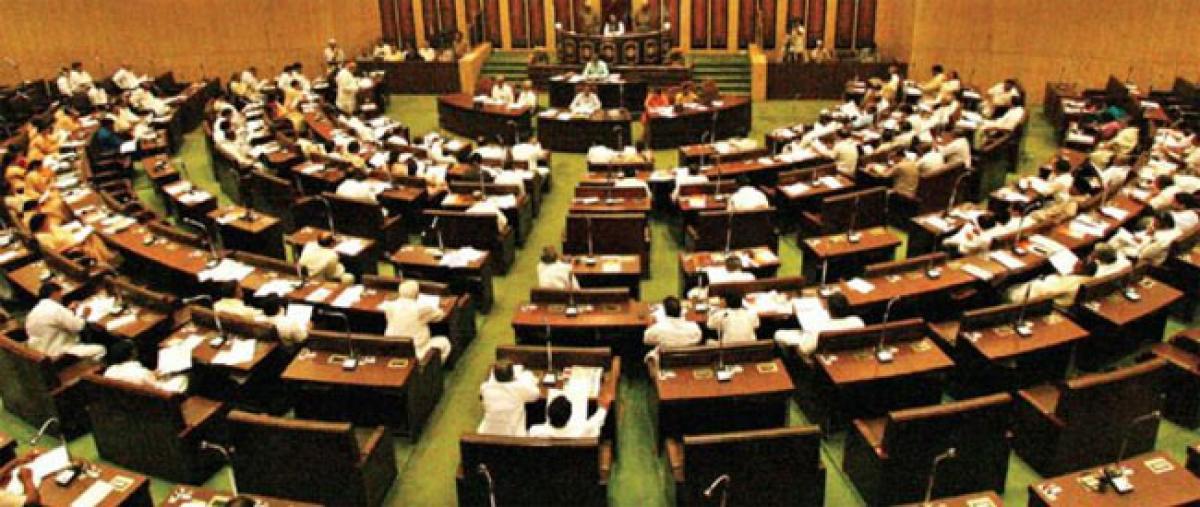 Highlights
The first day of the monsoon session of the AP Assembly was lackluster affair Had Chief Minister N Chandrababu Naidu been not there, the session would have ended up as damp squib
Amaravati: The first day of the monsoon session of the AP Assembly was lackluster affair. Had Chief Minister N Chandrababu Naidu been not there, the session would have ended up as damp squib.
With the absence of Opposition YSRCP MLAs, there were no heated exchanges or verbal wars between the treasury and Opposition benches, the hallmarks of any session of the AP Assembly. There were only TDP and BJP MLAs in the House.
Naidu walked into the House before its commencement at 9.15 am even as many ministers and MLAs were still on their way. Ministers N Chinarajappa, P Narayana and Yanamala Ramakrishna were also late to the House.
Ministers K Atchennaidu and Paritala Sunita entered the House just before the CM's arrival. The first day of the House went off without any interesting discussions on any issue during the five hours' time.
Hindupur MLA Nandamuri Balakrishna, who is known for histrionics, spoke during the condolence motion on the demise of former Prime Minister Atal Bihari Vajpayee. The MLAs of the Telugu Desam seemed excited when Balakrishna was speaking on the closeness of his father late NT Rama Rao with Vajpayee.
The Question Hour was completed without tempers running high. On the contrary, there was banter when BJP floor leader P Vishnukumar Raju raised the issue of the deplorable state of KG Hospital in Visakhapatnam.
Though the rural health scenario in the state has turned from bad to worse, the ruling Telugu Desam especially the MLAs of agency areas also did not highlight the problems seriously. MLAs Giddi Eswari, P Vishnukumar Raju, G Buchaiah Chowdary, SV Mohan Reddy raised the questions on health issues as normal questions.
However, the Chief Minister reacted on the issue and spoke for a few minutes terming it as an important issue. The mood of the House was dull and majority of the MLAs and the ministers of Kurnool and Prakasam were absent. Only half of the MLAs were present.
The media point was visibly boring with the presence of a small number of legislators. Only Minister for Housing and Information Kaluva Srinivasulu interacted with the media at media point.