TDP, YSRCP leaders trade charges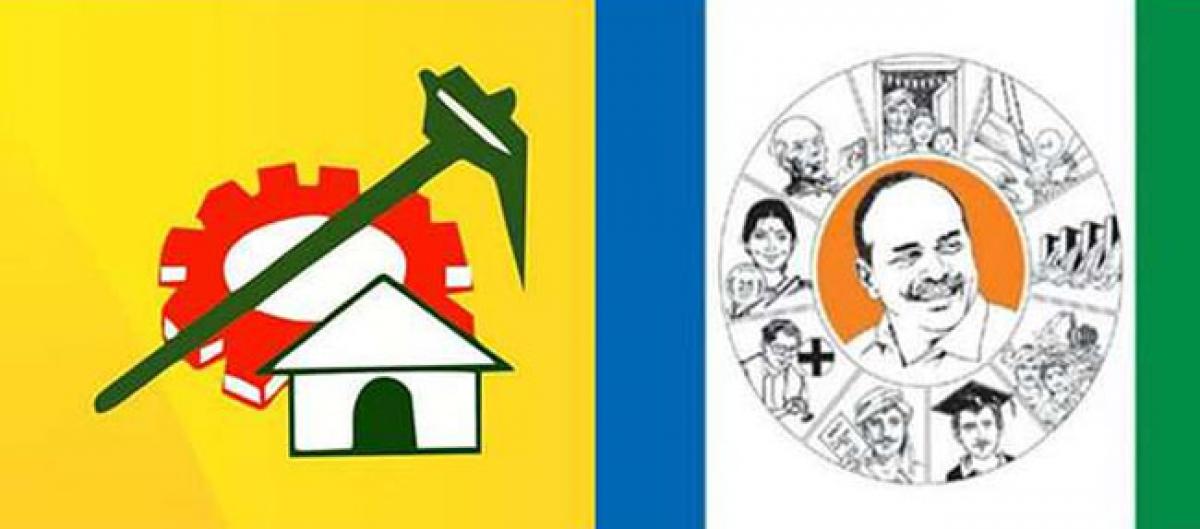 Highlights
Leaders of TDP and YSRCP in Mylavaram Assembly constituency are indulged in mudslinging with regard to next years elections At present, Minister for Water Resources DevineniUmamaheswara Rao is representing from the constituency while former Home Minister VasantaNageshwara Raos son Krishna Prasad entered into election fray as candidate for YSR Congress
Vijayawada: Leaders of TDP and YSRCP in Mylavaram Assembly constituency are indulged in mudslinging with regard to next year's elections. At present, Minister for Water Resources Devineni Umamaheswara Rao is representing from the constituency while former Home Minister VasantaNageshwara Rao's son Krishna Prasad entered into election fray as candidate for YSR Congress.
The competition has turned personal rivalry between the two leaders. Recently Krishna Prasad distributed one lakh sarees in the constituency limits.
Now the audio footage of Vasanta Nageswara Rao is doing rounds in political circles that the YSR Congress is ready to use all efforts including shifting of man power from Kadapa district for victory. The audio recording reveals that the YSR Congress candidate is ready to spend huge money.
The voices of audio between VasantaNageshwara Rao and a government official was being circulated in political circles. Telugu Desam and YSR Congress leaders were making allegations on each other in the tapes related issue. The leaders of Telugu Desam said that the YSR Congress leaders were making plans undemocratically.
On the other hand, the YSR Congress leaders also said that the leaders of Telugu Desam created fake audio tapes for their political gain. Now the political atmosphere is turning hot between the leaders of two parties in the constituency though the election is not coming in the immediate future.