Artistes impress audience at Padya Nataka festival in Vijayawada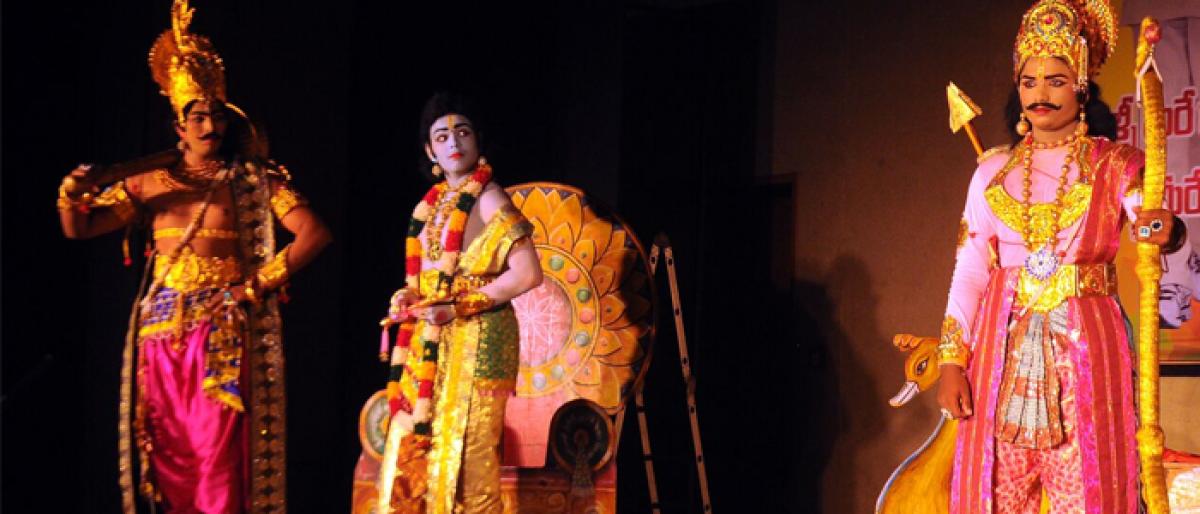 Highlights
Andhra Pradesh Nataka Academy and the Department of Culture, Government of Andhra Pradesh jointly organising Padya Nataka festival in connection with Navaratri festival at Tummalapallivari Kshetrayya Kalakshetram here from Wednesday
Vijayawada: Andhra Pradesh Nataka Academy and the Department of Culture, Government of Andhra Pradesh jointly organising 'Padya Nataka' festival in connection with Navaratri festival at Tummalapallivari Kshetrayya Kalakshetram here from Wednesday.
The festival commenced with the play "Krishna Rayabaram" by students under the able guidance and direction of noted artiste PVN Krishna.
This well-known play was written by Tirupati Venkata Kavulu and the poems are most popular in the minds of Telugu people.
All the young artistes did well and received appreciation from the critics gathered in the auditorium.
Especially the expressions and dialogue modulation of Malladi Rahut (Krishna), Davuluri Rajit Rajeev (Arjuna), P Sai Sankar (Duryodhana), GS Kusuma Sai (Drowpadi) was impressive.
The other characters were played by M. Sashikanth (Dharmaraju), B Ananth Sri Charan (Bhima), N Yasvant (Nakula), Chavali Sivaramakrishna (Sahadeva), DR Raajiv (Dhrutarastra), V Sireesha (Gandhari), B Yamunacharyulu (Bhishma), Chinta Dundi Krishna (Drona), MS Kanth (Vidura), PRR Krishna (Aswardhama), P Surendra Gopal (Vikarna) and V Venkata Krishna (Karna).
The coordination of artistes was excellent. Technical support rendered by AV Prasada Rao (Harmonium), Sitaram (Clarinet), Raju, Livingston, Devid (sets and stage), Rajendra Prasad and Nagaraju (Lighting) and Veerabharachari and Naidu (Make up) This play attracted because the director Krishna had taken initiation to inject new blood to 'Padyanatakam' along with rich sets and stage craft.
The festival was inaugurated by Varla Ramaiah, Chairman, APSRTC. City Mayor Koneru Sridhar, Nataka Academy Chairman Gummadi Gopalakrishna and others were also present in a brief inaugural meeting.