People told to grow more trees in rajahmundry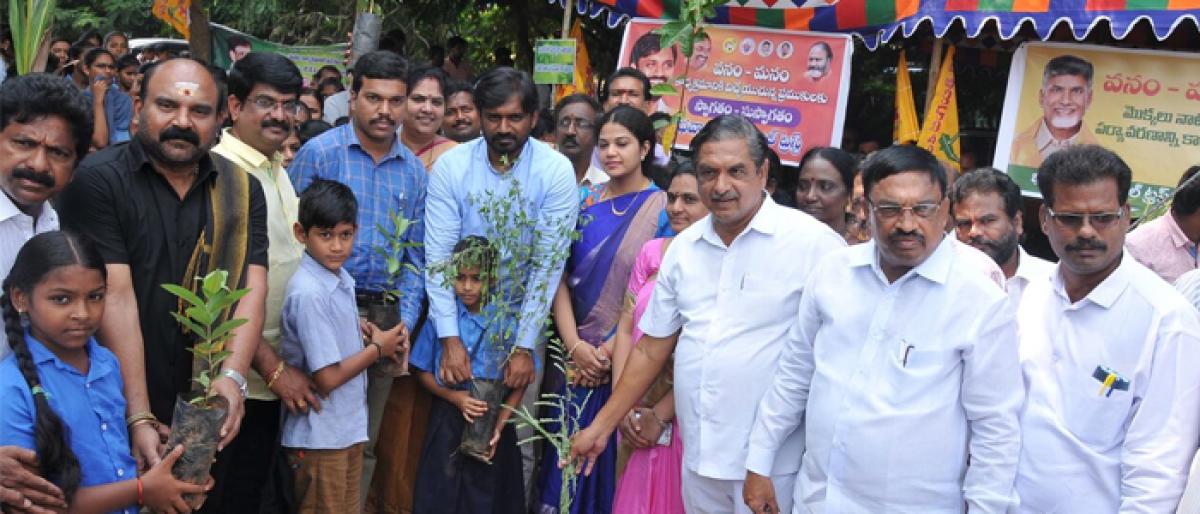 Highlights
MLC Adireddy Appa Rao has underlined the need to protect environment by growing trees by taking up massive tree plantation, which is the need of the hour
Rajamahendravaram: MLC Adireddy Appa Rao has underlined the need to protect environment by growing trees by taking up massive tree plantation, which is the need of the hour.
Because of present circumstances, the environment is being polluted on a large and alarming scale.
He distributed 45,000 saplings under the aegis of Bhavani Charitable Trust, under Vanam Manam programme held in Sri Venkateswara Anam Kala Kendram and also at Subramanya Mydanam here on Wednesday.
Later, he said last year also 45,000 saplings including Lemon, Guava, Pomegranate, Neem, Tulasi, Orange, Coconut etc were distributed in the city to make Rajamahendraavaram a green city.
It is the duty of everyone in the society to protect environment which is very much needed to lead a healthy life, he added.
Bhavani Charitable Trust is participating in many social service activities and extending its support to the needy, he said.
He asked the teaching fraternity to inculcate the habit of planting saplings and also how to protect environment.
Rajamahendravaram Unaided Colleges and Schools Association president TK Visweswara Reddy congratulated the MLC for distributing various varieties of saplings to protect environment and asked him to continue the same in future.
College and schools association is putting its endeavour to bring awareness among students on environment protection.
Municipal Corporation deputy commissioner T Rajgopal stressed on the need to combat environment pollution and said the corporation is also giving priority for tree plantation in the city.
He thanked MLC Adireddy Appa Rao for distributing saplings free of cost to the people.
Divisional Forest officer of Social Forestry, TDP leader Adireddy Vasu, corporators Kosuri Chandipriya, Reddy Parvathi, SAAP director YVG Raidu and many others were present.