Congress stages protest against CBI misuse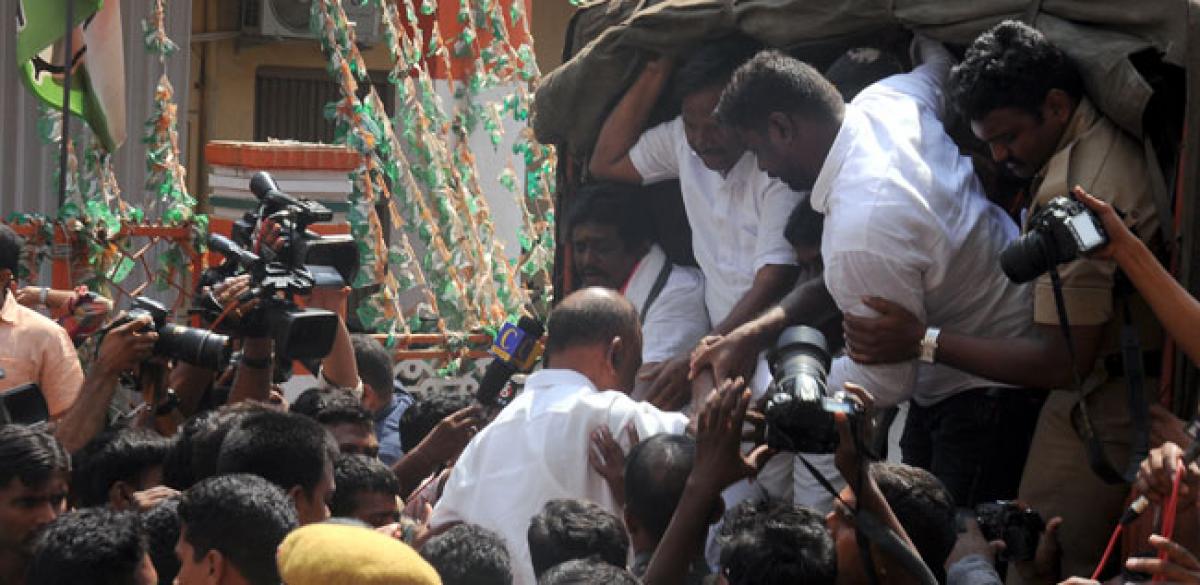 Highlights
AP Congress Committee president N Raghuveera Reddy and other Congress leaders were arrested by police here on Friday when they were taking out a rally
Vijayawada: AP Congress Committee president N Raghuveera Reddy and other Congress leaders were arrested by police here on Friday when they were taking out a rally. They alleged that the BJP-led NDA government was misusing the Central Bureau of Investigation (CBI) for its own interests.
As part of nationwide agitation call given by the Congress party, the leaders of AP Congress took part in the rally. When the leaders took out the rally from the city Congress office Andhra Ratna Bhavan, the police arrested them immediately.
On this occasion, they raised slogans against the Centre. PCC chief N Raghuveera Reddy said that the Centre was misusing all the Constitutional bodies for its political interests.
He said that the country was facing dangerous conditions under the leadership of Prime Minister Narendra Modi. He wondered as to how the Centre transferred the higher officials in the CBI without following rules.
He alleged that Prime Minister Narendra Modi and BJP national president Amit Shah were involved in corruption in Rafale scam. He said that they were trying to save themselves from the scam by transferring CBI officials. The people would teach a fitting lesson to them, he said.
Congress leaders Sunkara Padmashree, Kolanukonda Sivaji, Meesala Rajeswara Rao and several other leaders were arrested and shifted to Bhavanipuram police station.