Titli damages entire Srikakulam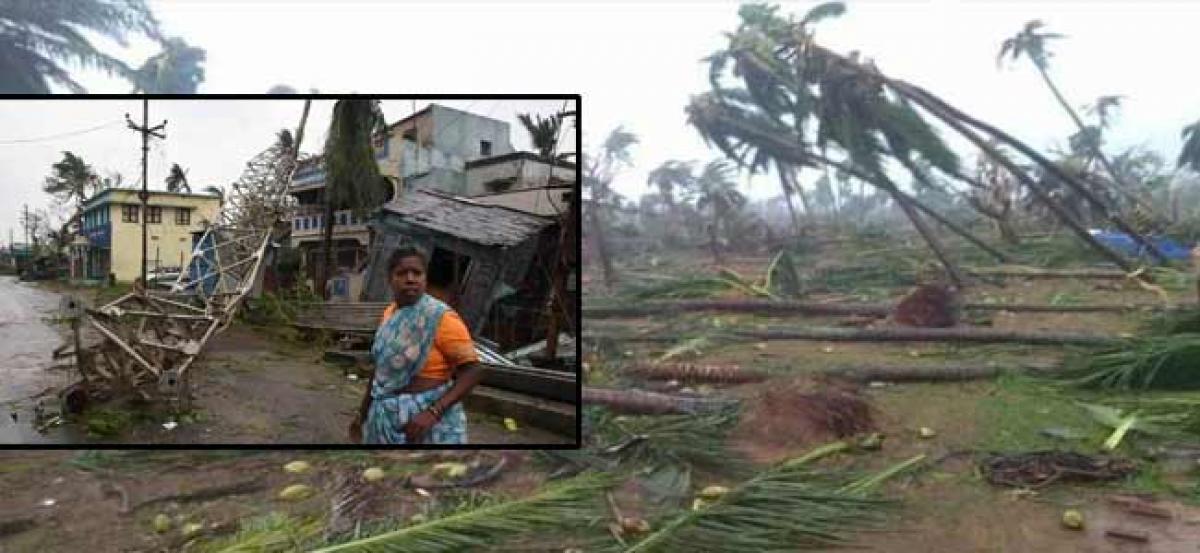 Highlights
Titli cyclone damaged entire Srikakulam district Total 38 mandals in the district facing cyclone related damages For the first time in the history of Srikakulam Titli causes loss to all mandals Previously other cyclones in 1990, 1999, Phailin in 2013, HudHud in 2014 did not caused loss to all madals and confined to mainly coastal mandals
-All 38 mandals affected
-Victims are more than 4.21 lakh
-First cyclone in the Srikakulam history which causes loss to entire district
Srikakulam: Titli cyclone damaged entire Srikakulam district. Total 38 mandals in the district facing cyclone related damages. For the first time in the history of Srikakulam Titli causes loss to all mandals. Previously other cyclones in 1990, 1999, Phailin in 2013, HudHud in 2014 did not caused loss to all madals and confined to mainly coastal mandals.
As per official statistics total titli victims have been identified so far as 4, 21, 481 in all 38 mandals. State government formed total 157 teams to enumerate loss in all sectors like agriculture, horticulture, animal husbandry, fisheries, housing, petty shops etc which are affecting each individual family and persons. In addition to it loss is more for roads, water bodies, canals, power lines, drains etc.
Official teams which had been appointed from across the state started enumeration of damage from 13 October and finished on 26 October. As per damage report prepared by officials total 2797 petty shops and units damaged. Total 4,280 fishermen lost their nets and boats, 42,858 person lost their cattle sheds due to Titli. Paddy crop damaged severely in an extent of 2.16 lakh acres.
Horticulture crops like banana, coconut, cashew and other crops affected in an extent of 1.17 lakh acres. Total 3,15, 386 farmers lost their agriculture and horticulture crops due to cycloe. Total 52,571 houses have been damaged due to cyclone in all mandals and more number of houses 6958 houses affected only in Vajrapukotturu mandal where Titli cyclone makes its land fall.