Naidu gets pat for targeting traffickers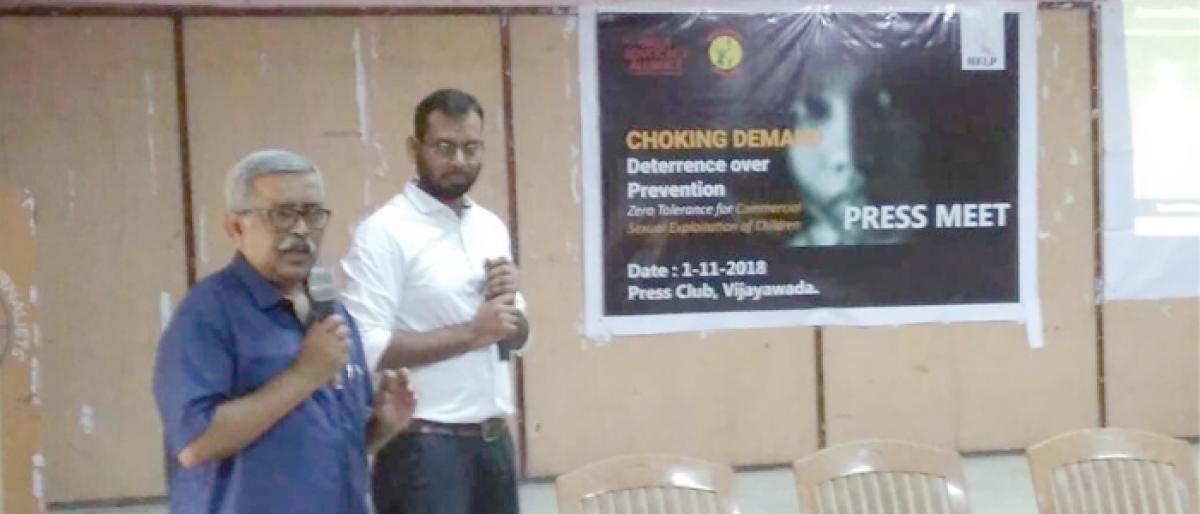 Highlights
As many as 15,379 persons were subjected to human trafficking, according to the reports of National Crime Records Bureau NCRB in 2016 and more than 50 percent were children, said HELP organisation secretary N Rammohan
Vijayawada: As many as 15,379 persons were subjected to human trafficking, according to the reports of National Crime Records Bureau (NCRB) in 2016 and more than 50 percent were children, said HELP organisation secretary N Rammohan.
Addressing the media here on Thursday, he said that in traditional red-light districts, women and children were increasingly endure sex trafficking in small hotels, vehicles, huts, and private residences.
He recalled that in January, the Andhra Pradesh government issued an order to criminalise the 'End Clients', who buy sex from the trafficked victims, including women and children.
"The bold step taken by Chief Minister N Chandrababu Naidu indicates a change in strategy to curtail exploitation of women and girls by targeting the sex buyers, who are at the core of the organised crime," he said and added that HELP, NATSAP, VIMUKTHI and GAA partners had been effectively working with respect to issues related to the safety of children in the state.
Volunteers from Tata Institute of Social Sciences Nandan Jha, Vipin Chandra and Saloni Chawla gave a presentation on the need of choking the demand.
They informed that the traffickers increasingly use websites, mobile applications and online money transfers to facilitate commercial sex. There was immense profit with minimal risk.
Over a period of time, the average age of person indulging in commercial sex was dropped from 14 – 16 to 10 – 14, they added. They suggested several recommendations for choking demand.