Withered crops forcing farm workers to migrate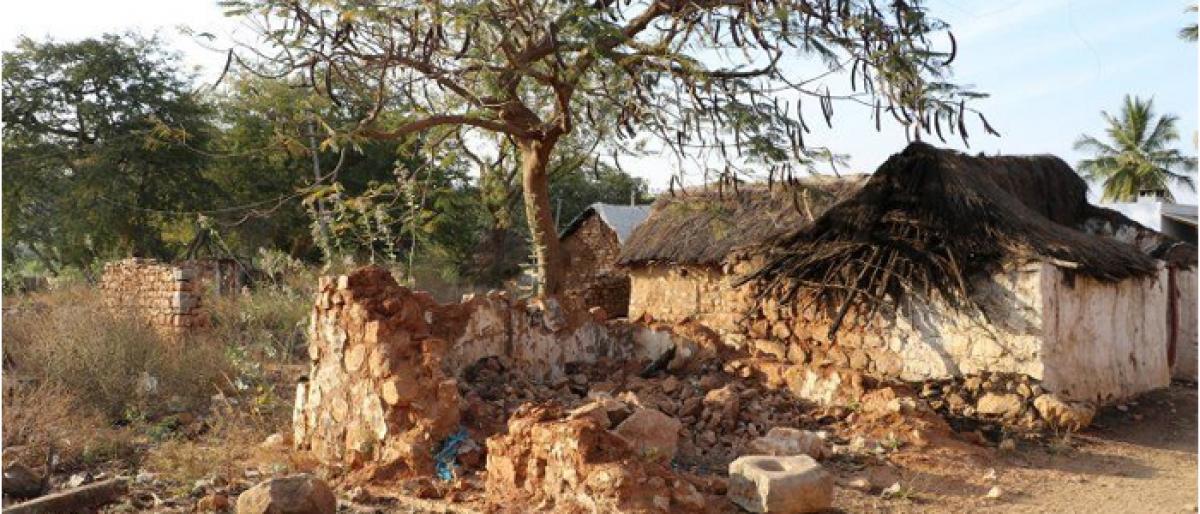 Highlights
Krishna water through Handri Neeva Sujala Sravanthi HNSS canals has not been released to the Assembly constituencies including Dharmavaram, Puttaparthi and Singanamala resulting in hundreds of farm labourers going on a migration spree in search of work as their crops withered away due to scanty rainfall recorded in the district this Rabi season
Migration attributed to scanty rainfall and tanks drying up
State govt urged to prevent migration of farmers
Anantapur: Krishna water through Handri Neeva Sujala Sravanthi (HNSS) canals has not been released to the Assembly constituencies including Dharmavaram, Puttaparthi and Singanamala resulting in hundreds of farm labourers going on a migration spree in search of work as their crops withered away due to scanty rainfall recorded in the district this Rabi season.
Failure of authorities in diverting Krishna water to village tanks including the Dharmavaram and Bukkapatnam is said to be one of the reasons. There is also an allegation that Paritala Sunitha as a Minister was using her clout to get more water to her constituency and fill all village tanks.
There are distress signals emanating from Kadiri, Puttaparthi, Madakasira, Uravakonda and Penukonda areas due to injustice to certain areas in supply of Krishna water.
Krishna waters are being lifted from Srisailam and supplied through the HNSS canals while some areas were being ignored in the process as alleged by Dharmavaram MLA Vardapuram Suri, Puttaparthi MLA Palle Raghunatha Reddy and Singanamala MLA Yamini Bala.
Added to the alleged injustice, dry spell and dwindling of groundwater levels have also aggravated the problem leading to seasonal migration by farm labourers.
Many agriculture labourers instead of availing the NREGS work were preferring to go on migration as no one knows when the payments of wages will be made. The labourers allege that wage payments were kept due for four to five months.
What is the use of working when wages are not paid? asks labourers, who are fed up with the delays in payments. DWMA Project Director Jyothi Basu told The Hans India that all wage arrears had been cleared up to September 6th and only wages after the said date is pending payment.
This too will be cleared, he assured. Asked to comment on reports of farm labourers resorting to migration to neighbouring cities in search of work, Jyothi Basu stated that he would enquire into the veracity of the reports and would do the needful in case of a real problem.
Bandrepalle in Kadiri division is one village where there are mass migrations every year. There are reports that 70 per cent of the village is empty with locked doors. Tanekallu, Vidapanakallu, Mudigubba and Guntakal are areas where there is agriculture is in distress with withered crops and dried up bores.
Political parties particularly the CPI and CPM leaders Jagadish and Rambhoopal are urging the district administration to take steps to check migration and ensure the labourers get work locally and also immediate payment of wages.
Interested in blogging for thehansindia.com? We will be happy to have you on board as a blogger.