New Year wishes with veg bouquets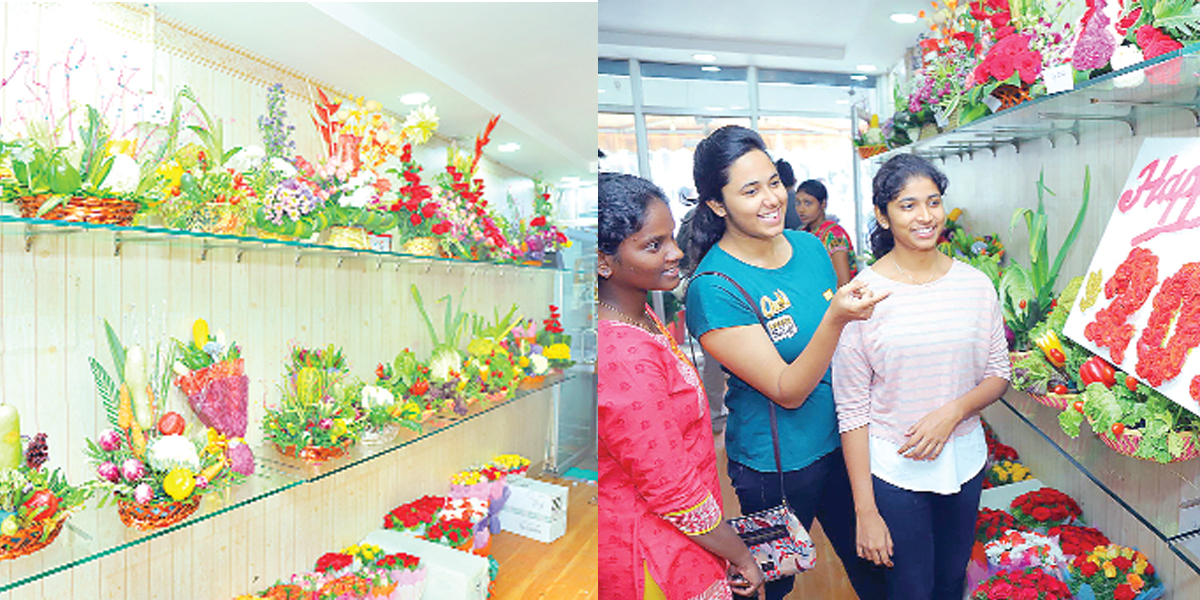 Highlights
For those who wish to say Happy New Year in a novel way instead of offering routine flower bouquets, Vegetable Bouquets have hit the market this year
Imported flowers and vegetables steal people's heart
Sales of cakes and flowers also on rise
District Collector and SP greet residents
Tirupati: For those who wish to say Happy New Year in a novel way instead of offering routine flower bouquets, 'Vegetable Bouquets' have hit the market this year.
Exchanging greetings with healthy vegetables on the beginning of the New Year for a wonderful journey ahead will be something special. Though flowers are the symbol of love, affection, respect and devotion and occupy a vital role in every occasion, some people always want to say it differently.
And for them, Blue Petals, a leading florist in Tirupati, under the brand 'Fresco' has made available vegetable bouquets with exotic varieties imported from USA and Holland.
Using organic vegetables bouquets and baskets were decorated to make people their own choice of selecting according to their budget. These were available in the price range of Rs 200–2,000.
The proprietor of the shop CBV Sai Kumar told The Hans India that they have used three colours of capsicum, very small tomatoes, cabbage, chillies, onion leaves, broccoli, bottle gourd etc., and decorated attractively.
"It is also one way of wishing the Happy New Year and those who receive them can make use of them and it looks different from routine practice," he observed.
Apart from imported vegetables to keep organic varieties also in the bouquet, they have used some local varieties also and the response from the buyers was quite encouraging, he said.
There are new varieties of flower bouquets also for those who prefer flowers and go in a traditional way. Bouquets with imported flowers of varied hues and fragrances are available.
Cymbidiums imported from Holland which cost Rs 1,000 per flower and each Pistia flower also imported from Holland cost Rs 600 which can be kept at home even after it dried.
Dutch Rose has been sold as flowers which requires no water and by keeping in a cup it stays for ever.
Though, sweets and cakes shops have also been drawing good number of crowds this year as against last two years which wore a deserted look in the aftermath of demonetisation, still bouquets sales dominate these items.
Several bakers have kept various types of cakes each one weighing from 1 kg to 10 kg on display. Depending on the flavour, the price of cakes varies from Rs 600-1,000 per kg.
Meanwhile, Tirupati police have geared up for the New Year celebrations and issued several restrictions on the occasion. The Urban SP KKN Anburajan has said that they will deal seriously with drunk and drive cases by filing the cases and seize the vehicles.
Police will keep a vigil on the speeding vehicles and on those who violate traffic restrictions.
Special cases will be filed on those involved in bike or car racings on roads. District Collector PS Pradyumna and SP Anburajan have wished the people a very Happy New Year and all happiness in the year ahead.