Leftist parties burn Modi, Naidu effigies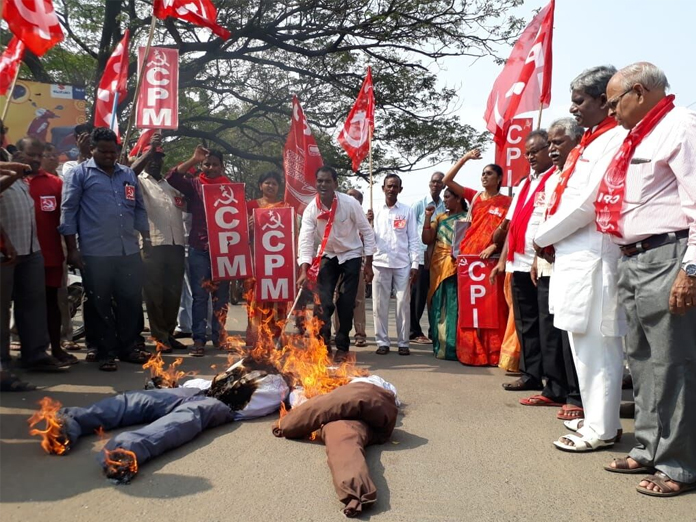 Highlights
Demanding the implementation of promises made in AP State Bifurcation Act, CPI and CPM organised a bike rally here on Friday
Eluru: Demanding the implementation of promises made in AP State Bifurcation Act, CPI and CPM organised a bike rally here on Friday.
The agitators burnt the effigies of Prime Minister Narendra Modi and Chief Minister N Chandrababu Naidu holding them responsible for denial of Special Category Status to the State.
The leaders ridiculed Naidu for honouring several BJP leaders and also hailing the so-called special package sanctioned by the BJP-led NDA government at the Centre.
City CPM secretary Kishore and his CPI counterpart D Prabhakar led the rally.
They alleged that Narendra Modi and Chandrababu Naidu had come to power by promising SCS.
But, suddenly, after coming to power, they chanted special package mantra. The TDP had appreciated the package as the best thing offered to the state by the NDA.
They reminded the people that the TDP had arrested activists of Left parties when they were agitating with a demand to accord SCS.
Now, the TDP realized that it would be suicidal to take special package stand and stage managing protests against the Centre.
Both TDP and BJP had been indulging in drama in this aspect, they alleged.