Ministers lay foundation for super-speciality eye block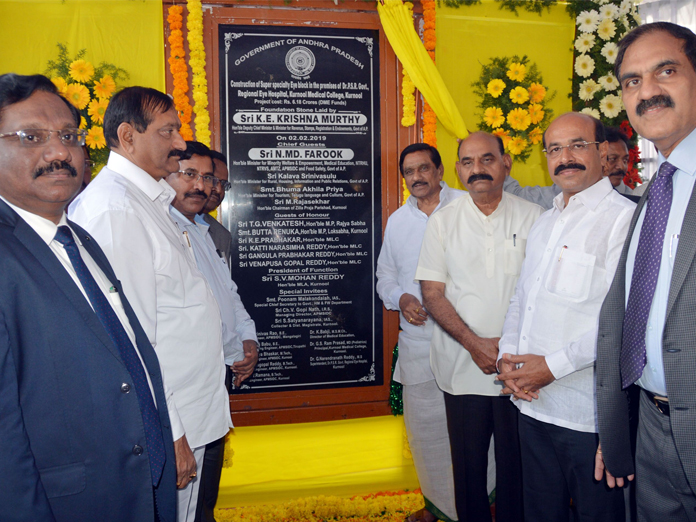 Highlights
Deputy Chief Minister KE Krishnamurthy and Minister for Medical Education NMD Farooq have laid foundation stone for the construction of superspecialty eye block on the premises of the Regional Eye Hospital here on Saturday The eye block would be constructed at a cost of Rs 618 crore
Eye block to come up at Regional Eye Hospital at a cost of Rs 6.18 crore
Rs 120 crore allocated for infra development in cancer hospital: Minister Farooq
Kurnool: Deputy Chief Minister KE Krishnamurthy and Minister for Medical Education NMD Farooq have laid foundation stone for the construction of super-specialty eye block on the premises of the Regional Eye Hospital here on Saturday. The eye block would be constructed at a cost of Rs 6.18 crore.
The Ministers also inaugurated a pylon for the development of park marking 60 years of completion of constructing the hospital.
Krishnamurthy, addressing on the occasion, said from the total of Rs 6.18 crore, Rs 1.16 crore would be used for the construction of a special ward, Rs 36 lakh towards recruitment of faculty, Rs 1 crore for repair works and the remaining amount would be spent on creating basic amenities in the eye block.
"We will strive to provide quality treatment to the patients with latest equipment in the coming days in Government General Hospital (GGH) here," he mentioned and instructed the doctors to be friendly with the patients, who are visiting the hospital from other districts of Andhra Pradesh and Telangana.
Farooq assured people of increasing bed count from 1,000 to 1,500 in GGH and to develop it on all fronts.
Rs 120 crore allocated for cancer hospital to create necessary infrastructure like nursing college welfare hostel, renovation of casualty ward and setting up MRI scanning machine, the Minister stated.
He further said number of beds have increased from 200 to 300 at government hospital in Nandyal. MLC KE Prabhakar, District Collector S Satyanarayana, MLA SV Mohan Reddy and other officials were present.