RSVP spreading the glory of Sanskrit: HCU V-C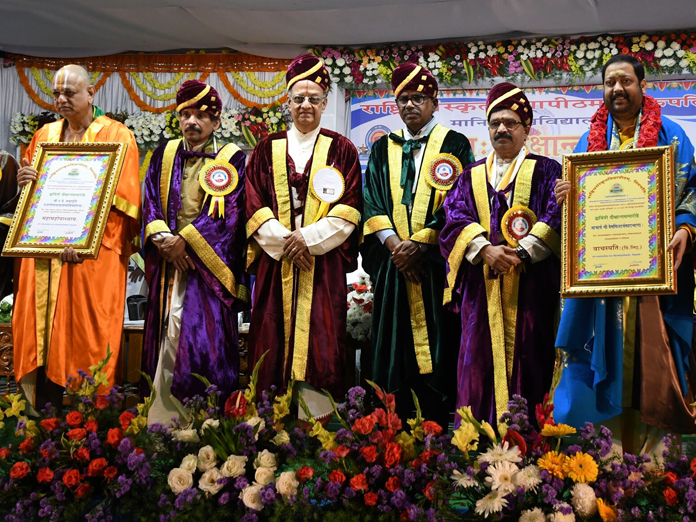 Highlights
The Rashtriya Sanskrit Vidyapeetha RSVP has been competing and even surpassing several technical and scientific institutions in the country in the matter of accreditation, lauded the Chancellor of Hyderabad Central University Justice L Narasimha Reddy
Vidyapeetha celebrates its 22nd convocation
Three scholars received Mahamahopadhyaya and two receive Vachaspati titles
Tirupati: The Rashtriya Sanskrit Vidyapeetha (RSVP) has been competing and even surpassing several technical and scientific institutions in the country in the matter of accreditation, lauded the Chancellor of Hyderabad Central University Justice L Narasimha Reddy.
Delivering the convocation address at the 22nd convocation of RSVP in Tirupati on Saturday, he underlined the glory of Sanskrit language and the role of RSVP in spreading the true flavour of it with the quality of education along with research activities.
"The greatness of Sanskrit language is eternal. The very speaking of the language Sanskrit improves the culture of the person.

The pronunciation attributed to each word, the clarity and purity of its meaning, the structure of the sentence, the perfect attention of the mind in framing it, would enhance the intelligence as well as the approach of the individual," he stated.

People across the world have been evincing interest in learning Sanskrit and with the spread of information and technology, the learning also becoming easier and once it gets the momentum, days are not far away when Sanskrit would get its past glory and India emerging as Vishwaguru.
Unlike in the case of other languages, learning in Sanskrit would not stop at the knowledge of language alone but would enable the learner to peep into the ancient works with which startling results would begin to pour in, he elaborated.
In his presidential address, the Chancellor of RSVP N Gopalaswami has expressed concern over the constant challenges faced by the Sanskrit education in the country especially the lack of meaningful research work besides the financial constraints.
The Vice Chancellor Prof V Muralidhara Sharma has delivered the inaugural address. Registrar Prof GSR Krishna Murthy and Deans were also present on the occasion.

The Vidyapeetha has conferred Mahamahopadhyaya title on three scholars – Dr Keshavarao Sadashiv Shastri Musalgaonkar, Gwalior, Vidwan Tigulla Sreehari Sarma, Vemulawada and Vidwan MS Rajagopalan, Tamil Nadu.
Of them Dr Keshavarao Sadashiv Shastri has received the title in absentia. Two scholars – Prof Kannan, Bengaluru and Acharya Prem Siddharth, Hyderabad received 'Vachaspati' (D.Litt) title.
About 800 students have received degrees at Degree and PG levels and in MPhil and PhD of which 21 students have received gold medals.