Congress, TDP alliance hurt me a lot: Kruparani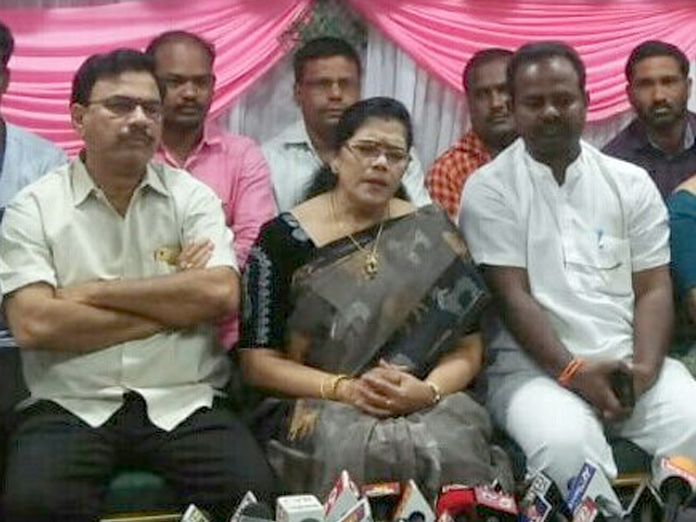 Highlights
The Congress and TDP are rivals from the beginning and the TDP launched by founder NT Rama Rao was against the Congress but the two parties, now, joined hands which hurt me a lot, said former Union minister and Congress leader Dr K Kruparani
Says many Congress senior leaders are facing embarassing circumstances with local TDP leaders in the district
Feds Sonia Gandhi and Rahul Gandhi did not listen to her advices and are unable to understand actual situation at ground level
Srikakulam: The Congress and TDP are rivals from the beginning and the TDP launched by founder NT Rama Rao was against the Congress but the two parties, now, joined hands which hurt me a lot, said former Union minister and Congress leader Dr K Kruparani.
Speaking to media in a press conference here on Saturday, she explained what forced her to join YSRCP in the backdrop of 'unethical' alliance between the TDP and Congress to gain political mileage in the state.
"TDP is the prime enemy in the State to Congress and by forgetting this basic point, Congress high command blindly trapped in the TDP unholy alliance, Kruparani lamented.
Previously Chandrababu Naidu made scathing remarks against Congress regarding State bifurcation when he was in BJP but now the same Chandrababu Naidu changed his political stand and joined hands with the Congress which was causing suffocating situation like ardent Congress leaders like me, Kruparani explained.
"In the wake of TDP and Congress alliance in the state so many Congress senior leaders are facing embarrassing circumstances with TDP leaders locally.
I have explained the actual situation at field level in the wake of alliance with TDP to Sonia Gandhi and Rahul Gandhi but they did not listen my advises and unable to understand actual situation at ground level.
By considering all these facts I have resigned to Congress party and decided to join YSRCP to serve better to people of AP," she elaborated.