Ola felicitates its 25 millionth customer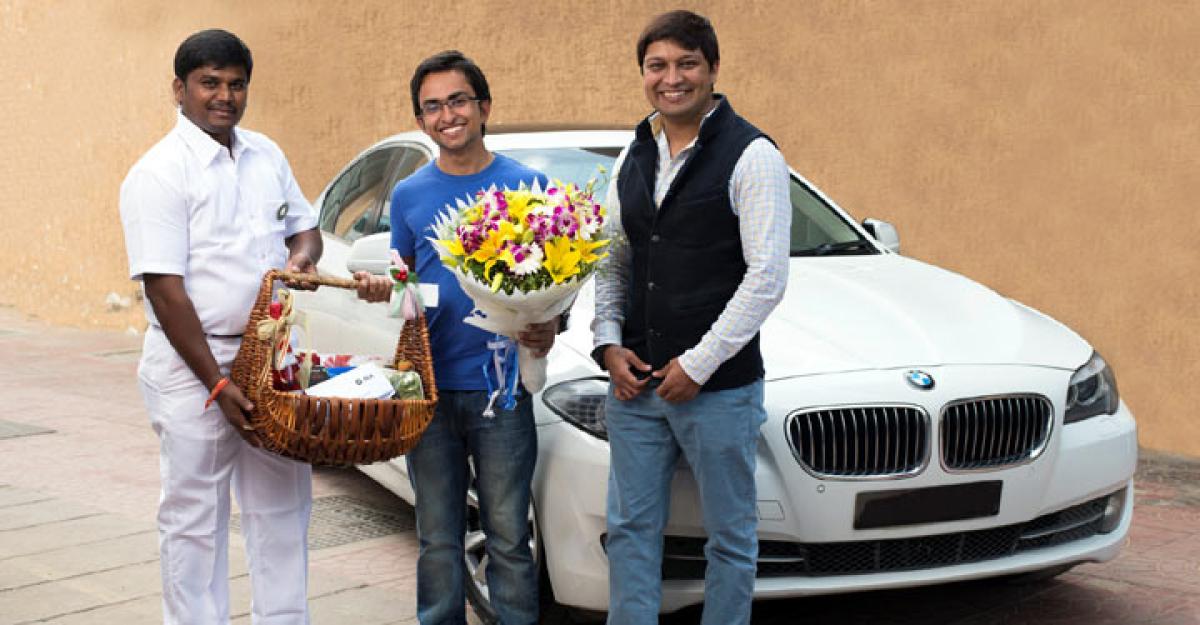 Highlights
Ola felicitates its 25 millionth customer. This includes Kaali-Peeli taxis in Mumbai, Auto-rickshaws in 6 cities, Yellow Taxis in Kolkata and Ola Share (beta) in Bangalore, a first of its kind social ride-sharing option for users within their groups of choice.
Over 150 million cumulative bookings served till date
Ola, mobile app for personal transportation, surprised its 25 millionth customer by sending over a super luxury car on an Ola Prime booking request received. Ola has served over 150 million cumulative bookings on its platform till date and sees over 1 million daily booking requests at current scale.
The company caters to a vast majority of the demand in the country that goes up to 7,500 users a minute, during peak hours. Ola is expecting to clock 3 million booking requests a day, by April 2016. Currently present in 102 cities with over 325,000 vehicles registered on the platform, Ola has grown three times its size over the last six months from April 2015.
In a short span of five years, Ola has transformed the personal transportation space in India like never before. Bhavish Aggarwal, Co-founder & CEO, Ola said, "We are focused on our mission of building mobility for a billion people and our current rate of 1 million booking requests a day puts us on track towards this mission.
We have now served 25 million unique customers in India and we are thankful to every one of those customers, who have brought us this far! We are also grateful that millions of users everyday rely on Ola as their first choice of accessing a wide range of transportation options, choosing to not own or drive their cars.
On the other hand, it is overwhelming to see hundreds of thousands of driver-partners trusting the Ola platform as their primary source of earnings and livelihood." "Our next phase of growth will be fuelled by newer, innovative solutions like Ola Share, Ola Prime and others, which are now being piloted on a large scale in select cities.
It is important to bring in increased efficiencies on utilisation at this massive scale, with the same reliability and convenience. Our innovations will continue to solve for the unique needs of the local markets that we operate in, also helping address critical issues at large like congestion, traffic and pollution amongst others, for sustainable growth," added Aggarwal.
With a mission to build mobility for a billion Indians, Ola strives to be present in every smartphone in the country. In June 2015, mobile intelligence reports showed that Ola and TaxiForSure mobile apps together, accounted for a presence in smartphones of 78% users in India. The introduction of a wide range of personal transportation options has enabled Ola to serve millions of customers across the country, even in tier 2 and tier 3 cities.
This includes Kaali-Peeli taxis in Mumbai, Auto-rickshaws in 6 cities, Yellow Taxis in Kolkata and Ola Share (beta) in Bangalore, a first of its kind social ride-sharing option for users within their groups of choice. ETAs on the Ola app across categories have reduced to an average of 5 minutes across cities, with categories like Mini and Auto consistently being available within 2 minutes in most cities.
In addition to these offerings, Ola also announced the launch of Ola Prime in September 2015, bringing a best-in-class personal transportation experience with high-speed WiFi, superior cars and best-rated drivers.
Focused supply initiatives like Ola Pragati with SBI and other major NBFCs, ecosystem partnerships with major car manufacturers, fuel companies, skilling agencies, insurance providers, garage and maintenance services amongst others have significantly helped ramp up the number of vehicles on the Ola platform.
In a personal transportation market like India which is heavily supply constrained, Ola is nurturing entrepreneurship and employability through skill development for driver-partners to address the burgeoning demand for convenient, reliable and affordable transportation options across the country.
Ola has also launched a first of its kind cab-leasing program through a subsidiary that will help infuse an additional 100,000 cabs over the coming year onto Ola's platform. At current scale, Ola adds up to 1,500 vehicles on its platform on a daily basis.