10 reasons to fall in love with Ducati Scrambler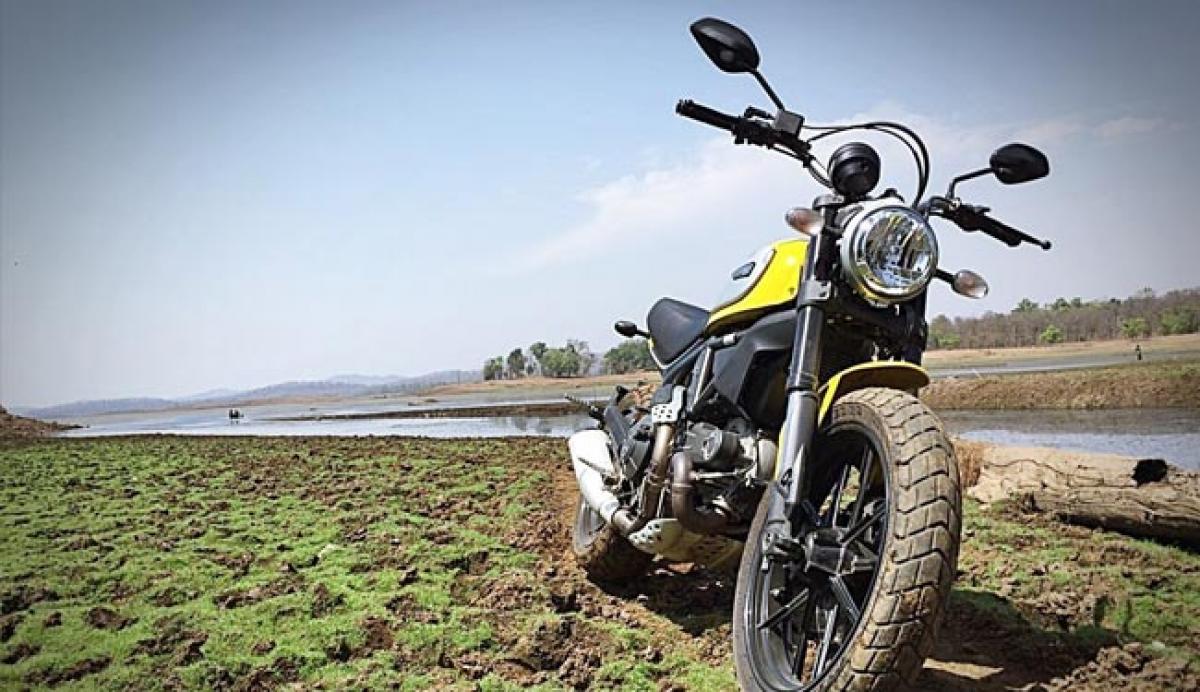 Highlights
At Motoroids, we would trade doing almost anything for a fun day out with a nice motorcycle. So when we had the bright yellow Ducati Scrambler
At Motoroids, we would trade doing almost anything for a fun day out with a nice motorcycle. So when we had the bright yellow Ducati Scrambler arrive in our garage, almost as a windfall, I threw away my thinking cap, replaced it with a helmet and hit the road without wasting another moment. A few minutes into the ride, I realized it wasn't just another day, and even with the Scrambler being momentously, stupendously fun, the mercury was apparently kissing 40 degrees. The world around me felt as though it was about to get gutted in invisible flames.
This didn't bode well for the long-ish ride I had planned. It had just been a few kilometres and I could already feel myself getting barbequed under the jacket. Any other day, any other bike, I would have turned back and planned this ride early morning the next day. But a part of me, from the smouldering innards of that helmet, compelled me to ride on.
Even with a livid May sun raining all its anguish on Mumbai, and even with its fury getting compounded by the heavy riding gear and the heat emanating from the Scrambler's otherwise perfectly kissable powerplant, I couldn't control my instincts to ride on. Sometimes the joy you draw from an activity is so torrential, the toughest of the tribulations get swept away like a straw in a riverstream.
It was one of those days, for the bike I was riding was a Ducati Scrambler. And despite having burnt the skin on my face, forearms and several other body parts to cinders, that day with the diminutive Ducati would go down as one of the most fun-filled days I have ever had on a two-wheeled contraption. So here it is, a few recitations from the beautiful memories that got imprinted on my mind and my existence that fateful day. The few things that made me fall in love with this astonishing new bike from Ducati
1. Would you just look at it? It's simplicity incarnated. A minimalistic design executed to excellence. The shape, the size, the proportions, the attention to detail – it's about perfect for what a generic Scrambler's template could ever have been. And while that yellow paint, the small panels and the round headlamp look back at the glory years of the past, that LED ring surrounding the front beacon, the digital instruments pod and the crescent shaped diffused rear illumination would teleport you back to today. And who wouldn't love that offset rear mono-shock, and those classically twisted exhaust pipes, and that stubby satin silver exhaust, and…well, nothing ever appears ungainly through the eyes of a lovesick beholder.
2. Hop on and it feels like your gearless scooter with no fuss, no frills and no frights! Just twist the key, thumb the starter, slot in and go. The upright riding position is so effortlessly comfortable and natural, even those who have ridden piddliest of the commuters all life would lose all their inhibitions about big bikes in a blink.
3. That single pod instrument console beautifully blends technology with old-worldly charm and function with minimal form. The unit gets a tacho, speedo, clock, odo, trip meter and a few other things, all digital, nicely arranged within a circle, with an array of tell tale lights which momentarily glow like a Christmas tree on the circumference when you twist the key. That unit is beautiful. It has everything I need, and nothing that I don't. And I love it.
4. Air-cooled, and proud! That 803cc Monster790 derived L Twin engine is like a medieval architectural masterpiece in a supremely efficient but monumentally soulless modern metropolis. It's a granny's fairytale amidst a deluge of nauseating viral videos. It sounds a tad guttural and coarse while idling, but wring the throttle and it keeps getting buttery smooth as the pistons resonate in unison. Humans didn't need no cranes to build the Great Pyramids of Egypt, and humans don't need no liquid cooling to create a juicy engine that loves revving.
5. Torrential torque from the very bedrock of engine speeds, that's the hallmark of the Scrambler's character. Any gear, any revs, a twist of the wrist and this neo-paleo fusion would waft ahead with no vocal complaints from the engine. A meaty mid-range which would transmogrify you into a silly-grin bearing angel, replete with a white halo over your head, makes it one of the most divine powerplants we have been propelled by of late.
6. That uppish handlebar makes manoeuvring this lithe apparatus rather unusually delightful. For the first few instances I actually thought of the experience as a glorified, big-canvas version of me astride my first kiddy-bicycle with a crane-neck handlebar. It felt light, it felt simple, and it felt, well, nice to steer a machine so effortlessly through a variety of scenarios. The experience was so new, yet so nostalgic, and so purely simple, I almost had my eyes wet.
7. The wild, free, nomadic and rather un-luxurious disposition of the Scrambler comes to the fore as you build speed. With the blistering hot winds making for a virtual barricade for the face even at moderate speeds and my neck snapping back along with the helmet with every violent burst of acceleration, the rawness of the experience was simply addictive. The Scrambler is a real deal, for the tough-as-nails riders for whom the challenges presented by the elements only add to the experience.
8. Never again would you have to stop where the road ends. The long travel front suspension, generous ground clearance and those Pirelli on-off road tyres endow the Scrambler with an ability to venture almost anywhere. Like a parched beast I didn't think twice before goading it towards the Tansa Lake, making a mockery of the gorges, rocks, steep gravely climbs and loose sand en route. I rode the pegs, made the darn thing go sideways, ravaged clusters of tall shrubs as I made my way through them and stopped only when those tyres were smeared completely in thick, slimy mud and bogged down six inches deep into the riverside marshes. And I don't remember feeling the heat while doing all that, the same heat that almost clubbed me into submission while treading on the dark tar.
9. Just because the Scrambler is the most economical Ducati to buy, doesn't mean it's built cheaply. Those mechanicals look and feel solid, and our jungle games under a relentless sun on a murderous afternoon established our faith in the tank-like build quality of this beautiful little machine forever.
10. Despite its rather softly sprung suspension and high clearance, the Scrambler handles reassuringly in a straight line, around sweeping bends and on non-existent surfaces. Sure, it's no supersport, but the multifaceted Scrambler presents itself as probably the most accomplished, do-it-all machine in the sub-10 lakh premium segment. There are a few things which it doesn't do, but I'd rather have my adulation for this heart-warming piece of kit out of my chest before I start talking in a sombre tone.
There's this thing about riding, and those who really ride would attest to it. Riding isn't about the most powerful engines, or the most sublime handling. It's not about eight levels of traction control or twenty five different engine maps – all available at the press of a button. It's the chastest expression of freedom in the form of a machine. Riding is, well, to ride, and to experience its divine therapy which humans have been immeasurably lucky to have discovered. The Scrambler effortlessly liberates and empowers the rider in you in his most unsullied form. Ride it and you'd be that teenage, carefree, unpretentious vagabond once again who rode because he loved to explore. The Scrambler makes you ride without baggage, without the commonplace bigotry or false conceptions. Ride it, and you'd rediscover why you love riding so much in the first place.
A few things which we think could have been better
1- Brembo brakes with ABS as standard have the bite, but they lack the feel. Scrubbing off speed from a fast pace feels squishy and devoid of a reassuring sharpness. Blame it on those knobby tyres, on the long travel front suspension, or the lack of a second disc, but we would most definitely want to know that we can squeeze that lever hard without any second thoughts. We don't, as of now.
2- That upright riding posture won't suit the endurance riders, nor would the lack of a windscreen, or the inability to carry luggage. Long story short, the Scrambler is not a tourer.
3- Looking to break up with your girl? Ask her to ride pillion, and do it on a hot day. And give her an open face helmet.
4- We did manage to find a few false neutrals. Honest! Damn!
5- Nope, can't do it anymore!
source: motoroids.com