Chitkara International School receives NABET School Accreditation Certificate from Quality Council of India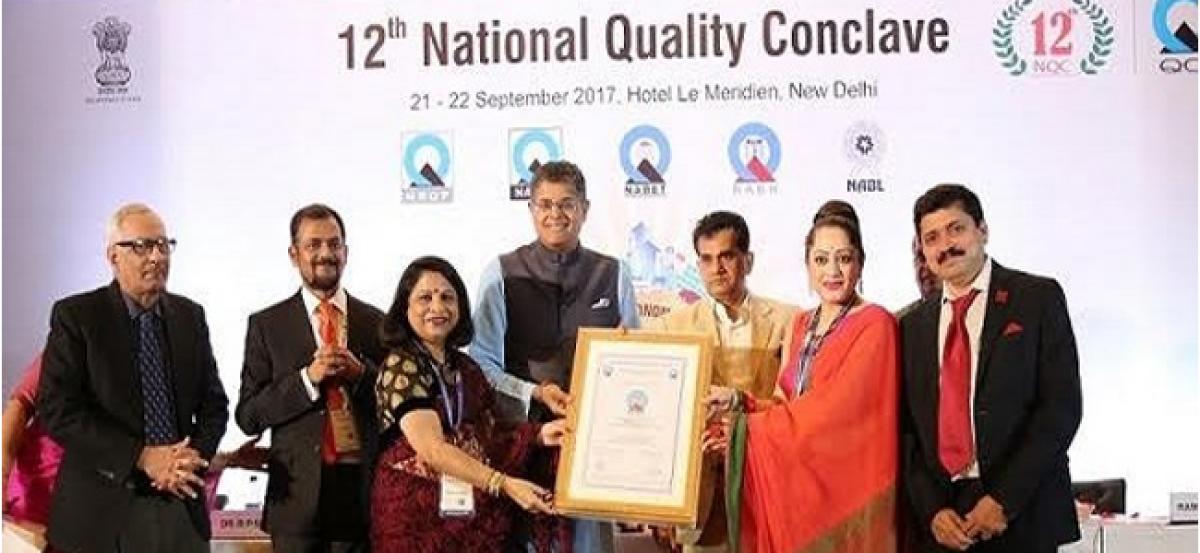 Highlights
Chitkara International School, Chandigarh has received National Accreditation Board for Education and Training (NABET) School Accreditation Certificate from the Quality Council of India (QCI) at the 12th Quality Council Conclave held
Chandigarh: Chitkara International School, Chandigarh has received National Accreditation Board for Education and Training (NABET) School Accreditation Certificate from the Quality Council of India (QCI) at the 12th Quality Council Conclave held in Delhi on 21st September 2017. Quality Council of India is a Government of India body that assures quality standards across all spheres of economic, social and educational activities.
Dr. Madhu Chitkara, Chairperson, Chitkara International School and Dr. Niyati Chitkara, Principal, Chitkara International School received the Accreditation Certificate from Baijayant 'Jay' Panda, Member of Parliament and Mr. Amitabh Kant, CEO, NITI Aayog in the presence of more than 800 delegates including key policy and decision makers, national and international experts, industry leaders, managers from Public and private sectors, educational institutions, Govt. departments, scientific and professional institutions, NGO's, academicians and all other stakeholders.
QCI's evaluation process includes a methodical assessment of all processes like educational and support processes, Academic curriculum, Examination & assessments, infrastructure, health and safety etc. The School has been assessed and found to be complying with NABET requirement as per Accreditation Standard for Quality School Governance.
Piyush Goyal, Minister of Railways and Coal was the Guest of Honor and Suresh Prabhu, Minister of Commerce and Industries was the Chief Guest of the event and they addressed the audience after the felicitation Ceremony. Other dignitaries who graced the event were, Ramesh Abhishek, Secretary DIPP, Adil Zainulbhai, Chairman, QCI and R Mukundan, Chairman, NBQP.
"We are extremely pleased to have achieved this Award," states Dr. Madhu Chitkara, Chairperson, Chitkara International School. "Accreditation is a rigorous process, but one that we welcome as a continual quality improvement mechanism. Earning NABET accreditation is another measure of our excellence as a quality education provider and reflects our commitment to our students."