BioAsia-2018 to kickstart today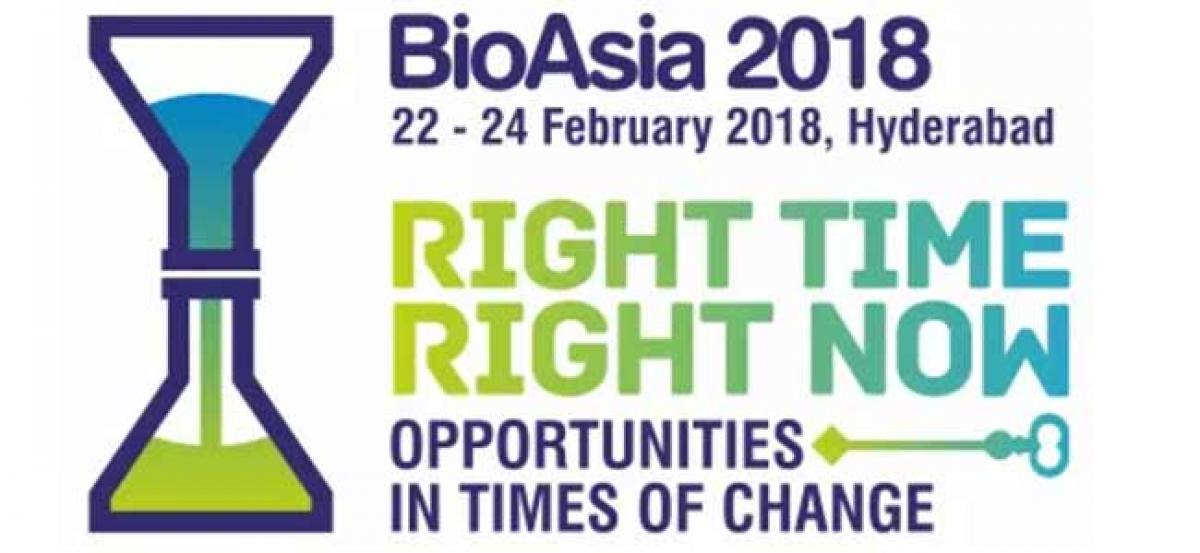 Highlights
Telangana Industry Minister KT Rama Rao said: "With new industrial clusters like Pharma City and Medical Devices park, Hyderabad is ready to assume leadership role of the life sciences industry in Asia and the world
Telangana Industry Minister KT Rama Rao said: "With new industrial clusters like Pharma City and Medical Devices park, Hyderabad is ready to assume leadership role of the life sciences industry in Asia and the world
Hyderabad: The 15th edition of BioAsia, the 3-day annual flagship event of the Telangana government, will start from February 22, 2018, at HICC here. The life sciences hub of India has been holding the event with the participation of stakeholders from pharma and life sciences sectors from national and international arena. BioAsia has emerged as the most preeminent technology and bio-business convention in Asia for life sciences, pharmaceuticals and healthcare.
Telangana Industry Minister KT Rama Rao said: "With new industrial clusters like Pharma City and Medical Devices park, Hyderabad is ready to assume leadership role of the life sciences industry in Asia and the world. BioAsia has been an integral part of the Hyderabad's growth story and we are committed to magnifying the scale of the event to greater heights. As has been the case in the past, BioAsia 2018 will witness some of the marquee global leaders of the industry visiting Hyderabad and will certainly augment the growth of not only the country's Life sciences and Healthcare industry but will also strengthen the leadership of Telangana in this field."
IT Secretary Jayesh Rajan adds: "Over 1,500 delegates from over 55 countries with 100 high profile speakers and 500 corporates are participating in the event. The exhibition at the event venue with about 100 exhibitors and startups will showcase some of the most innovative products, services and solutions in Life Sciences, Medtech and healthcare."
The domestic life sciences sector is facing unprecedented change, driven by a convergence of demographic growth, urbanization, digitization, and a continued push on financial inclusion. At the same time, the evolving regulatory regime in price control, generic drugs, and the implementation of GST has brought healthcare stakeholders back to the drawing board. Some of the mega trends in the sector suggest a need for companies to relook at their existing strategies and reorient their business models.