Experience Photography with PEP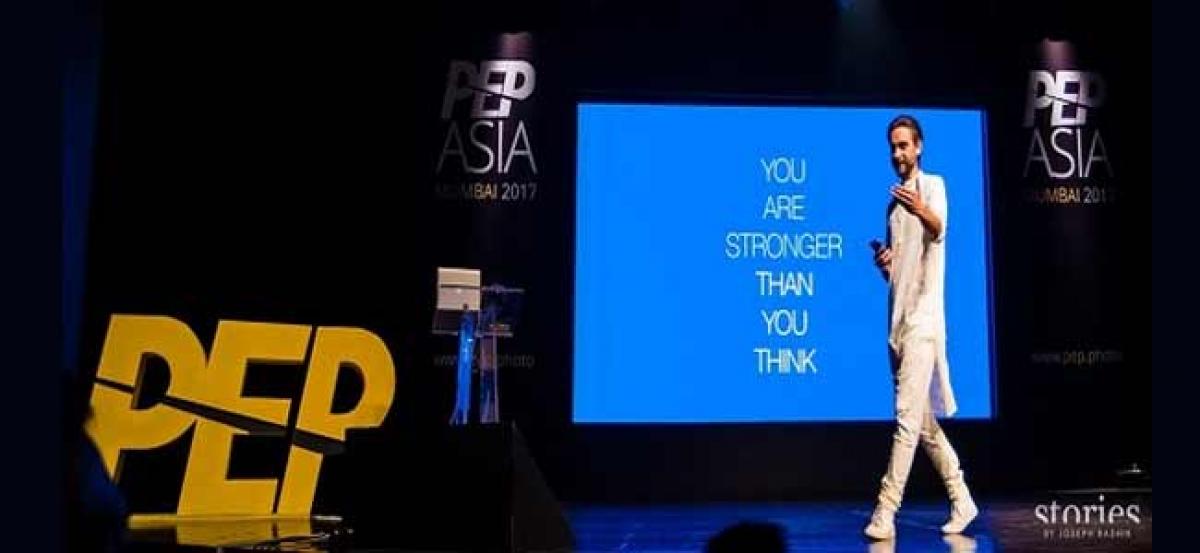 Highlights
Over 1500 photographers from 9 countries and 80+ cities are coming to be a part of one of Asia\'s biggest photography conventions called PEP with 2 conferences, first of which is called PEPx
Mumbai (Maharashtra) : Over 1500 photographers from 9 countries and 80+ cities are coming to be a part of one of Asia's biggest photography conventions called PEP with 2 conferences, first of which is called PEPx, aimed at photography enthusiasts looking to turn professional and lovers of photography and PEP Summit, a unique learning conference for professional wedding photographers.
Slated to be a definitive event for both photography enthusiasts and professional photographers alike, PEP will bring together over 20 world renowned photographers and creative professionals to take the audience through the art, business, craft and experience of photography and aims to inspire them to be better at creativity and life.
Over the four days, the conference will explore topics in depth, ranging from strengthening the mind as a creative professional, how to develop your vision as a photographer, photojournalism, understanding aspects of the various genres of photography, the business of photography to understanding the technical aspects of photography from lighting, lenses, framing, posing and more. The key fabric throughout the highly interactive summit being learning and inspiration.
Speakers include an enviable list of creative professionals and professional photographers from across the world with decades of experience in photography such as Ira Block, one of Nat Geo's most reputed photographers, TwoMann studios, one of the most awarded wedding photographers globally, Brendan De Clercq, Europe's famous celebrity photographer, Dheeraj Paul, India's leading people and travel photographer, Rafique Sayed, India's leading fashion and advertising photographer, Joseph Radhik, one of Asia's most influential wedding photographers, Diinesh Kumble, one of India's top wildlife photographers, Auditya Venkatesh, one of 20 top photographers on the web, globally and many more such stalwarts.
The conference will also have Masaba Gupta, renowned Indian fashion designer, comedian Sapan Varma, writer and business leader Abhijit Bhaduri (ex HR head at Wipro, Microsoft) to talk about creativity and inspiration.
"Whatever I have learned and continue to learn as a photographer, has been by following, obsessing and being inspired by the works of great artists from around the world.
Our aim was to create a platform that bridges the gap of learning and sharing with photographers and all curious learners, providing an access to the global greats to learn from, to build their art and to just be inspired to do more. My personal goal from PEP is to bring in the world's greatest photographers, whether they be from India or abroad to interface with the Indian photography community in a way that's useful, meaningful and effective," said Joseph Radhik, Photographer.
"Photography today is a serious career option for many. Just as the popularity of photography increases, being a good photographer alone isn't enough; you also need to fulfil the rigour and demands of being a good entrepreneur. Having experienced the challenges and loneliness of running a successful photography business ourselves, we understand this well. In a person's journey to choose this path, we want to be able to give them a platform that helps them understand the joys as well as challenges of choosing this as a career option.
In addition, if they take the plunge to be a full-time photographer, PEP is striving to build a community that helps them to collaborate, learn and be mentored by the best, in the right direction not just as a photographer but also as a businessman as well," said Co-founder Joshua Karthik.
"Our vision is to touch as many photographers, whatever be the stage of their journey, be it a lover of photography as an art form, considering photography as a career option or pursuing photography as a full time business. Last year when we held PEP Summit for the first time we realised that, while we are working to help the professionals, there also needs to be a format for the photography enthusiast to come and learn from people and companies from different walks of photography life. A few of these will hopefully be inspired enough to take up photography professionally.
A few more will look at it as investing more time in their hobby. And yet more would look at it as a chance to meet like-minded people, learn and interact from, and with, them," said Arjun Rajan, the CEO (also one of the 3 co-founders) of PEP.
The PEP community is unique in its idea because it brings together the photographer community to become "stronger together". It aims to provide a platform to connect, inspire, mentor and collaborate to raise the bar and collectively better the entire photography industry. It also aims to inspire and build the community of photography enthusiasts who are serious about the hobby photography and may be looking to build it as a serious career option in the future.