PIPO Gives Popcorn a Traditional Boost with Desi-Cocktail Flavour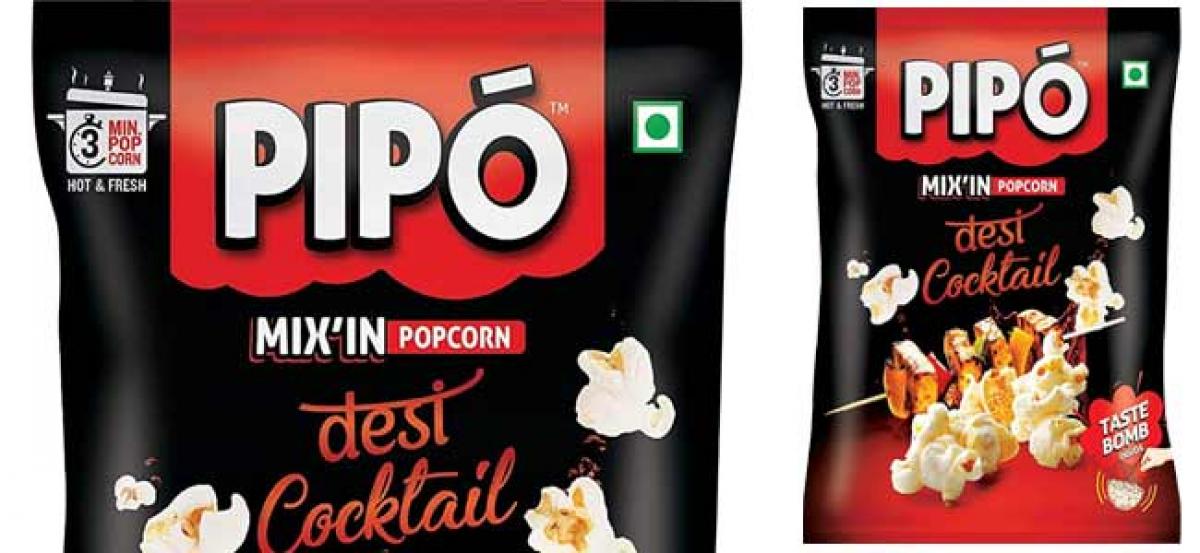 Highlights
Premium FMCG company, Modi Naturals, made their debut in the readytocook food segment with high quality popcorn label Pipo After the astounding welcome by the urban millennial demographic, the brand has now set its eyes on capturing traditional taste buds with its brand new flavour Desi Cocktail
• Modi Naturals, one of India's leading healthy lifestyle company, added quality popcorn called PIPO made from premium American corn with exciting mix' in seasoning sachets in their product range.
• This ready-to-cook premium popcorn pack is cholesterol free with a unique mix' in taste bomb seasoning sachet enhancing the taste of premium corn.
Premium FMCG company, Modi Naturals, made their debut in the ready-to-cook food segment with high quality popcorn label Pipo. After the astounding welcome by the urban millennial demographic, the brand has now set its eyes on capturing traditional taste buds with its brand new flavour 'Desi Cocktail'.
As promised during the launch, Pipo has indeed Indianized the classic popcorn ,and Desi Cocktail, a fusion blend of traditional spices with premium American corn, has already become an integral part of prime time snacking.
"India is known worldwide for its exotic spices and Pipo has tried to blend the compatible spices and flavours in one pack. The Desi Cocktail flavour is a fun experiment that we have created using some of our best culinary recipes and spices available. This flavour is popular among all age group. One can shop this delectable popcorn pack online as well", said Mr. Akshay Modi, Executive Director, Modi Naturals Ltd.
PIPO has added value to the regular popcorn with a unique mix' in taste bomb seasoning sachet that multiplies the taste, and the aroma of this snack. The use of premium quality wholegrain corn which is enriched with zinc, copper, fiber, antioxidants and other nutrients makes it a healthy snacking option. PIPO aims to democratize the intake of popcorn in the country because it is easy to cook, has a distinct flavor to offer and is an appropriate quick bite.
"High-quality American corn used in making Pipo popcorn gives it an edge over other roadside popcorn. It has no added cholesterol, contains good fiber and other nutrients that have several health benefits. Pipo popcorn is extremely easy to cook and takes 2-3mins to prepare. Each pack comes with a taste bomb sachet which instantly enhances the flavors and aroma by few notches. Convenient to cook, add-on taste bomb sachet, and health benefits make Pipo Desi-cocktail a go-to snack for all" added Mr. Akshay Modi, Executive Director, Modi Naturals Ltd.
As the country's gourmet popcorn market prepares to expand at a CAGR of 36% by 2022, adding new flavours to the quality popcorn PIPO will strengthen Modi Natural's unique presence in the ready-to-cook food market further.