Little respite from high fuel costs despite falling crude oil prices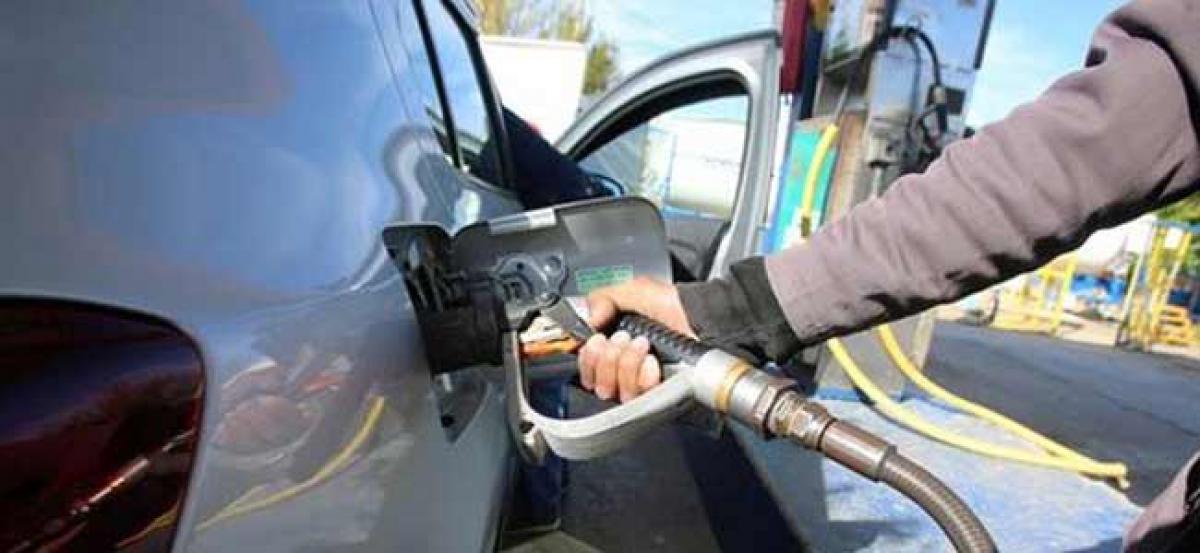 Highlights
Despite crude oil prices falling by over 20 per cent in the last one month, the common man continues to pay high prices for petrol and diesel While the Indian basket of crude has been hovering below the 70 a barrel mark for the last fortnight, there has been less than proportional decrease in retail prices of petrol and diesel with oil companies building a cushion for possible increase in oil p
New Delhi: Despite crude oil prices falling by over 20 per cent in the last one month, the common man continues to pay high prices for petrol and diesel. While the Indian basket of crude has been hovering below the $70 a barrel mark for the last fortnight, there has been less than proportional decrease in retail prices of petrol and diesel with oil companies building a cushion for possible increase in oil prices later this year.
Petrol is being retailed at Rs 77.56 a litre and diesel at Rs 72.31 per litre in Delhi when crude oil price of Indian basket is about $69 a barrel. At this level of crude in April this year, petrol was being retailed between Rs 73 and Rs 74 a litre and diesel between Rs 65 and Rs 66 a litre in Delhi. And this continuing high price of auto fuels is despite the government reducing excise duty on the two petroleum products by Rs 1.50 a litre early last month.
"It seems state-owned oil marketing companies (OMCs) are making up for the losses they incurred last month while absorbing the Rs 1 per litre increase in petrol and diesel prices under a government order. This is gross injustice for the consumers who have braved historically high levels of auto fuels when global oil prices were rising till early October. Ideally, petrol and diesel prices should have been lower by at least Rs 5 a litre than the current levels," said a top official of a oil producing company, asking not to be named.
Officials of OMCs, however, disagree over higher cuts in retail price of petrol and diesel, saying the current scenario should be viewed in the context of sharp fall in rupee against dollar, making oil purchases expensive.
Between April and now, rupee has depreciated from about Rs 66 to a dollar to about Rs 73 now. Even if this depreciation is taken into account, experts say the retail price gets impacted by about Rs 3 per litre. This still means current petrol and diesel rates are higher by at least Rs 3 per litre.
Under the daily price revision mechanism, OMCs have reduced the price of diesel by just over Rs 3 per litre from Rs 75.69 a litre on October 16 to Rs 72.31 a litre now. Similarly, petrol price has fallen from Rs 82.83 a litre on October 16 to Rs 77.56 now. Interestingly, even during this period when global oil prices have dropped consistently, OMCs have held back retail price revision on few occasions to make up any earlier losses and build buffer for future when oil prices are expected to jump again to $80 per barrel.
The benchmark Brent oil prices have fallen below $70 a barrel now, but analysts expect prices to rise again if oil cartel OPEC decides to cut production to balance the market.
Oil prices have fallen by over 20 per cent in the last one month due to easing of supply pressures, particularly from Iran. The US waiver for oil imports from the Islamic nation to major oil importers has eased the situation. But analysts believe that once Iran oil exports start getting wiped out completely from next year, there could be supply issues that could fuel oil price rise.
Interested in blogging for thehansindia.com? We will be happy to have you on board as a blogger.