When Sonam Kapoor revealed her love for acting to Shabana Azmi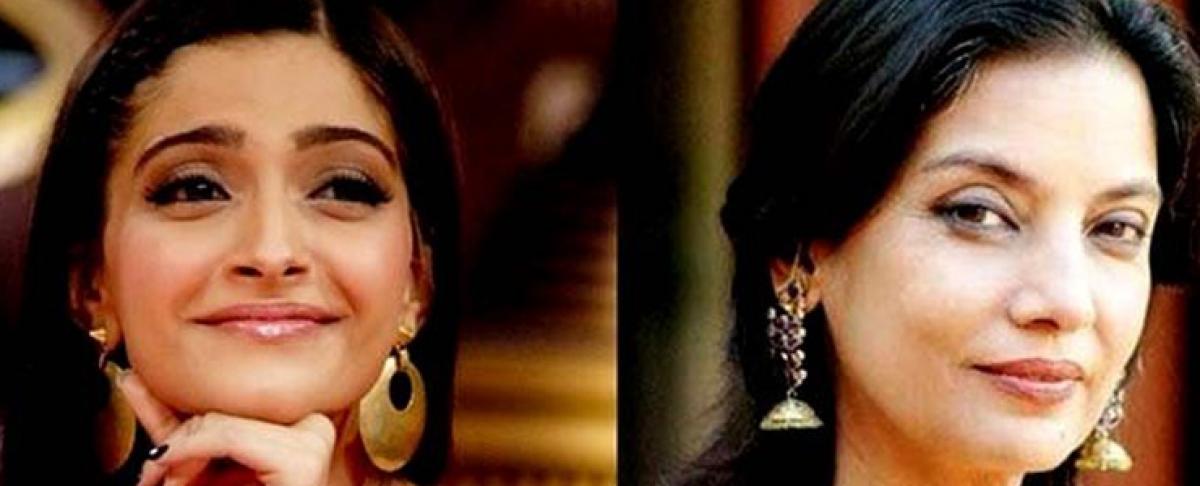 Highlights
Read to know Shabanas love for Sonam who she treats as her own daughter...
Read to know Shabana's love for Sonam who she treats as her own daughter...
Shabana Azmi is all excited to play Rama Bhanot and more so because she plays the mother to her daughter like Sonam. she says, "Sonam meri beti hi hai!!"
Giving away the secret of the Kapoor parivar and how Sonam turned an actor owing to Shabana's help she continues, "Yes! I remember Anil Kapoor did not wish Sonam to belong to the bollywood arena……Sonam was very small then and Anil ne kaha Shabana isko samjha do ki yeh apni padayi likhayi khatam kar le!! [Shabana you better make Sonam understand the importance of studies tell her to complete her education.] I told Sonam to go ahead and complete her education in Economics. Sonam was a very scholarly kid. "
No sooner did Sonam return after completing her education she once again came up to me and told me 'Shabana Aunt I want to be an actor.' I instantly retorted back and said, "Sonam go ahead and try your luck in acting." Also, Sonam wanted to take dancing classes so I had recommended a Kathak Guru to her on Sunita Kapoor's request to me."
Adding about Anil Kapoor's reaction to this he said, "ET TU Brute!! Shabana!!' I was banking on you thinking that you will keep my daughter away from the World of Glitz and Glamour but you did just the opposite."
Last but not the least all praises for director Ram Wadhawani, "Mein, ram aur Javed achche dost hai. Whenever we met Ram we would always ask him when are you making a film? He would like say haaan aur abhi naahi …so we had kept a name for him 'Doctor No'. Our sensibilities match a lot. Belonging to the clan of a writer being the daughter, wife and a daughter-in-law I always vouch for the script. If the script is written exuberantly then there is nothing like 'looking back'. I would say for this flick, "Neerja" the credit has to go to the writers –Simon and Sanyukta they have penned it brilliantly. The outstanding dialogues and the screenplay makes all the actors proud and privileged to be working in Neerja.
By Lipika Varma