From cricket pitch to silver screen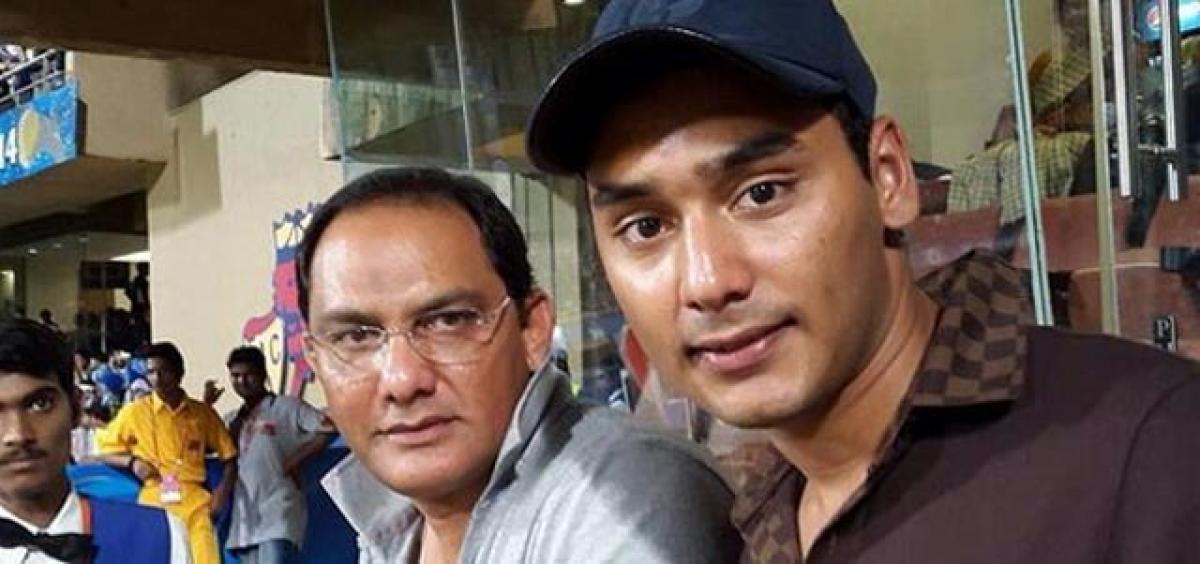 Highlights
A left-handed batsman who missed the IPL bus by a whisker, is also known for his famous lineage.
A left-handed batsman who missed the IPL bus by a whisker, is also known for his famous lineage. The younger son of cricketer-turned-politician, Mohammad Azharuddin, Asaduddin Abbas has more to him than merely a distinctive surname. Abbas, as he is known, is a Law student and has been an assistant director in his father's upcoming biopic 'Azhar'.
An even more colourful chapter to the youngster's life is that Abbas is poised for a Tollywood debut as a lead actor in 'Iddariki Kothaga'. This is not the first time that a charismatic cricketer's son has flip-flopped into acting. Tiger Pataudi's son Saif Ali Khan is an established actor.
Several other cricketers have tried their luck in tinsel town. Reports of Sachin Tendulkar starring in his biopic 'Sachin', adds to the instances of cricketer-turned-actors. In a candid conversation, the 26-year-old comes across as an exuberant rising star with an affable smile.
Excerpts from the interview:
Did you ever think you would star in a movie on growing up?
As a child, I watched a lot of movies. Somewhere down the years, this fascination sparked an interest in showbiz. Since childhood, I wanted to act in movies, although like a typical chip of the old block, my first love was cricket. I felt that it was a Godsend opportunity when I was asked to take a break from cricket to step into the world of arc lights and grease paint and that is when I realised this long-standing obsession.
What was your father's reaction when he learnt about your film break, that too in the lead?
Papa has always been encouraging. I never do anything without consulting him. In fact, I take up things only after getting his consent. He has always been very supportive and was always there for me.
Are you nervous about your film debut?
No. Not at all! On the contrary, I am confident that I can do justice to my role. I am not shy of the cameras or acting. There's no such feeling of nervousness. I think I have already gained some good lessons going into the debut. Moreover, I am pretty comfortable with Telugu.
Did you undergo any professional training for acting?
Well, not really. Having worked on the sets of my father's biopic 'Azhar' as an assistant director, I have learnt a great deal about facing the camera, acting and dialogue delivery. I have also learnt watching Emraan Hashmi and other actors while they were shooting. Learning, after all, is a continuous process. As such, I have not taken any professional training.
How was it while working on your dad's biopic?
It felt great to be on the sets for nearly two months. I loved every bit of my time. I enjoyed interacting with Emraan Hashmi while giving him an insight about my father's persona, his character, the way my dad speaks, the way he walks and his lifestyle. They liked my work as an assistant director and that makes for a long-lasting memory.
Will you consider acting on the silver screen, if such a role was offered to you?
Of course, I will. If there is a suitable role with an interesting script, I would certainly take it up. I will consider everything that is good and look forward to making acting my career choice.
Who do you see as your favourite actor and actress in Tollywood and Bollywood?
Salman Khan is my favourite while I like watching Mahesh Babu's movies. Among Bollywood heroines, I have always liked Kareena Kapoor and in Tollywood, it will be Kajal Agarwal and Anushka Shetty. (The author is a techie-turned-journalist)