NTR never compromised: Chandrababu Naidu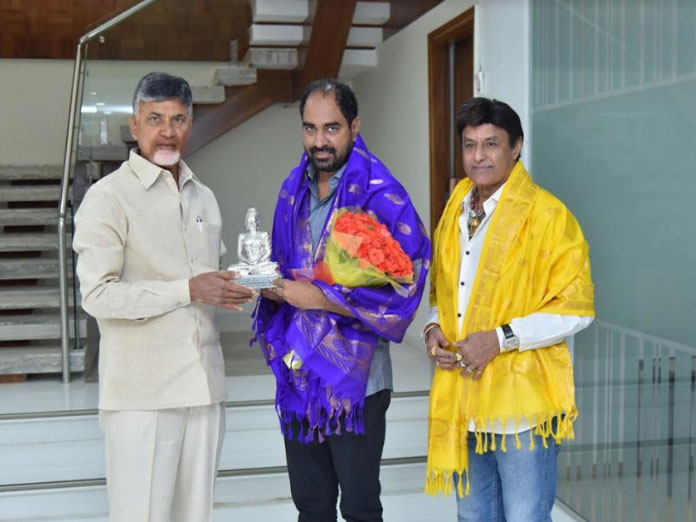 Highlights
commemorating the service rendered by the TDP founder NT Ramarao, the party president N Chandrababu Naidu said that he quit his job not to compromise with his thoughts, on the occasion of his biopic got good response from public
Amaravati: commemorating the service rendered by the TDP founder NT Ramarao, the party president N Chandrababu Naidu said that he quit his job not to compromise with his thoughts, on the occasion of his biopic got good response from public. Chandrababu Naidu appreciated the efforts of the NTR biopic crew, lead actor N Balakrishna and the director Krish on Friday at Undavalli in Guntur.
Chandrababu Naidu, who saw the film specially screened for him in Vijayawada on Thursday, stated that the entire thirty years life of NTR was screened in very articulated manner within three hours of biopic.
NTR went to Madras and faced numerous problems. But he did not lose his confidence. He continued his journey with great self-confidence and courage. Finally, NTR succeeded in his goals, Chandrababu Naidu explained while interacting with Balakrishna and others.
NTR experienced the devastations caused by Cyclones. Even he suffered in the cyclonic storms. He was aware of the problems of farmers, poor and marginal sections of the people in the society at his early age. Because of that knowledge, NTR donated money to the people and even collected donations for them on the streets.
During his entire span of life, he became a role model for film actors, governments and social activists.
NTR showed how to respond towards public while the cyclones and other devastations happened.
The film star studied under the kerosene lights and hence he decided that no student in the state should suffer, hence set a target of providing electricity to all the villages. He introduced many reforms in education system and welfare schemes for the student community during his stint as Chief Minister of the then united Andhra Pradesh.
He was aware of the problems of poor people who were living in the huts and for them he undertook construction of houses with cement slabs.
Explaining all these, Chandrababu Naidu said that NTR's life will be role model for everyone in the state. He said that NTR's son Balakrishna performed in an astonishing manner. He also added that the co-stars and other crew members performed well in bring this biopic.