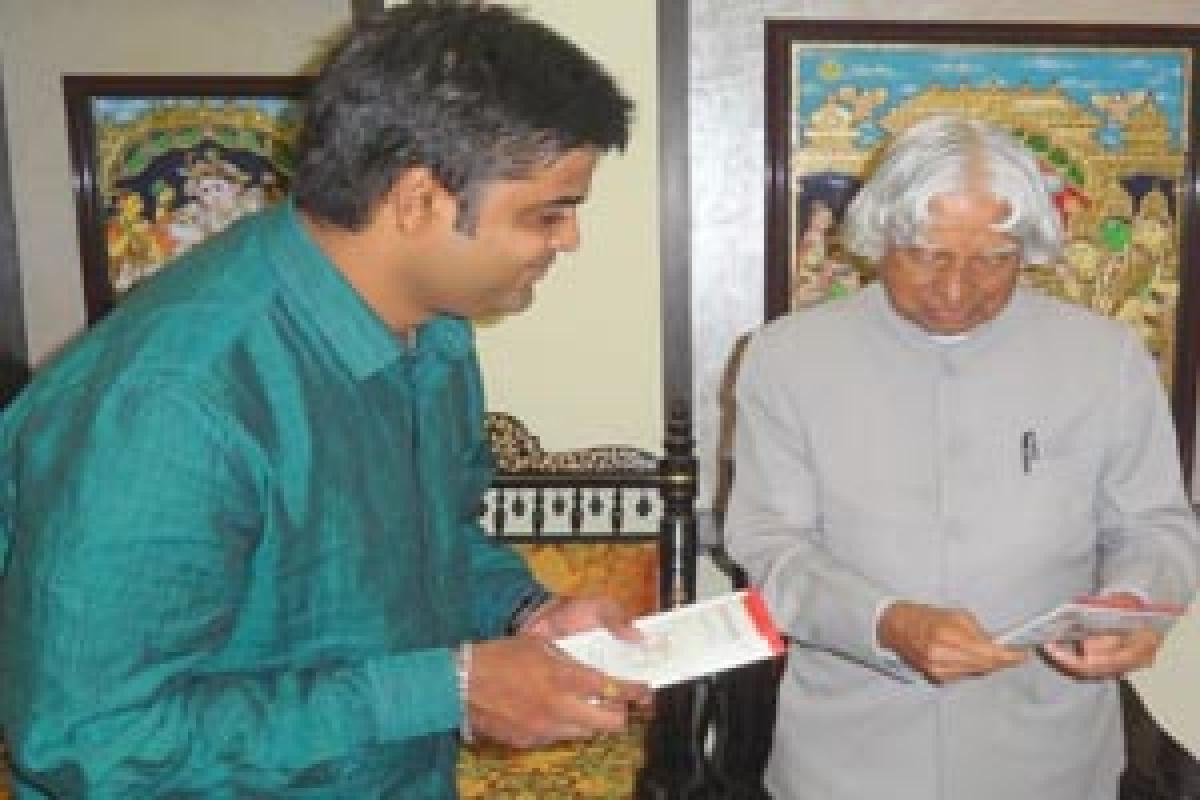 Highlights
Some time ago, meeting former President APJ Abdul Kalam, the Missile Man of India, had been a dream for many and receiving accolades from him for one's work was like a lifetime achievement.
A group of youngsters, led by a young MBA, has been bringing smiles to hundreds of needy by extending them a helping hand, under the banner of Sulakshya Seva Samithi
Hanamkonda: Some time ago, meeting former President APJ Abdul Kalam, the Missile Man of India, had been a dream for many and receiving accolades from him for one's work was like a lifetime achievement. Santhosh Manduva, founder president of Sulakshya Seva Samithi (SSS) based in Hanamkonda, is one among such a few lucky persons. The former President was so impressed with the Samithi's work that he presented Santhosh his autographed autobiography 'Wings of Fire', with compliments.
"Though it happened way back on May 14, 2015 at Raj Bhavan in Hyderabad, I still cherish the time I spent with Abdul Kalam. Though he was busy, he took time to release our organisation's brochure and to learn about the work we do here," Santhosh said recalling the happy moments he spent with the legend.
Began on Jan 5, 2008, the Samithi has been dispelling the notion that the youth of this generation are lazy, laid back and party animals. Proving the world wrong, a group of youngsters are heading their way to bring some positive changes in society. "Swami Vivekananda' words 'they alone live, who live for others' are our inspiration and driving force to serve and brighten up lives of the underprivileged. The charity work began with Rs 1,500 received as a gift from my family on my birthday," Santhosh told The Hans India.
"I wanted to spend the money on a good cause and donated a water filter to Ekashila Old Age Home," he added. "The happy smiles of elders at the Home, who embraced me with tears rolling down their eyes stirred my heart. It made me experience the joy of giving and I decided to do something further for the wellbeing of the society," Santhosh, a 30 year old MBA from Kakatiya University said.
Born to a retired teacher P V R Shantha and a farmer late MV Ramana Rao of Pegadapally in Hasanparthy, he was able to attract several youngsters to join his mission to spread smiles among the deprived sections with his experience at the Home. Santhosh and his friends then started working with focus on education for all, health care, protecting environment, empowering youth, providing basic needs and spreading love and affection. Even as there are umpteen numbers of NGOs here, Sulakshya has carved a niche for itself within a short span of time.
"We have been using social networking sites such as Facebook to gather support. Since the inception of the Samithi, we have donated benches and desks worth Rs 5.40 lakh to several government schools, distributed play items worth Rs 60,000 to orphan children, planted saplings across the district, distributed 1,500 blankets worth Rs 3 lakh to the homeless and the poor," Santhosh said.
Taking orphan children on heritage tours, organising special movie screenings for them, conducting seminars on contemporary issues, felicitating unsung heroes, distributing clay Ganesh idols, financially assisting meritorious students, donating groceries and other basic needs to underprivileged are some of the activities the SSS member engage in. Recognising the Samithi's efforts, the district administration bestowed the 'Best NGO Award' on the SSS on August 15, 2014 and also on January 26, 2016. Various organisations and institutions have also presented many awards to the Samithi.
Shiva Sampath, Kaushik Bhupathi, Rahul Bollam, Rohith Kadari, Premnath Murravani, Prithvi Sangani, Revanth Mandala, Kodam Vinay, Jay Kashyap, Varun Nalla and many others are associated with the SSS. Sulakshya's activities were lauded by Telangana Gandhi late Bhupathi Krishna Murthy, Padma Sri Nerella Venu Madhav, Kendra Sahitya Akademi Award winner Ampasayya Naveen, Arjun Award winner J Pichaiah, former KU vice-chancellor Prof V Gopal Reddy, Central Information Commissioner M Sridhar Acharyulu and others.
"We wish to continue our activities, reach out to more underprivileged and make a positive impact in their lives. We are committed to enlighten the lives of many in the future. The trust donors keep in us and the smiles on innocent faces of the needy are our motivating force," they claimed.
By James Edwin
Subscribed Failed...
Subscribed Successfully...