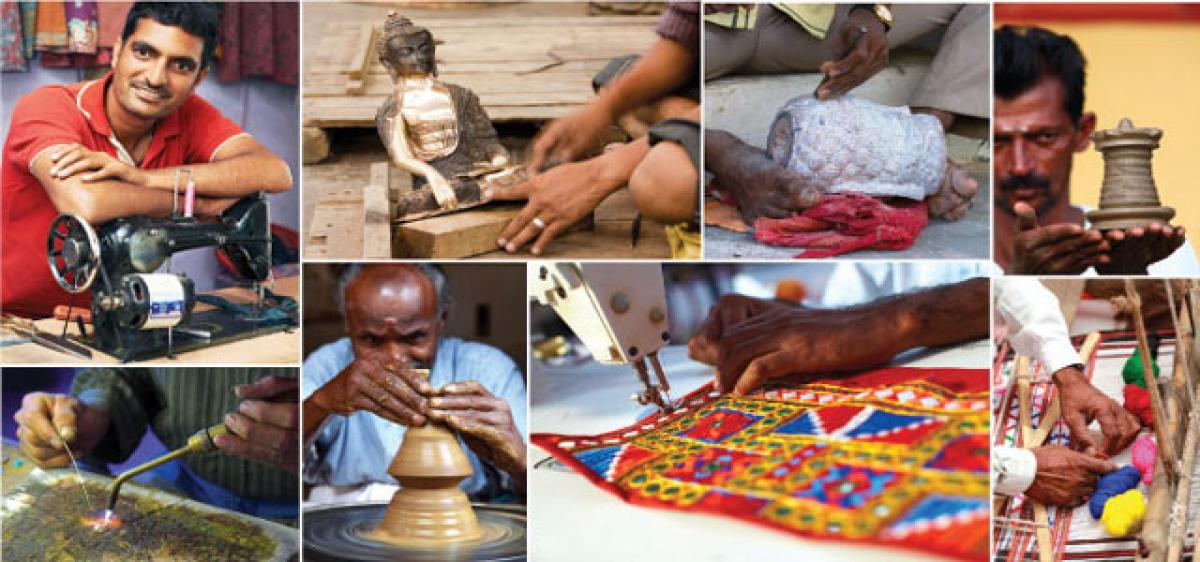 Highlights
Rural societies have a large population of artisan families. Most of them belong to backward and most backward communities. Most of these artisan families do not own land. Poor access to market linkages makes their livelihoods unsustainable and unremunerative.  While conserving the base of their craftsmanship, which is our great cultural heritage, every effort is needed to integrate them into mode
Rural societies have a large population of artisan families. Most of them belong to backward and most backward communities. Most of these artisan families do not own land. Poor access to market linkages makes their livelihoods unsustainable and unremunerative. While conserving the base of their craftsmanship, which is our great cultural heritage, every effort is needed to integrate them into modern skill eco system and economy
---
Both the Telangana and the Andhra Pradesh state governments are focusing on transforming rural economy, and rightly so, as a majority of population still lives in villages despite rapid pace of urbanisation.
As the Approach Paper to 12th Five Year Plan stated, expansion of income opportunities in the farm sector and their progressive absorption into non-agricultural activities is the most potent weapon for reducing poverty.
Holistic approach needed
There is a close link between expansion of farm economic opportunities and development of non-farm sector. In fact, both should be dovetailed to augment rural incomes. For instance, post-harvest operations, maintenance of farm equipment, sustaining agricultural supply chain, land development, conservation of natural resources etc., would not only expand non-farm employment in the rural areas but significantly contribute to increasing agricultural income.
The allied sectors like livestock, dairy, fisheries, forestry etc., not only provide additional incomes for rural households but stabilise livelihoods in the wake of crop failures which is an often occurrence. Strengthening social infrastructure like schools, hospitals, animal health clinics, housing, drinking water, sanitation and other habitat development programmes would strengthen rural human development indicators.
Therefore, the rural transformation initiatives should carefully integrate agriculture, allied sectors, non-farm activities, rural infrastructure and social development in rural areas. Such a holistic approach would significantly enhance rural livelihoods and income, and also contribute to overall rural development.
Rural artisans
Rural societies have a large population of artisan families. Most of them belong to backward and most backward communities. Most of these artisan families do not own land. Poor access to market linkages makes their livelihoods unsustainable and unremunerative.
While conserving the base of their craftsmanship, which is our great cultural heritage, every effort is needed to integrate them into modern skill eco system and economy. For instance, in some countries, rural blacksmiths, who previously were engaged primarily in the production or servicing of hand tools, now also produce or service animal-drawn or mechanised farm equipment and irrigation equipment.
Such a skill upgradation and modernisation is essential, while new occupations emerge out of the process of rural transformation, traditional occupations, such as those of village artisans, and may either disappear altogether or get transformed into more modern forms.
Development caravan model
In fact, several government departments implement a host of programmes aimed at improving the living conditions of rural people. But, the desired effect is compromised due to lack of synergy among them.
Instead, a clustered approach that interlinks all these sectoral programmes and implemented in a given rural setting based on the local concrete conditions will yield optimal results. For instance, agriculture, horticulture, agri business, food processing, livestock development, poultry, fisheries, dairy, social forestry, tourism, micro enterprises, natural resources management, non-conventional energy, social businesses, etc., can be clustered to bring about the maximum impact .
A mandal can be the unit of such a development caravan model to roll out. A Mandal Resource Plan should be prepared based on the locally available resources. A Mandal Development Action Plan has to be evolved. A nodal agency that incorporates all these departments should work in close collaboration with civil society groups to execute this plan in a mission mode with an ultimate objective of ensuring a uniform and higher basic income for rural household.
Environmental sustainability
The rural economic transformation should be integrated with the objective of promoting environmental sustainability as degradation of environment and landscape also significantly contributes to plummeting of rural incomes. Environmental resources have to be conserved. The depletion of tanks and other water bodies, the erosion of soil, the disappearance of grazing fields, the wilting of green cover, etc., have to be tackled through organic initiatives so that the rural incomes would not only be sustainable but enduring.
Grassroots design
Historical and cultural heritage, social structure, the level of economic and social development as well as other relevant parameters differ significantly across our villages. Therefore, centralised, uniform and top-down driven rural development programmes do not yield better results, and hence the need for significant differences in goals, institutional and financial support and general concept approaches to rural development across the villages.
Therefore, any rural transformation approach should have a grassroots design, appreciating the local conditions and experiences of local stakeholders.
Non-farm economy
The significance of rural non-farm economy is increasing especially due to volatile nature of agrarian economy. Rural non-farm economy can be defined as a set of economic activities in rural areas other than activities connected with production of primary agricultural products. The rural non-farm economy does, however, encompass activities connected with agriculture, such as food processing and other kinds of small businesses etc.
Depressed agricultural conditions reduced demand for non-agricultural products and services. Therefore, agricultural rejuvenation is also vital for sustaining the demand for products and services produced by the rural non-farm rural economy.
Rural industries should be given incentives so that they can cope with competition from large producers and imports.
The allied sectors like dairy, fisheries, etc., form the major chunk of non-farm incomes for the rural population. Bottlenecks in their growth need to be addressed. For instance, the dairy sector is plagued by problems like low milk prices, difficulties in transport, high prices and low availability of feed etc.
As Jayati Ghosh Commission on Farmers' Welfare suggested, to make dairying a viable non-farm activity, especially for small and medium farmers, there must be some public intervention in the form of marketing assistance and assured fodder supply. For other livestock and poultry production as well, there are major problems in marketing which prevent small cultivators from embarking upon or benefiting from such activities.
Infrastructure for dairying such as chilling plants, collection centres, transport facilities and veterinary services should be developed along milk routes.
Livestock rearing requires grazing land and/or fodder, so it is necessary to ensure access to common property resources for poor households as well as supply of fodder at affordable prices.
Credit provision for non-agricultural production activities is extremely limited and inadequate, forcing small producers to go to private moneylenders. There should be some incentives for increasing lending to small producers engaged in rural non-agricultural activities.
The factors that can improve the rural economy include improving the level of knowledge, rural physical infrastructure, and access to the financial and land markets, adequate business environment for the development of small and medium enterprises etc.
Healthy rural economy is vital to stem rural -urban migration. In fact, the robust rural economy would provide a market for industrial goods and services produced in the urban societies.
Rapid rural transformation is possible, if political will, administrative acumen are combined.