AliensFest to be held at BITS Pilani, Hyderabad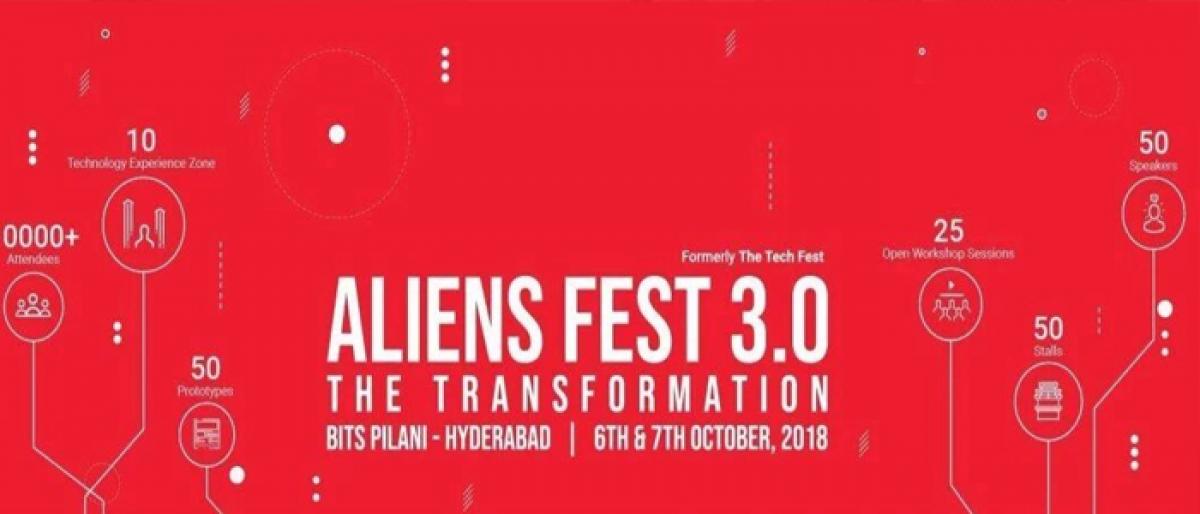 Highlights
City based EngineersHub, a platform that enables young engineers connect with technology experts, announce the third edition of AliensFest, a Technology and Startup Festival It will be organised by EngineersHub in collaboration with TBITechnology Business Incubator, BITS Pilani, Hyderabad campus, and in association with Collab House and Code Beat
​Hyderabad: City based EngineersHub, a platform that enables young engineers connect with technology experts, announce the third edition of AliensFest, a Technology and Startup Festival. It will be organised by EngineersHub in collaboration with TBI(Technology Business Incubator), BITS Pilani, Hyderabad campus, and in association with Collab House and Code Beat.
Widely known as TheTechFest, its name has been changed to AliensFest. It will be held for two days on October 6 and 7. It will be formally kicked off on October 6 in the morning. Jayesh Ranjan, Principal Secretary, ITE & C is likely to be the Chief Guest.
The best technology experts from around the world who will address various sessions include Artificial Intelligence, Blockchain, Electric Cars, Virtual Reality, Construction Technology, Aero Dynamics, Inspirational Talks, Robotics, Internet of Things, Super Capacitors, Mechanical Designs and many more.
According to Manoj Raj, man behind the success of two Tech Fests and now AliensFest, it is an initiative of Mivo Software Technology Solutions Pvt Ltd. According to him, the theme of the fest is "The Transformation". More than 1500 students from across India from states like Gujarat, Delhi, West Bengal, Chhattisgarh, Tamil Nadu and Maharashtra and 5000 students from Telangana State are expected. More than 10,000 footfalls is expected over the two days of the event.
Sharing more details, Sreerag Nambiar, Head of Operations of AliensFest informed that the two-day event this year will host 50 speakers from diverse technologies all around the world, 10 plus Technology Experience Zones, 25 plus Workshops, 50 plus Student Prototypes and much more. Engineering, Management Students, Startup and Techies interested in improving their knowledge, network are invited. Entry to every Workshop is on a first-come first-serve basis.
Nearly 50 stalls will be put up by Skill Development Centers, Institutions throwing open career opportunities; consultancies, digital wallets, Car Pooling service providers, Fitness centers, Collegesetc and others.
Manoj Raj D, Founder of AliensFest further states:'It is the platform for students to learn, experience and connect with the latest technologies and meet experts and mentors from diverse industries'.The goal of the AliensFest, adds Manoj Raj, is to spread the awareness of disruptive technology, scientific & design thinking and innovation at every level.
The fest will feature Tech Talks, Management Talks, Panel Discussions, Hackathon, Workshops, Technology Competitions, and Launch Pad for startups to launch their products, services, exhibition, Students Project Expo etc and cultural activities. Some social problems which have become of cause of concern for many and long for solutions will be thrown open for the participants to come out with solutions.
Aliens Fest is India's largest Technology and Startup Conference specifically for Engineering. Through this conference, idea is to build a platform for all the aspiring engineers, researchers, experts to come together sharing their ideas, experiences and knowledge.