Bridge Launches GirlSuperPower Campaign To Boost Girl Education In AP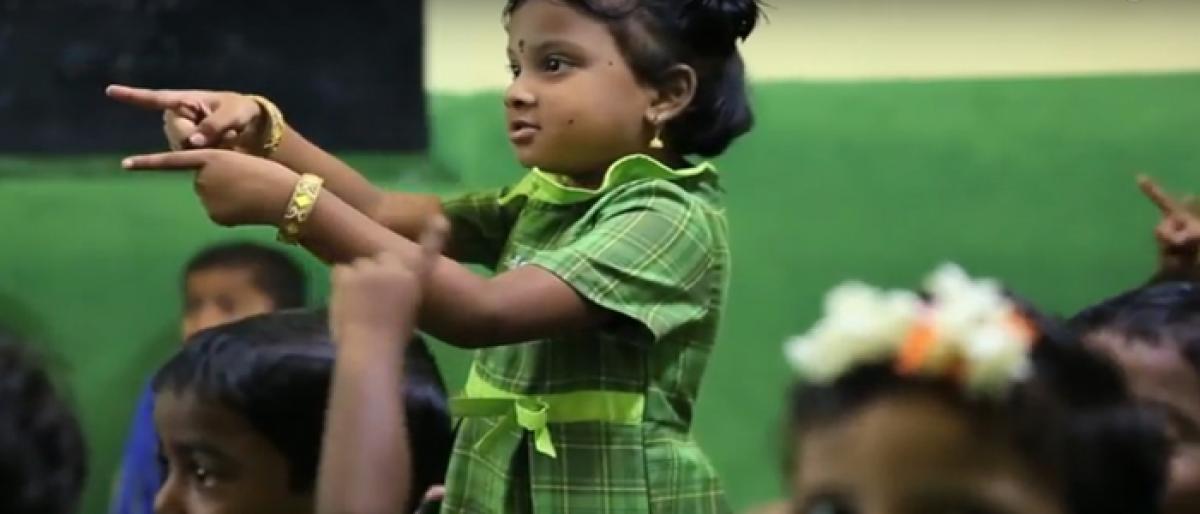 Highlights
UN education report reveals 6 increase in number of girls out of school Against the odds, across India, girls are working extra hard in school to fulfil their dreams They believe that they can achieve anything if they study hard All they need is a good school, a great teacher and a chance to learn Meet these lucky few who have been encouraged, supported and inspired to realise their superpower
UN education report reveals 6% increase in number of girls out of school Against the odds, across India, girls are working extra hard in school to fulfil their dreams. They believe that they can achieve anything if they study hard. All they need is a good school, a great teacher and a chance to learn. Meet these lucky few who have been encouraged, supported and inspired to realise their superpower and reach for the skies:
Little six-year-old Saritha from India wants to travel to the stars.
Five-year-old Shaik Thaflim loves to solve mathematical problems and hopes to be a maths teacher in her community one day.
Five-year-old Hafsa is her class ambassador and is grateful for her English skills which make her a great communicator.
Eleven-year-old Biswatull loves science and plans to be a doctor and make her teacher proud. Sadly, the latest UN Education Report revealed that the number of girls out of school globally has actually increased by over 6% in just one year! Thats why Bridge is launching #GirlSuperPower and calling on Indian policymakers to prioritize girls' education.
Mr Ranjit Koshi, Managing Director of the Indian operations of Bridge International Academies, said, "Girls in low and middle income countries including India almost need superpowers to gain a decent education. We know that when given a chance in the classroom girls excel, but they often have to defy odds and overcome near impossible hurdles just to reach the classroom. Even if they do make it into the classroom, enabling them to learn and succeed is a challenge that requires super teachers and a super program.
The good news is that many girls are aspiring to a better future thanks to transformative schools in needy parts of the world. We are working to make that the norm rather than the exception." "We ran GirlSuperPower campaign at all six Bridge schools in AP and the participation of pupils and their mothers in various interactive programs was very encouraging," Ranjit said.
Can India's Poor Education Standards Ever Enrich the Nation? Meanwhile, a study conducted by the Bill and Melinda Gates Foundation revealed that only a quarter of third grade students can read and understand a short story with a few simple sentences or subtract two-digit numbers from another number in India. The Indian government's own National Assessment Survey also shows that a high percentage of children have low learning levels. As per the report, "Only one-quarter of third-grade students can read and understand a short story with a few simple sentences or subtract one two-digit number from another."
The report quoted the data from the 2017 Annual Status of Education Report (ASER). ASER 2017 has highlighted the fact that although almost all children are enrolled in school, many are not acquiring foundational skills like reading and basic arithmetic that can help them progress in school and life. Creating more opportunities to learn is a challenge that the UN and global leaders are united in tackling. Billions of dollars are being channeled towards this cause.
Solving this issue will unlock talents, raise standards of living, boost economies, and even improve health and security. As Chair of the Education Commission Gordon Brown rightly said, this is the civil rights struggle of our time. Taking the campaign to a global platform, Dr. Shannon May, co-founder of Bridge International Academies, will take the #GirlSuperPower campaign to the ongoing 73rd United Nations General Assembly (UNGA) in New York this week.