Next 10 Ventures to jumpstart growth in Creator Ecosystem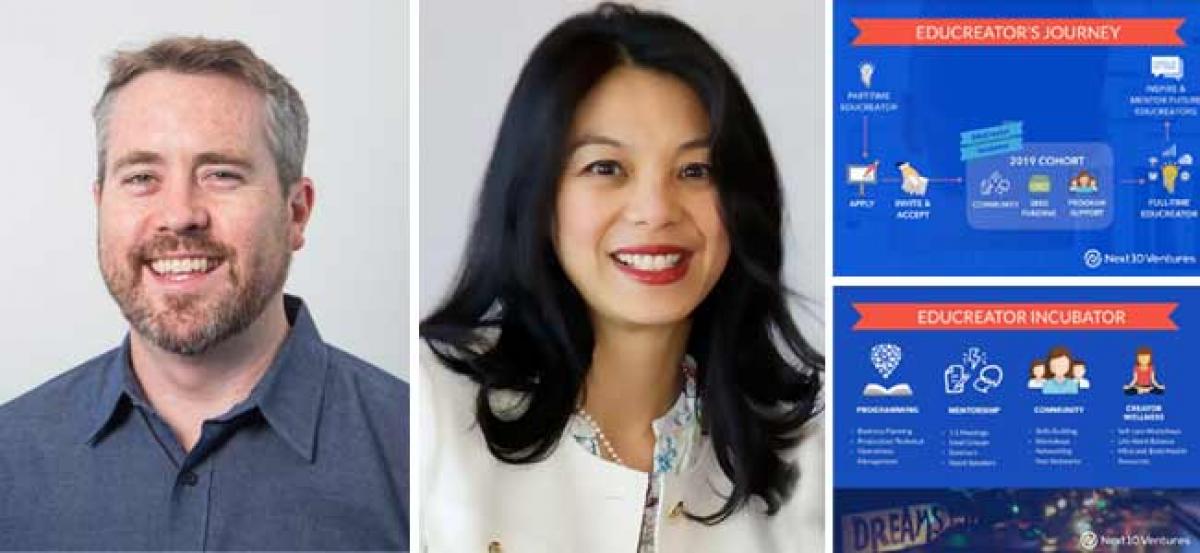 Highlights
Next 10 Ventures, a global venture group focused on the Creator economy, today announced the launch of its global EduCreator Incubator
Launches First Global EduCreator Incubator in Learning and Education
To mentor and focus on Indian EduCreators envisaging growth potential in the region
New Delhi: Next 10 Ventures, a global venture group focused on the Creator economy, today announced the launch of its global EduCreator Incubator. This first-of-its-kind program aims to support emerging video creators who produce education and learning content, with seed investments ranging from 25,000 USD to 75,000 USD, programmatic support and mentorship. Next 10 Ventures is led by Founder & CEO Benjamin Grubbs, the former Head of Global Creator Partnerships at YouTube. The EduCreator Incubator is led by Vice President of Marketing Cynthia So Schroeder, who brings with her the experience of leading eBay's Global Community Development and Engagement group. The inaugural EduCreator Advisory Council includes top creators like Jay Shetty, Shaun & Mindy McKnight (CuteGirlsHairstyles) and WeCreateEdu founder Jacklyn Duff.
This year, 25 to 40 applicants will be selected to join the 2019 EduCreator Incubator cohort. The 12-month program is designed to support each EduCreator holistically on four pillars: Programming, Mentorship, Community, and Creator Wellness. This program will provide each EduCreator with advice, expert support, and business planning to sharpen their management and technical skills, as well as highlight the importance of Creator well-being. Next 10 Ventures will finance the growth of their first cohort's business pursuits for sustainability and scalability. The company will focus on meaningful content and follow a creator-centric approach. Next 10 Ventures' goal is to grow the total number of full-time EduCreators in India. The company is looking at long-term opportunities as it plans to reinvest its share of revenue back into its EduCreator Growth Fund to nurture the incubator program for years to come.
Next 10 Ventures is excited about Indian EduCreators and foresees great opportunities in the education sector with rising young population, with an increase in internet usage and online learning emerging as a cost-effective channel. Online education has been constantly growing over the last couple of years because of its low costs, rise in the internet population and easy access through mobile phone.
Many online education startups offer original and interesting content for young children and students via videos and rich and interactive animations. This type of e-learning complements existing curriculum and extends concepts beyond the traditional classroom teaching making learning easy-to-understand.
Enthused about expanding the playing field for global digital learning and focus on Indian market, Cynthia Schroeder, Vice President, Marketing, Next 10 Ventures' EduCreator Incubator, said, "I'm beyond thrilled to join such a mission-driven team who has a deep passion for ensuring that the world, and countries like India, have access to quality online educational content. We know that India is home to many of the most followed and viewed South East Asia EduCreators. For the next 10 years and beyond, we are fully committed to supporting diverse educators and their topics that inspire children and young adults to learn, seek and discover more about the world around them."
"Creators today have influence and an ability to inspire the imagination of kids in a positive way. We have seen firsthand how impactful Creators can be in supplementing and strengthening classroom instruction," explained Benjamin Grubbs, CEO of Next 10 Ventures. "Through investment, mentorship, and wellness support, we are helping Creators transform their passion for creating inspiring and entertaining education content into full-time careers and inspire kids around the world to seek out fields of study across social sciences, arts, humanities, STEM and more", he further added.
For a list of the program's eligibility requirements, please visit: www.next10ventures.com/educreator
The application period closes November 17, 2018. EduCreators selected for the 2019 Cohort will be announced in early February 2019. Interested parties may apply here: www.next10ventures.com/educreator/apply