Two-day meet on Stress Management concludes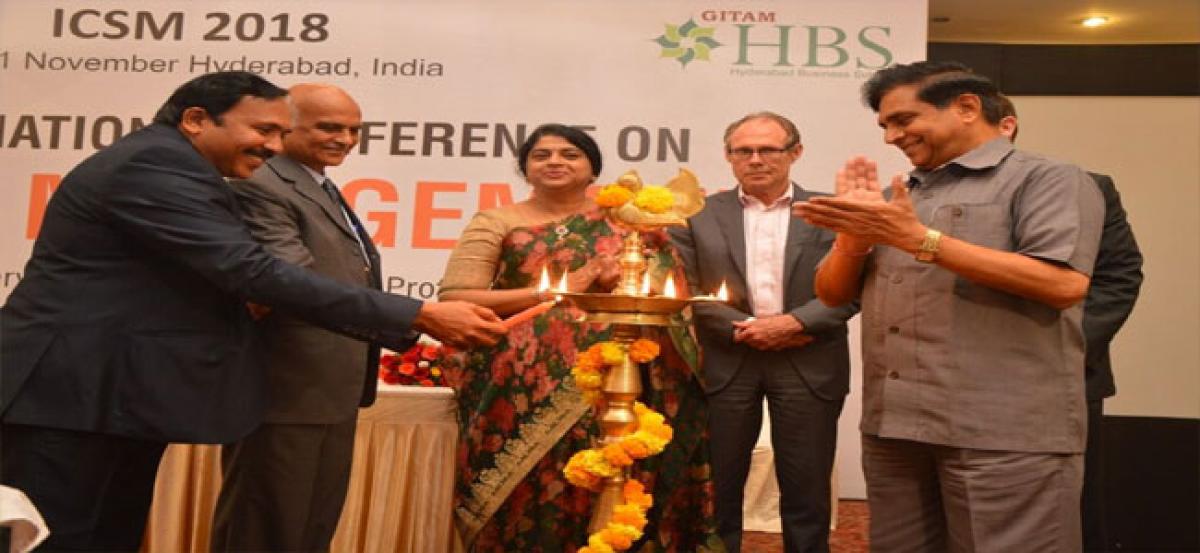 Highlights
International Stress Management Association ISMA and GITAM Hyderabad Business School GHBS jointly organised a twoday fifth International Conference on Stress Management ICSM2018 at Manohar, Begumpet, Hyderabad Sailaja Kiron, Managing Director, Margadarsi Chit Funds, Hyderabad graced as chief guest and inaugurated the conference by lighting the lamp on Saturday
Hyderabad: International Stress Management Association (ISMA) and GITAM Hyderabad Business School (GHBS) jointly organised a two-day fifth International Conference on 'Stress Management' (ICSM-2018) at Manohar, Begumpet, Hyderabad. Sailaja Kiron, Managing Director, Margadarsi Chit Funds, Hyderabad graced as chief guest and inaugurated the conference by lighting the lamp on Saturday.
In her inaugural speech, Sailaja Kiron said that expectation is the mother of stress creation, so don't expect anything even from our own family members or a boss. She advised that everyday work for you, try to be yourself and be better yourself. Don't try to control the uncontrollable, love to forgive, she exhorted. Physical activity is a huge stress relief, Sailaja Kiron concluded. The organisers of ISMA have presented P V R K Prasad Memorial Award to Margadarsi MD.
Prof Mark Corpley, University of Surrey, UK; Prof G A Rama Rao, Principal, School of Science, GITAM, Hyderabad; C N Gopinath Reddy, IPS (Retd.), Former DGP, Government of AP and Ian Shakespeare, Director, ICSMP, Australia participated as guest of honor. Earlier, B Udaya Kumar Reddy, Conference Chair welcomed the guest and explained the objective of the two-day international conference. ICSM presented National and International Stress Management Awards to the organisations and Professionals for their contribution in the areas of Stress Management and for adopting efficient methods for preventing stress at workplace.
Randall John, Mark Corpley, Yasmin, Gita Challa, Venkat Reddy, and Vijay Laxmi have received these awards. 100 hours of learning certificates also presented to Stress Management Professionals (SMPs). About 225 delegates from UK, Australia, Iran, and Malaysia took part in the conference and about 95 papers presented. Apart from Paper Presentations, the conference also hosted Panel Discussions, Case Experiences, and workshops.
Delegates have participated in the micro sessions on the topic/ theme of their interest. They have also been participating in the informal get-togethers and interaction with leading scientists and practitioners which is an exciting opportunity for learning about the latest developments on the translation of research in stress management into practice. Prof Y Lakshman Kumar, Dean and Director, GHBS proposed the vote of thanks. GHBS faculty, students also took part in this conference.