200 attend workshop on Niryat Bandhu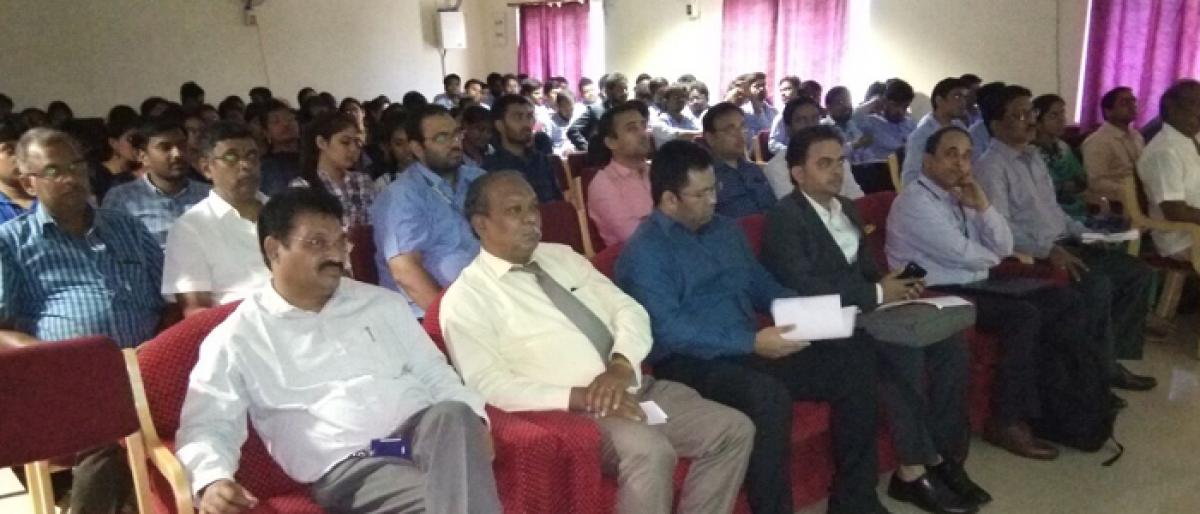 Highlights
MVGVR college of Engineering conducted a oneday workshop Niryat Bandhu in association with Director General of Foreign Trade DGFT, Govt of India, Visakhapatnam at MVGR College of Engineering Autonomous The workshop is about an awareness programme designed about foreign Trade
​Visakhapatnam: MVGVR college of Engineering conducted a one-day workshop " "Niryat Bandhu" in association with Director General of Foreign Trade (DGFT), Govt. of India, Visakhapatnam at MVGR College of Engineering (Autonomous). The workshop is about an awareness programme designed about foreign Trade.
Around 200 participants including entrepreneurs from Vizianagaram Chamber of Commerce and students from MBA participated. During inaugural session, Dr. B. Punnamkumar, Asst Director, DGFT, SV Ranganathan, Officer, Foreign Trade, J Sudhakar, Manager, Export Guarantee Corporation of India( ECGC), V Venkata Narayana, Chief Manager, State bank of India learning and Development( SBILD), M. Ravishankar, Elite Logistics and MVGR college Principal cum MANSAS Correspondent Dr. KVL Raju shared the dais.
After Inaugural session, Dr B. Punnamkumar spoke about the Foreign Trade policy and procedures and various government schemes to promote foreign trade. He also said foreign trade will help the nation to increase the balance of payment, which helps the nation's economy.
Later S V Ranganathan took the session and explained the information procedure to obtain import export codes which enables the trader to do foreign trade. After that J Sudhakar took the session and discussed about Export Credit Guarantee Corporation of India(ECGC) , which helps the traders to protect from issues related to foreign financial transactions, and financial risks which may occur in foreign trades. Subsequently, V Venkata Narayana , Chief manager- State Bank of India explained the role of bankers in promoting foreign trade, in terms of financial assistance and others.
Next session was by M. Ravi Sankar, ELITE Logistics and focused on significance of logistics support in its avenues in foreign trade. Finally Dr. KSS Ramaraju, HOD- MBA has took the session on foreign trade segment in India's Economic Growth. After completion of workshop, DGFT members replied to the questions raised by the traders and students.
On this occasion Dr. KVL Raju, MVGR college Principal cum MANSAS Correspondent addressed the significance of this workshop and expected entrepreneurs and students to get the benefit of this event. During the valedictory session of this event DGFT members and Resource persons of this workshop are felicitated with a memento as token of gratitude by Dr. KSS ramaraju, HOD-MBA.