OU to host 3-day history meet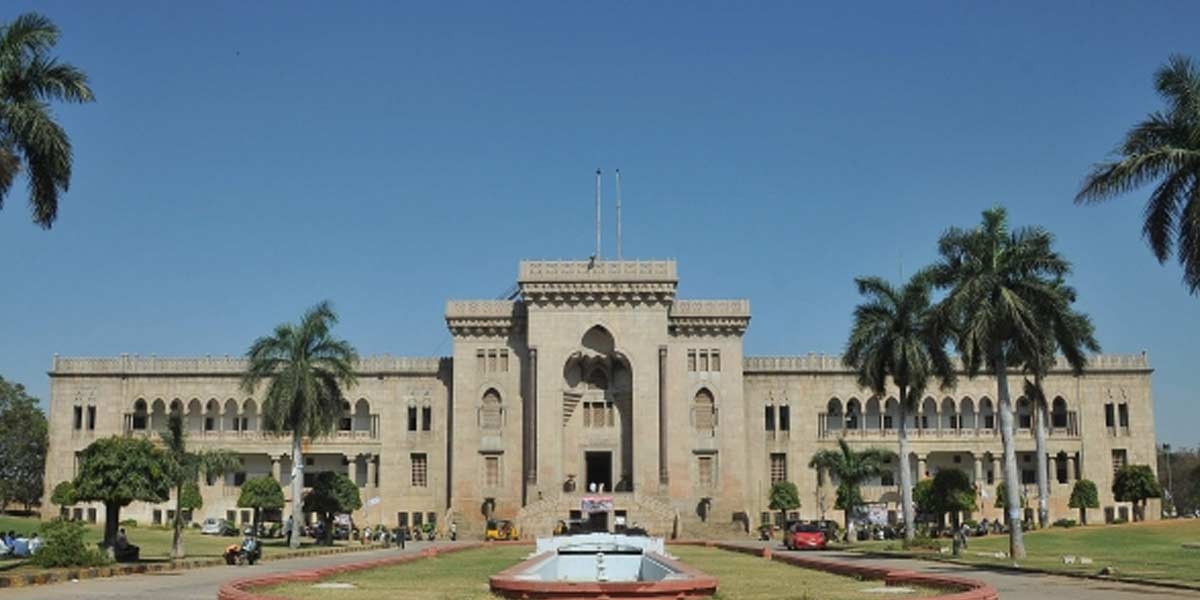 Highlights
With promotion and encouragement of the scientific study of Indian History as its objective, the South Indian History Congress SIHC is holding Congresses and publishing proceedings, journals and other works of importance to society in cooperation with other organisations in India and abroad holding similar objects
Hyderabad: With promotion and encouragement of the scientific study of Indian History as its objective, the South Indian History Congress (SIHC) is holding Congresses and publishing proceedings, journals and other works of importance to society in cooperation with other organisations in India and abroad holding similar objects.
In pursuit of its objectives SIHC has broadened the scope of history on which it invites papers at the 39th annual session by creating various sections. The annual session of the SIHC will be held under the auspices of the Department of History, Osmania University, Hyderabad, and Telangana, on February 8th, 9th & 10th, 2019.
Giving details of the annual session, SIHC Local Secretary and Head, Department of History, Osmania University Prof Arjuna Rao Kuthadi said the History Congress in Hyderabad would throw light on many events that would have bearing on Indian society.
"I am aware of the consistent support that our members have given to the organization which has enabled us to hold various conference on the Indian History successfully," he said, expressing a hope that all the stakeholders in this endeavour would continue to extend their support for in the development of SIHC.
Visit our website at www.southindianhistorycongress.org for updates.
Local Secretary: Prof Arjuna Rao Kuthadi, Professor and Head, Department of History, Osmania University, Hyderabad, 500007, Telangana State (Mobile: 09849415593) will be the Local Secretary for the 39th Session. The Local Secretary will inform you the details of delegate fee, bank account, venue, registration, accommodation and matters of hospitality.
"Hope you are in receipt of the First Circular from Prof. (Dr.) Sivadasan, P., General Secretary, SIHC intimating you about the 39' Session of South Indian History Congress. It gives me immense pleasure in extending to you this cordial invitation on behalf of the Local Organising Committee and on my personal behalf to participate in the 39' Annual Session of South Indian History Congress," Prof Arjuna Rao said
Membership and Subscription
As a national forum, the SIHC admits members who are interested in Historical Studies on South India irrespective of any regional consideration. Members of the following categories are admitted: Annual Member Rs. 500/-, Life Member Rs. 4000/-, Institutional Membership Rs. 10,000/-, Patron Rs. 10,000/- and Donor Rs. 10,000/- or more. Year is reckoned as calendar year i.e., January to December. Membership Fee may be remitted by a Demand Draft favouring the South Indian History Congress, payable at Indian Overseas Bank, Madurai or any other bank at Madurai and may be sent to Dr. Sandeep Kumar Dasari, (Treasurer, SIHC), Associate Professor & Head, Department of History, Tagore Arts College, Puducherry - 8 . , Mobile number: 09488050654, E-Mail: [email protected]
Membership fee will also be collected at the time of the session in the Department of History, Osmania University, Hyderabad, Amberpet, 500007, Telangana. You are also requested to invite your colleagues and research scholars to become members of the South Indian History Congress.
Research Papers & Online Registration
Papers in all five sections (Political, Social, Economic, Cultural, Historiography and Maritime History) will be presented simultaneously.
The South Indian History Congress is offering online registration of research papers. Members are requested to register the details of their papers through our website: www.southindianhistorycongress.org
Scholars are requested to send their papers, soft copy ([email protected]) & hard copy on or before 15 January, 2019 to The Local Secretary, 39th South Indian History Congress, Department of History Osmania University, Hyderabad, Amberpet, 500007, Telangana. Papers received on or before the due date will get precedence for presentation.
More than one paper by a member shall not be admitted for presentation. The paper should be neatly computed in about 8 pages double spaced with end notes and two copies of the paper should be sent to the Local Secretary. End notes should be numbered consecutively throughout the paper and placed at the end.
All papers submitting to the Congress will strictly follow the Style Manual published in the website of the SIHC. Most important is that the paper presenters while presenting their papers at the respective sections should handover a soft copy in CD form to the concerned Sectional President. Those papers in English alone will be considered for inclusion in the Proceedings Volume.
OU department of history
The Department of History, Osmania University, came into existence as an independent wing of Osmania University with the launching of B.A. Course from 1919 onwards. The Constituent Colleges of University and 440 affiliated colleges spread over Hyderabad, Ranga Reddy and Medak districts offer the Bachelor's Degree (B.A.) to around 40,000 students. The Department offers Master's Degree in History M.A. with different specializations in the University Campus and two constituent colleges viz., Nizam College, Hyderabad, University PG College Secunderabad, Secunderabad and B.A., University.
College for Women, Hyderabad. The Department is one of the oldest and largest departments in the country, has been serving the cause of History education for the last 100 years. The Department has been on the map of SAP/DSA (Phase-II) of University Grants Commission, New Delhi.