MJCET launches contest for promoting innovation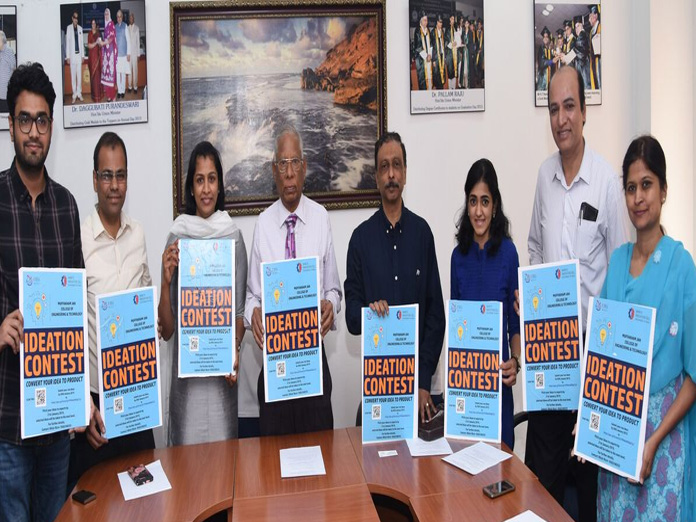 Highlights
Muffakham Jah College of Engineering and Technology Institute Innovation Cell IIC launched its first Ideation contest for 2019 on Saturday, to promote innovation among the students The focus of this activity is to encourage the students to do critical thinking and apply engineering skills to solve problems that are encountered on a day to day basis
​Hyderabad: Muffakham Jah College of Engineering and Technology Institute Innovation Cell (IIC) launched its first Ideation contest for 2019 on Saturday, to promote innovation among the students. The focus of this activity is to encourage the students to do critical thinking and apply engineering skills to solve problems that are encountered on a day to day basis.
As a part of this a half- day workshop was organised on Design and Critical Thinking by Santosh and Dhayan from F1Studioz. The MJ Ideation contest was launched in presence of N Venkatesh, Sr. Vice President, Redpine Signals, Deepti Ravula, CEO, WE Hub, Govt. of Telangana and Meraj Faheem, Fellow, Telangana State Innovation Council. The Director of MJCET, Basheer Ahmed, mentioned that in the last 38 years, the college has pioneered in producing high quality engineering students and is now focusing on improving the Innovative abilities of the students.
N Venkatesh who is also a board member of The Indus Entrepreneurs (TIE), Hyderabad Chapter presented the significant achievements of TIE Grad program in the last two years and expected that MJCET will also be a part of this programme in the forthcoming years.
Deepthi Ravula, CEO, Women Entrepreneurs (WE) Hub mentioned about the various schemes of Telangana State Government on promoting entrepreneurial skills of the students with facilities like TASK, T-FUND, T-HUB, T-Works and many other programs. She mentioned that there is a great need to promote women entrepreneurs and WE HUB provides a complete ecosystem for aspiring women.
Arif Sohel, President of MJCET Institute Innovation Cell mentioned that the College is planning to encourage students to convert their projects into products and look at entrepreneurship as a career option. Prof. Syed Ferhathullah Hussainy, Dean, MJCET mentioned that the College has a very active Entrepreneurship Cell (E CELL) for the last nine years and has been winning laurels at the state and national levels.