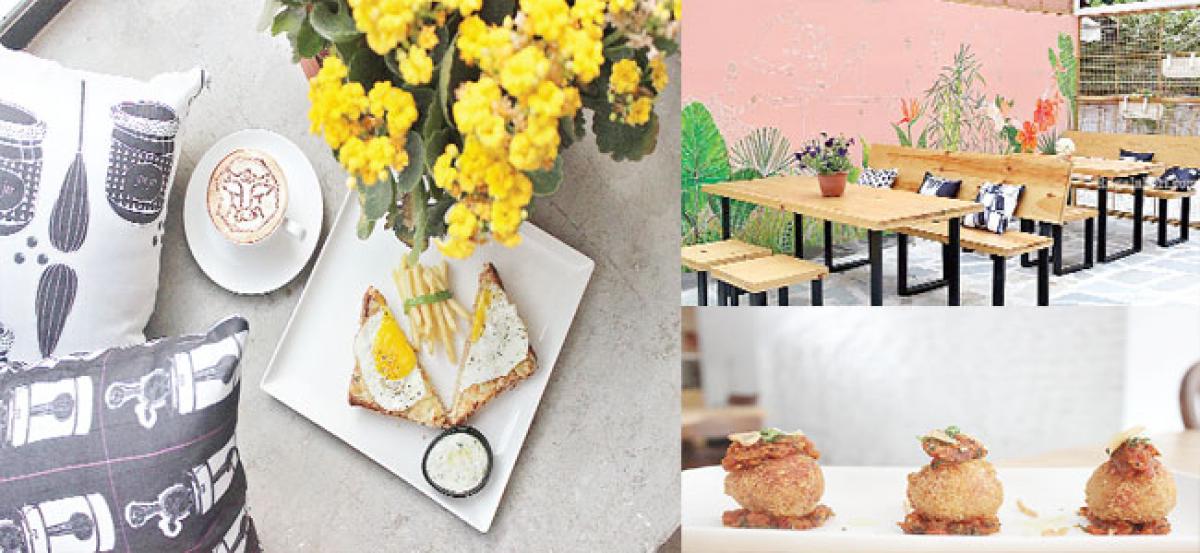 Highlights
The new café on the block promises to satiate your appetite for both good food and a good coffee. 
The new café on the block promises to satiate your appetite for both good food and a good coffee.
The café offers both indoors and al fresco seating, both huge on design. The indoors are more of monochromatic drama full of bright light and cow figures, while the outdoors is a burst of colours, perfect for a summer outing.
The place is full of wooden tables; old school benches outdoors, glass windows, book shelves but our favorite parts are definitely the black and white tiled floors and artful walls all around the place.
A dream come true for any voracious reader who can settle on a comfortable couch and satiate an appetite for both good coffee and books here. It makes for a great outing spot, be it with your friends or family; with its location away from all the hustle bustle of the city you can end up spending hours without even noticing it.
Their menu is a novel treat, while their signature cappuccino that come with their logo is fast becoming most Instagramable coffee in town, their iced Americano is just as good. For tea lover you have plenty of fascinating flavours but what will catch your attention is the range of special 'Good cow shakes' that offer flavours like brownie rocher, classic cheesecake, chilli alphonso mango, cookies and cream and berry merry.

Coming to food start with their 'Wholesome Salad' that is flavorful and delights at every bite; and it makes for a hearty appetiser. 'Arinchini' is a crispy delight filled with goodness of carrot, beetroot, garlic flakes, served with tangy sauce on side that completes the dish. Their thin crust pizza are in for the run of best pizzas in town, you must try their 'Lamb Pepperoni' that tastes as good as it looks and for vegetarians the 'Quattro Formaggi' pizza is the one you will go home thinking about.
Their menu also offers popular appetisers, including Mezza platter, chilly garlic prawns, chicken wings, fries and paprika fish fingers for those unwilling to experiment with their orders.
Location: Road No.21, Jubilee Hills.
By Satpreet Kaur

Subscribed Failed...
Subscribed Successfully...