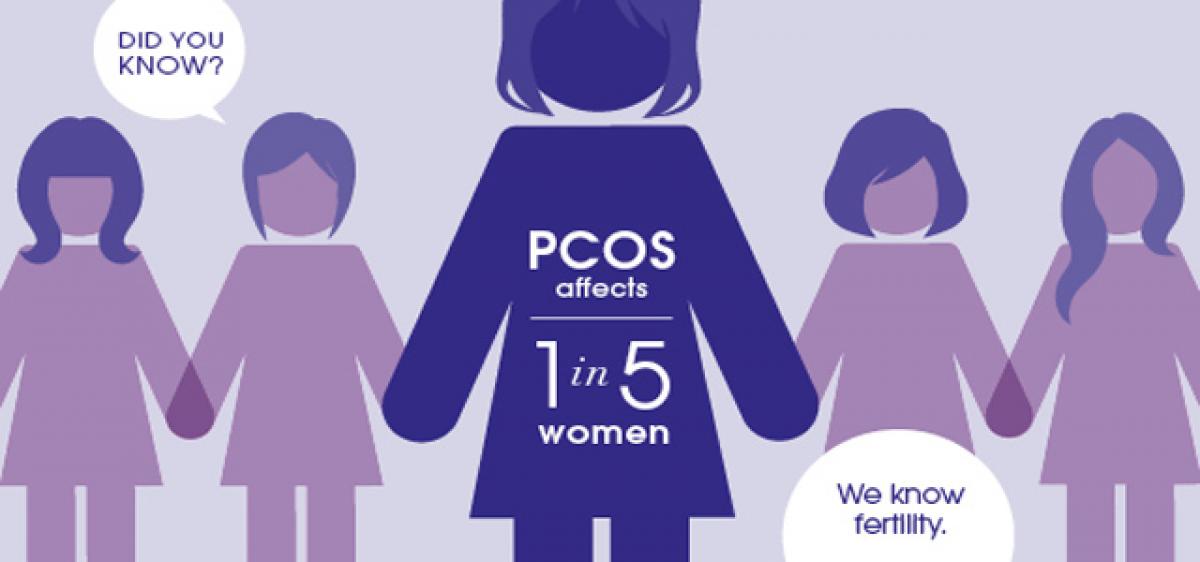 Highlights
Snigda Sharma, a 27-year-old woman, who is famous inher circle of friends for being fit and energetic has suddenly turned into an obese and a lethargic woman after marriage after suffering a series of miscarriages. 
Snigda Sharma, a 27-year-old woman, who is famous inher circle of friends for being fit and energetic has suddenly turned into an obese and a lethargic woman after marriage after suffering a series of miscarriages.
After consulting multiple doctors, she was diagnosed with the Polycystic Ovarian Syndrome (PCOS), which is the culprit behind her body weight fluctuations, cosmetic problems and unfortunate miscarriages.
---
One in five girls in India suffers from Polycystic Ovarian Syndrome (PCOS). Stress, overweight or obesity, pollution and food habits are the reasons attributed to this disorder that is said to be the major cause of infertility in young women. The danger looms large as number of PCOS cases only seem to increase by the day
---
Snigda, who has been married for three years now, wondered how all of a sudden she has developed this syndrome despite being an active sportsperson from her childhood. Upon discussing with doctors she finally understood that no physical activity since three years made her body and mind react to stress, which directly led to the PCOS.
PCOS is a hormonal disorder, in which a woman's levels of the sex hormones oestrogen and progesterone are out of balance. This leads to the growth of ovarian cysts. PCOS not only affects the hormones in the body but also leads to major health disorders like Hypo-Thyroidism, Diabetes Mellitus, excess growth of facial hair, acne, stress, mood swings and irregular menstrual cycle.
A study conducted by Metropolis Healthcare Ltd, on PCOS to observe the trends in PCOS cases in young women in India revealed, that one in five women suffer from PCOS problem and East India leads the chart with 1 in 4 women suffering from the condition.
A comprehensive pan-India study on 27,411 samples of testosterone was done over a period of 18 months. Out of 27,411 samples, around 4,824, (17.60 per cent) of the females face hormonal associated risk with PCOS.
The increasing trend of PCOS is predominantly seen in the age group of 15 to 30 years. Among the samples tested Eastern part of India showed alarming levels of 25.88 per cent women affected by PCOS, followed by 18.62 per cent in North India, which can be largely attributed to lack of awareness among young women.
What not to eat with PCOS
Simple sugars like sweets, chocolates, ice creams, etc
Pizza, burger and majority of fast foods
Consumption of dairy products should be reduced
Caffeine
Unhealthy foods'
Processed foods
Alcohol
Soy products
"PCOS has become a very common health ailment among the girls aged between 14 and 35 and it is the leading cause of infertility and hormone related problems in females," says Dr Madhulatha Alexander, a gynaecologist from Hyderabad.
"It is very unfortunate that we cannot name one single cause for this syndrome as there are many factors. Stress, overweight or obesity, pollution and food habits are the major reasons for this disorder. If not controlled PCOS will not only affect the insulin absorption and thyroid gland function but also affect the lipid metabolism in the body, which will have a grave effect on the liver resulting in serious damage to the organ," Dr Madhulatha adds.
While some doctors call it a hereditary disease, others point it out to be a 'lifestyle disease' as the routine habits of the individual decides whether the syndrome develops or not.
Dr Madhubala Budori, who specialises in Ayurvedic medicine says, "Not just PCOS, but our overall health depends on three major factors 'Achar-Vichar-Aahar'. 'Achar' is a Sanskrit word for discipline which indicates that for a healthy lifestyle; a disciplined routine has to be maintained".
'Vichar' indicates the mental health of the individual; a stress-free life is a secret behind healthy life. While the literal translation for 'Aahar' is food habits, there will be an affect of our food habits on our health".
"Although there is no précise medicine for PCOS in allopathy, many doctors try to treat it by prescribing drugs that reduce the blood glucose levels in the body which in turn decreases the pressure on the liver and helps in weight reduction. Ayurvedic medicine has a great potential to treat the PCOS with herbs that are readily available in nature and without straining the body", Dr Madhubala adds.
Talking about the root cause of PCOS in many women Dr Madhubala points that, "There are multiple causes for the syndrome; some we can change and others we cannot. Pollution is one of the major causes of the disorder and junk and fast food with no physical activity added with mental stress is worsening the hormone system in the body and leading to permanent disorders", shares Dr Madhubala.
PCOS Symptoms
Facial and back acne
Pigmentation
Hair fall
Facial hair
Hypo-thyroidism
Infertility
Weight gain
High blood sugar
"Yes, the PCOS is a nasty issue faced by many of us these days but luckily there is a treatment for it but it takes a lot of dedication, as regular exercise, yoga and diet control is the key," shares Kundana Priya, who successfully overcame PCOS and gave birth to a baby girl last year.
"Young girls who are suffering from PCOS have to maintain a healthy diet and make sure that they do not postpone pregnancy after marriage as PCOS keeps coming back and it causes a delay in conceiving," notes Dr Vijayalaxmi.
Jyothi Chabria, a consultant dietician shares that eight out of 10 female clients she sees suffer from PCOS and it has become an epidemic among the young girls and women alike.
"First line of treatment for PCOS is weight reduction, once the body weight starts to decrease the bodily functions including hormonal functions start to fall in line, it is always important to make sure that your body weight is optimal and blood sugar levels are in control," notes Jyothi Chabria.
"For weight reduction, it is not always healthy to completely avoid the carbohydrates and fats as every macro and micro nutrient is important for the body. But consuming a balanced meal with a lot of green vegetables and fruits at regular intervals will surely help to lose weight," Jyothi Chabria adds.
According to many research papers, famous doctors and dieticians PCOS, a condition which has become a major cosmetic and health issue among women has a better chance of recovery by choosing healthy food options and regular physical activity.
Yoga asanas for PCOS
Badhakonasana (Butterfly pose)
Supta Badhakonasana (Reclining Butterfly Pose)
Bharadvajasana (Bharadvaja's Twist)
Bhujangasana (Cobra pose)
Naukasana (Boat pose)
Dhanurasana (Bow pose)
Child's Pose (Balasana)
Superman Pose (Viparita Shalabhasana)
Mill Churning Pose (Chakki Chalanasana)
Marjaryasana and Bitilasana (Cat and Cow Pose)
Prasarita Padottanasana (Wide legged forward Bend)
Padmasana (Lotus Pose)
Nispanda Bhava (unmoving observations)
Shavasana (Corpse pose)
Subscribed Failed...
Subscribed Successfully...