Penning a tale of blue-eyed prince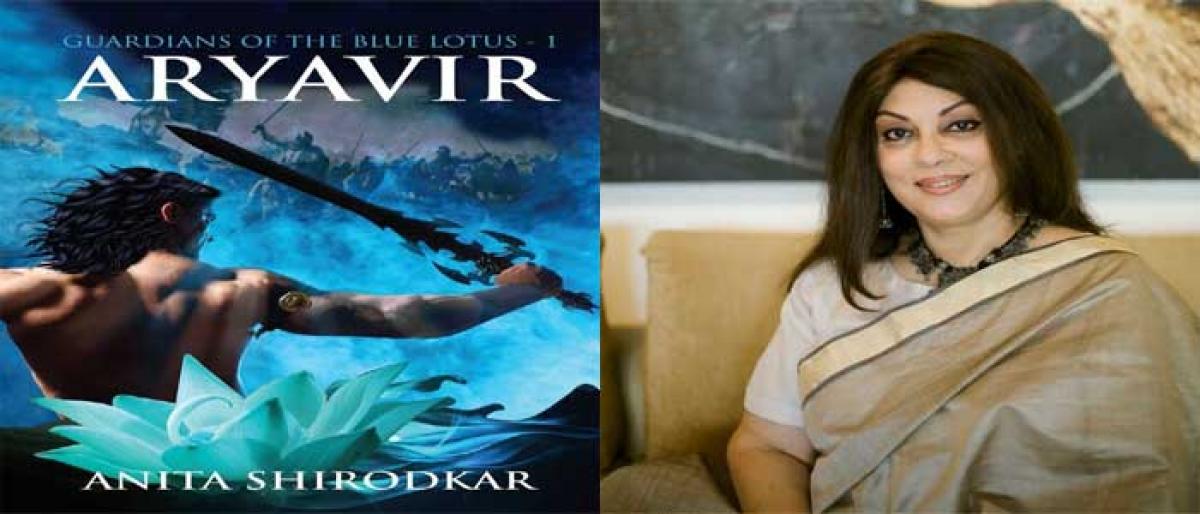 Highlights
After 'Secrets and Second Chances', 'Nights in Pink Satin', and 'Adriana's Smile', author Anita Shirodkar launches her fourth book -- 'Aryavir', which is the first part of a trilogy and it is a mythological fantasy.
After 'Secrets and Second Chances', 'Nights in Pink Satin', and 'Adriana's Smile', author Anita Shirodkar launches her fourth book -- 'Aryavir', which is the first part of a trilogy and it is a mythological fantasy.
Anita ventured seamlessly into writing fiction. After publishing three successful fantasy novels, her fourth book 'Aryavir' is in a completely new genre. Anita lives partly in Mumbai and partly in Dubai, where she manages a company.
Excerpts:
Tell us more about your book 'Aryavir'?
'Aryavir' is the first of a trilogy in the series called 'Guardians of the Blue Lotus'. The story is set in a completely imaginary world and takes place in an ancient land very much like India, but with fictitious kingdoms and races. The religion, customs and places are invented, yet the story retains the Indian mythological ethos that the Ramayana and the Mahabharata provide. There are princes, kings, queens and warriors who are fighting their battles – real and metaphorical. There are fascinating characters – the revered Maheshwari sect who live in seclusion in Aryavartha, the mountain kingdom and the Kesakutas, they are Kamalkund's long-haired warriors who sleep for 100 days and stay awake for 100 days at a time. To make it easy for the reader, I've created a map of the world I have written about and family trees of the various clans. There are historical nuances; there is clear and present danger; the past unravels its mysteries unexpectedly; and, at its heart, this is a story about the eternal human journey.
What inspired you to write this book?
I have grown up reading and being fascinated by Indian mythological tales, and have read the Mahabharata several times over. My inspiration has largely been the plethora of fascinating characters and stories within stories that our Indian epics offer.
How much time did you take to pen this book?
The first draft was completed in less than two-and-a-half months because I was so consumed by the story and the characters! I then took a break from it and went back a month later to edit and polish the manuscript.
What is the theme of the book?
Though on the surface, good versus evil is a recurring theme in mythology, I've tried to steer away from a black and white portrayal of my characters. There's ambition, love, courage, lust for power and spirituality, but more than anything the ultimate message of the trilogy is unity for the greater good.
The first book follows Aryavir, the crown prince of Kamalkund - the kingdom of Indivara (the divine Blue Lotus), which is the envy of all its neighbours. On a hunting trip, Aryavir discovers the murder of a village boy which leads to the capture of a Jabali – a member of a race of nomads who roam the arid plains of Drakkar, across the Mandakini River. He brings his prisoner back to Kamalkund, and this sets off a chain of events that go beyond what Aryavir and his friend Sitanshu could have imagined.
Tell us about the main character in your book?
Aryavir is a young and privileged prince of Kamalkund. For all intents and purposes, he should be a carefree and happy young man, but he harbours a secret that threatens his very existence. Through the book, Aryavir embarks on a journey that teaches him how to harness his strengths, face his future and overcome his difficulties.
How do you juggle between your passion and home?
I divide my time between Dubai and Mumbai, so I run two homes, and work as a creative consultant to an events and destination management company. Daily chores tend to take over far more time than one is prepared to give, so my writing, out of necessity, happens first thing in the morning, or the last thing at night. For the second book, I have set myself a daily target of a thousand words, so sometimes it means I snatch 15-20 minutes at a time through the day, as and when I can!
Are any more books in the offing?
As of now, I'm working on the second book in the 'Guardians of the Blue Lotus' series, and then will move on to the third – the project should keep me busy for at least another year!